Even though it has had a rough year, Adobe Systems (NASDAQ:ADBE) still seems to have some momentum. Its shares recently took over the 197 slot on the S&P 500 from Loews. More importantly, the company has displayed some impressive new capabilities, particularly in the growing streaming video field.
Adobe is trying to develop a major new revenue stream through streaming video, even though it is trying to scrap its older video app Adobe Flash. The company has brought out a new video app that might become the industry standard. The software has apparently been widely adopted by users in the entertainment and cable industries.
Adobe's Plan Is TV Everywhere
Adobe's new video streaming app, Adobe Pass Version Two, is now supporting more than 150 pay TV operators in the United States. This represents 98% of all American households with access to pay TV, Todd Greenbaum, the senior product manager for Adobe Pass, said in a company video. The new Adobe Pass also supports 40 different apps from 25 different content providers.
Major entertainment providers using Adobe Pass to drive their apps include Disney (NYSE:DIS), NBC, and Time Warner (NYSE:TWX). Major cable companies that use Adobe Pass include Cablevision Systems (NYSE:CVC) and Comcast (NASDAQ:CMCSA). The app also had some success during the Summer Olympics when it sent out 88 million streaming videos of NBC's Olympic coverage. Greenbaum said the content was accessed from 10 million different devices. Around 70% of the viewers watched the Olympics from old-fashioned desktops, but 30% accessed it through mobile devices.
Adobe is also planning to roll out what it calls Project Primetime this fall. That's an improvement to Pass that will let users access it from a wide variety of platforms, including iOS, Android, Mac and Windows. That is supposed to let viewers watch video on Adobe through all these platforms. Project Primetime's goal is to make Adobe's TV Everywhere plan a reality. Greenbaum said if all goes as planned, users will be able to access cable content seamlessly through mobile devices with Adobe Pass.
So has Adobe's effort to reposition itself as a leader in the streaming video field paid off in the market? Not according to the latest charts.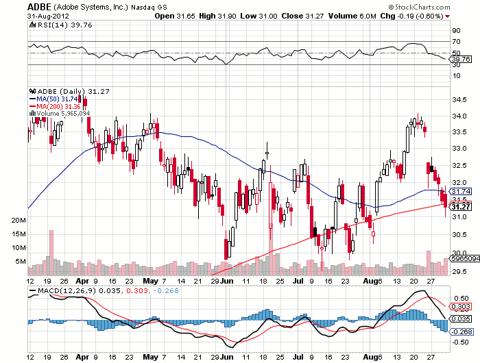 Adobe shares have fallen from around $34 on August 13th to $31.27 at the closing bell on August 31st. The company may have convinced cable operators and TV channels that Adobe Pass Version 2 is great, but it hasn't convinced the market yet.
Part of the reason for this might be the confusion surrounding Adobe's older video app, the venerable Flash Player. The Flash Player app was taken out of Google (NASDAQ:GOOG) Play (the former Google marketplace) on August 15th. That means you can no longer install Flash on Android devices; you have to use Adobe Pass. Adobe stopped developing Flash Player last year after a change in strategy. Adobe apparently was never able to get Flash working properly on Android.
But, the BBC is now reporting that the Flash Player is now available in Google Play again, but only for users in the United Kingdom. The BBC was among a number of British content providers that asked Adobe to put Flash back up. The reason for this is that BBC's iPlayer App apparently still runs on Flash. To make matters worse, Flash apparently doesn't work with the latest version of Google's Android, 4.1, or Jelly Bean.
Interestingly enough, the BBC is still one of Adobe's customers. The British TV network is reportedly working with Adobe to develop a new video player.
So it's easy to see why a lot of investors are skeptical of Adobe. It keeps changing its strategy, and its relationship with some of its customers is shaky. The company has not been able to convert its recent success with Adobe Pass into increased profits.
Adobe's net income for the second quarter of 2012 was lower than its net income for the same period in 2011. Adobe reported a net income of $223.88 million for the second quarter of 2012, which was down from $229.44 million for the same period in 2011. Yet at the same time, the company's revenues were actually higher. The revenue for the second quarter was $1.12 billion, which was a $10 million increase over the second quarter of 2011. This meant Adobe's revenue increased by 10% in the past year.
Adobe CEO Shantanu Narayen attributed the strong results to the launch of two new products, Creative Cloud and Creative Suite Suite Six. He also stated that there had been a 35% growth in revenue from the company's Digital Marketing Suite in the past year.
Despite the roller coaster ride it has been on in the past year, Adobe still has impressive technological capabilities. More importantly, it has shown that it can still create widely adopted products that can generate revenue. Despite the confusion surrounding Flash, Adobe looks like a value play in tech because of its video streaming technology.
Disclosure: I have no positions in any stocks mentioned, and no plans to initiate any positions within the next 72 hours. I wrote this article myself, and it expresses my own opinions. I am not receiving compensation for it (other than from Seeking Alpha). I have no business relationship with any company whose stock is mentioned in this article.