Something big has happened in the oil business in North America. After decades of declining oil production, the United States is now actually leading the world in oil production growth. The key to this turnaround is, of course, horizontal drilling with multistage fracturing, which has cracked the code when it comes to recovering oil trapped in tight rocks that had previously been unrecoverable.
As an investor, I've been trying to profit from this "unconventional revolution" by owning shares of companies with large land positions in these emerging oil plays. In my opinion, the stock market is greatly underestimating the value of those acreage positions and the ability of these companies to grow cash flow for decades to come.
Today I listened to a presentation from Mark Papa, who is the CEO of EOG Resources (NYSE:EOG) -- the leader in unconventional oil production in the United States.
Click to enlarge images.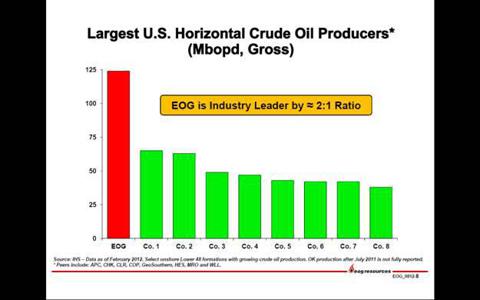 EOG is the largest U.S. horizontal oil producer by a two-to-one margin over the next largest producer, so CEO Papa has the best insight into the future of unconventional oil production than perhaps anyone. And Papa had a very clear message for investors in the oil sector. That message is to be careful when investing in companies focused on horizontal energy development. Papa's point being that while most companies promote a focus on "liquids" growth, there are really only two meaningful oil plays in the United States.
Those two plays are the Bakken in North Dakota and the Eagle Ford in Texas.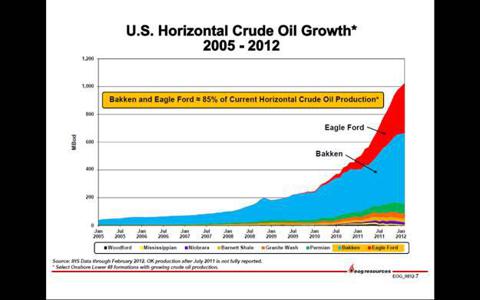 Horizontal plays other than the Bakken and Eagle Ford are generally "combo" plays, where production is one-third oil, one-third natural gas liquids, and one-third natural gas. The economics of a "combo" play are much different than those of the Bakken or Eagle Ford, where production is 90% plus oil.
Energy producers will focus your attention on barrel of oil equivalent production growth and flowing dollar value per barrel valuation metrics. In a world where oil sells for $100 and natural gas sells for $18 on an energy equivalent basis, knowing what that production is comprised of is a must.
Production growth for energy producers is the name of the game. But the value of that production growth differs considerably depending on how much of that production is high-value barrels of oil and how much is NGLs and natural gas.
My portfolio is focused on oil-weighted horizontal producers like Petrobakken (PBKEF.PK) (90% oil) or companies that are rapidly becoming much more oil weighted, like Bellatrix Exploration (BLLXF.PK) (38% oil reserve growth year on year). For these companies, production growth doesn't just translate into a nice graph showing a production increase -- it also translates into significant growth in cash flow and returns on capital invested.
I'm not suggesting the combo plays aren't economic and that the producers of those plays can't be attractive investments. I am suggesting, however, that as investors we must be aware that the value of acreage or production in a "combo" play is very different than that in an oil play. And being aware of this could help you avoid a few mistakes.
Disclosure: I am long PBKEF.PK, BLLXF.PK. I wrote this article myself, and it expresses my own opinions. I am not receiving compensation for it (other than from Seeking Alpha). I have no business relationship with any company whose stock is mentioned in this article.