The price of gasoline isn't the only item that is inflating. The average exchange-traded fund fee has jumped from .41% one year ago to .54% today.
That's not good news. After all, one of the principal reasons for owning ETFs is the cost advantage over mutual funds. (That cost advantage is still rather substantial at 80 basis points per year.)
One of the reasons cited for "ETF inflation" is the wider variety of exotic exchanged-traded choices -- leveraged, actively managed, short, emerging and frontier markets, sub-sectors, commodity-linked notes. Indeed, the more exotic and the more focused an investment, the more it's going to cost you.
Still, the overall trend is slightly disturbing. Moreover, it begs the question, will the lower fee structure of Vanguard choices gain in popularity? And, will Vanguard ETFs outperform because of the lower fees?
For example, Vanguard Large Cap Growth (NYSEARCA:VUG) has a paltry expense ratio of .10%. Its chief competitors include the iShares Russell 1000 Large Cap Growth Fund (NYSEARCA:IWF) and the Powershares Dynamic Large Cap Growth Fund (NYSEARCA:PWB) with expense ratios of .20% and .63% respectively.
A 2-year chart demonstrates that the funds are nearly identical in price movement. Yet, the only discernible difference in performance may be a 1% victory for Vanguard Large Cap Growth. It may indeed be attributable to price alone.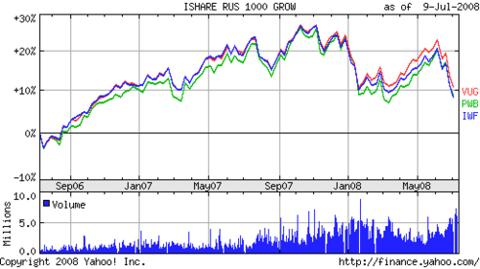 Granted, one-half of one percent may not seem like a heck of a lot each year. Then again, what if you stretch that pick-up over 20 years? For example, let's say that you were able to get 8% annualized on a $25,000 investment in large-cap growth over a 20-year time period.
Potentially, with Vanguard Large Cap Growth, $25,000 would become $116,500. With a fund that is regularly underperforming by 1/2 of one percentage point, $25,000 might only become $106,000. (Most of us would prefer that extra $10,500 for simply choosing the lower cost large-cap growth fund.)
To be fair, I am not seeing Vanguard outperformance clear across the board. For instance, Vanguard Utilities (NYSEARCA:VPU), Select S&P SPDR Utilities (NYSEARCA:XLU) and iShares Dow Jones Utilities (NYSEARCA:IDU) have respective expense ratios of .22%, .23% and .48%. One might surmise that the iShares version would finish dead last, but that's not the case.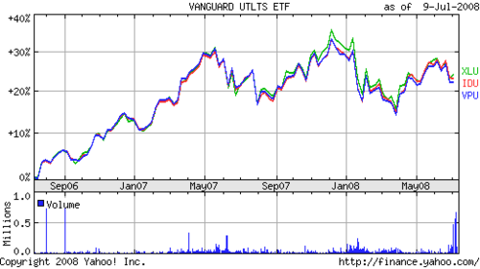 Nevertheless, I think it will become crucial for investors to evaluate the costs of their ETFs. It's no longer enough to merely assume that an exchange-traded vehicle will be less expensive than other ETFs and mutual funds.
(See why I prefer Vanguard's Emerging Market VWO over similar emerging market trackers right here.)
Disclosure Statement: ETF Expert is a web log ("blog") that makes the world of ETFs easier to understand. Pacific Park Financial, Inc., a Registered Investment Advisor with the SEC, may hold positions in the ETFs, mutual funds and/or index funds mentioned above. Investors who are interested in money management services may visit the Pacific Park Financial, Inc. web site.