After a relatively disappointing July, Ford (NYSE:F) delivered a strong August. As a result of strength in trucks and small cars, Ford saw sales increase 13.1% year over year and 9.0% sequentially.
Some of the positives from the release:
· Retail sales (higher margin) increased 19% year over year. Retail sales for the industry as a whole increased to 82% of total sales from 77% for the first eight months of the year.
· Ford Escape sales increased 37% year over year.
· Fusion sales increased 21% to 21,690 vehicles, delivering all-time best August sales.
· Focus sales increased 35% to 19,073 vehicles sold.
· F-Series sales grew 19% totaling 58,201 vehicles, reflecting 13 straight months of monthly sales gains and the best month of the year.
· Total car sales increased 7.1%, while truck sales increased 6.1%. The biggest increase came from utility sales, which increased 27.8%.
Despite the increase in sales, there were some negatives:
· Total Lincoln sales increased only 1.7% as the 48% gain in the MKT and the 42% growth in MKZ were offset by the declines in the MKS.
· Fiesta sales declined 28% year over year as the Focus continues to cannibalize sales.
It was a strong month overall for auto sales, with General Motors (NYSE:GM) seeing growth across its product line with sales of Chevrolet vehicles, the company's largest brand, being up 11% and total Buick sales improving 12%. Total Cadillac sales grew 11%, while GMC sales rose just 3.7%. The Volt reported the strongest month on record; however, the demand is still at such a low point that the company has announced a shutdown of the main Volt plant from September 17 through October 12.
(click image to enlarge)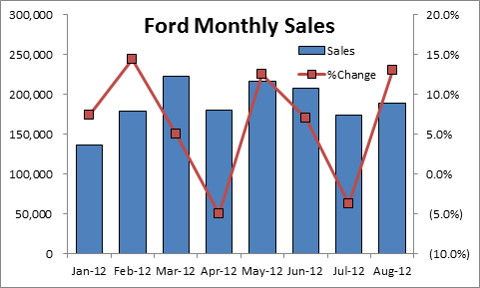 This is the kind of month I like from Ford. It isn't the blowout month that obviously steals sales from future months. However, it is also strong enough to sustain a continued rebound in the stock. Ford has been under pressure for most of this year, falling more than 12.5% year to date. GM is up 5% and Toyota (NYSE:TM) is up 19% over the same time period. Ford has more growth potential than GM, and I expect Toyota to see flattening growth as it begins to cycle over more difficult comparisons. Following the earthquake and tsunami, U.S. automakers snatched up the market share that Toyota, Nissan (OTCPK:NSANY), and Honda (NYSE:HMC) lost; however, it was only a matter of time before that was retaken by the Japanese automakers.
Europe continues to pose a problem, and it is one that is not likely to be solved anytime soon. Does Ford have enough strength in North America, South America, the Middle East, and Asia to offset the weakness in Europe? I believe they do, and with the popularity of the mid-level utility vehicles (such as the Escape) the margin situation should also be strong. During the month, Ford's average transaction price was 1.2% higher year over year and 0.3% higher sequentially as incentives declined 2.9% both year over year and sequentially. Valuations are still relatively cheap for Ford, and it has a strong lineup of vehicles. This is a time to start accumulating a position. Ford will be a big winner in the industry, but it will likely take some time.
Disclosure: I am long F. I wrote this article myself, and it expresses my own opinions. I am not receiving compensation for it (other than from Seeking Alpha). I have no business relationship with any company whose stock is mentioned in this article.