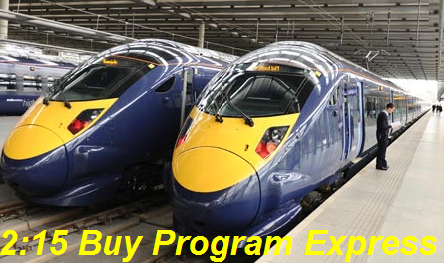 The basic news on the day was universally poor and the market reacted negatively, even logically. But as the day wore on, the trusty 2:15 PM Buy Program Express took the lead and pushed markets higher. It can only be the result of the ongoing "bad news is good" theme indicating more QE must be on the way. And let's face it, our crack addicted trading desks believe in the Bernanke Put and the global central bank put. It's quite apparent reading the news from China this morning as pundits were universally calling for more PBOC stimulus -- it's QE contagion. Moody's cut their European outlook to negative, which must be viewed two ways: Moody's gets no respect, and it means more QE. Speaking of which, the ECB is rumored to be launching "unlimited" bond buying (QE) with "conditions" (whatever those might be). The bond buying is said to be 0-3 year maturities, with the implication being the problems of austerity and debt would be Clouseau-like "sol-ved" during that period. Given that sort of optimism, you'd not be incorrect in assuming the ECB will need a bailout itself down the road.
In lesser news, Swiss GDP surprised to the downside, -.1%. In the U.S., the PMI was flat (51.5 vs. 51.4), but the ISM Mfg Survey weakened for the third month (49.6 vs. 50 expected, and prior 49.8), as did Construction Spending (-.9% vs. .4% expected, and prior .4%). Naturally, this was more QE3 friendly, which is bullish in the Twilight Zone.
As stated, stocks were much weaker most of the day, until an algo driven rally awakened bulls late as buy programs kicked in at the usual hour. But into the closing 20 minutes, sell programs hit the tape, sending stocks lower once again. There's no two ways about it, September and October will feature more than the usual amount of volatility.
Apple (NASDAQ:AAPL), also known as "the market," announced it will put on another show for the financial media September 12, presumably to unveil its new iPhone. This naturally got the tech sector (NYSEARCA:XLK) firedup from its lows of the day to close mostly flat. The biggest mover was small caps (NYSEARCA:IWM) which are the most sensitive and addicted to QE. The dollar (NYSEARCA:UUP) was relatively unchanged, bonds (NYSEARCA:IEF) were weaker, commodities (NYSEARCA:DBC) were mixed while precious metals (NYSEARCA:GLD) and (NYSEARCA:SLV) were higher.
Investment Tip: Bill Gross of Pimco tweeted today that investors should buy gold as a hedge against the money printers globally. Who are we to argue? We're long gold both vanilla and leveraged.
Volume was only modest overall, as perhaps some Labor Day stragglers were coming back to work from the Hamptons. Breadth per the WSJ was mildly positive.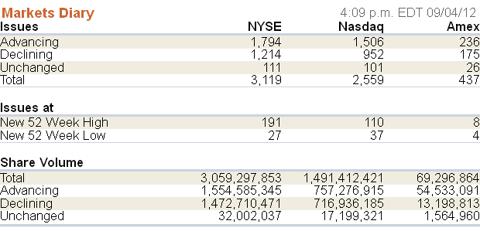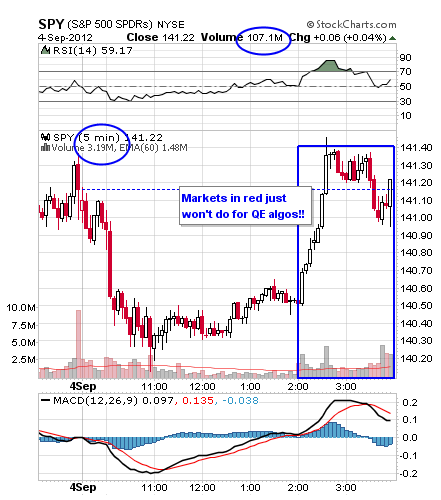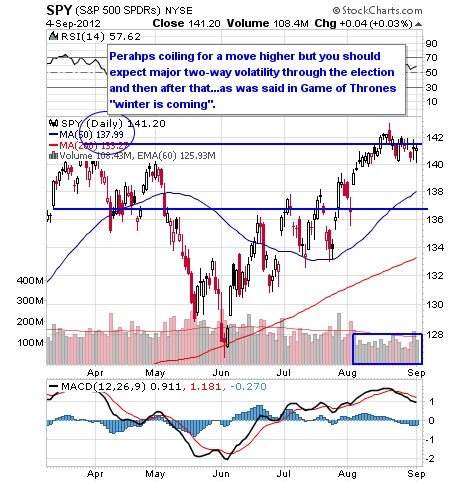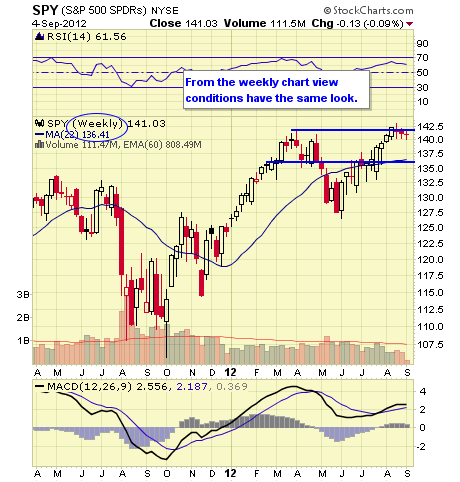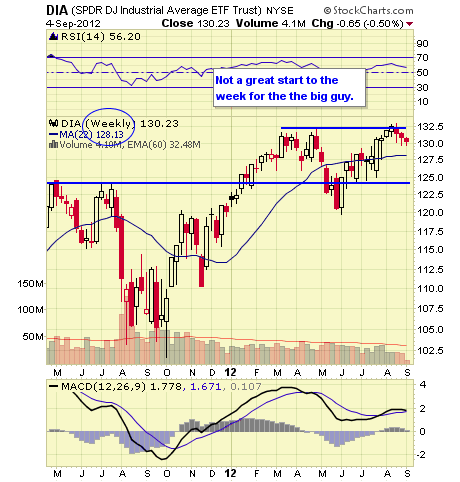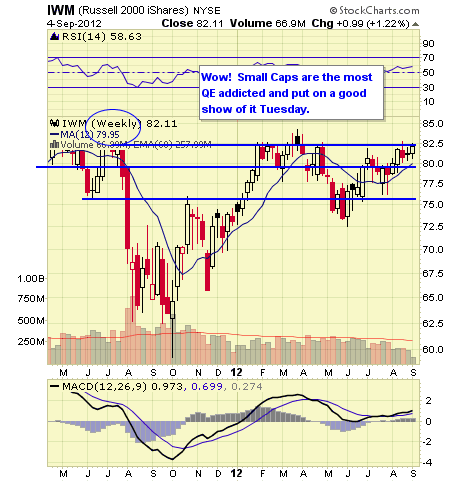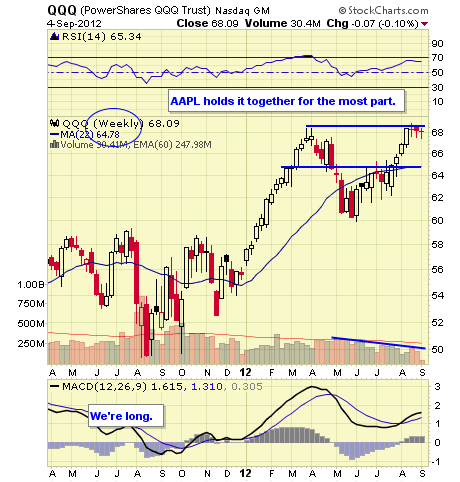 Continue to U.S. Sector, Stocks & Bond ETFs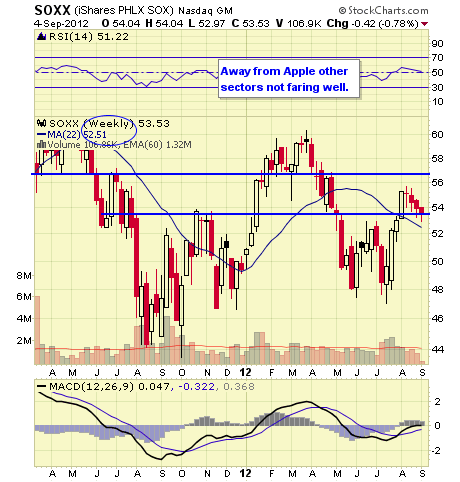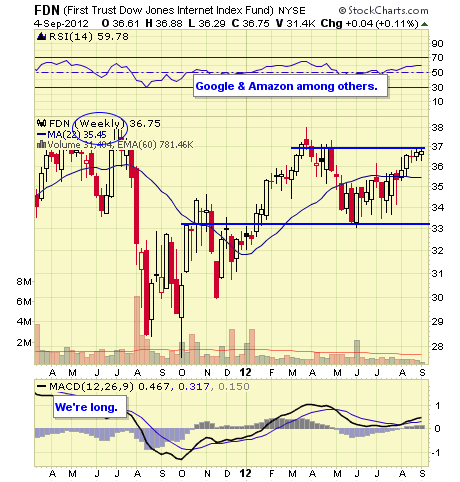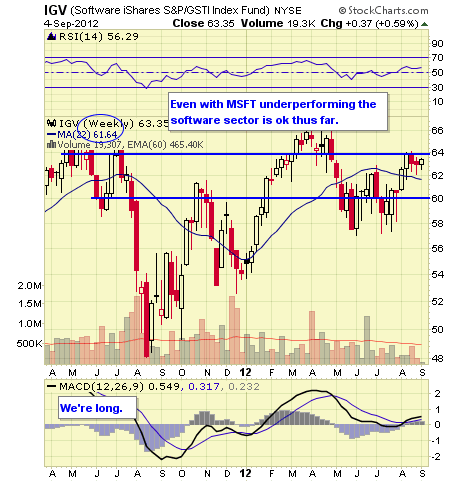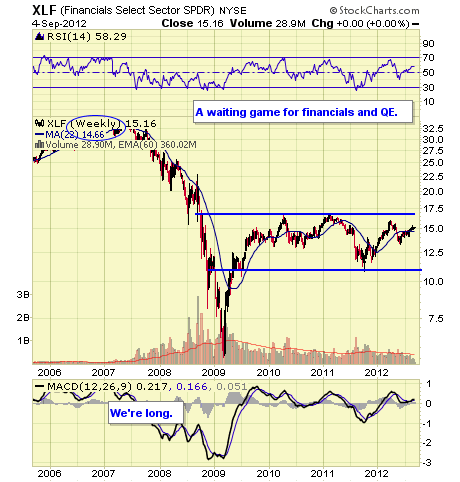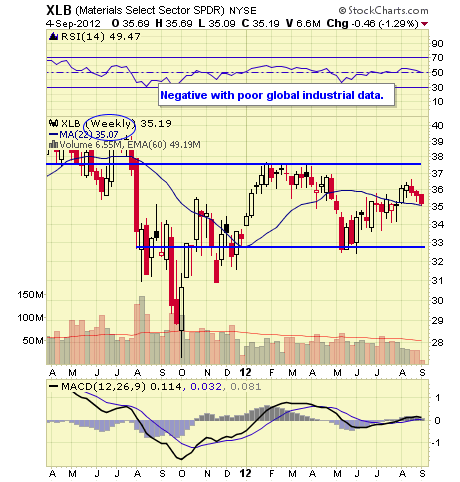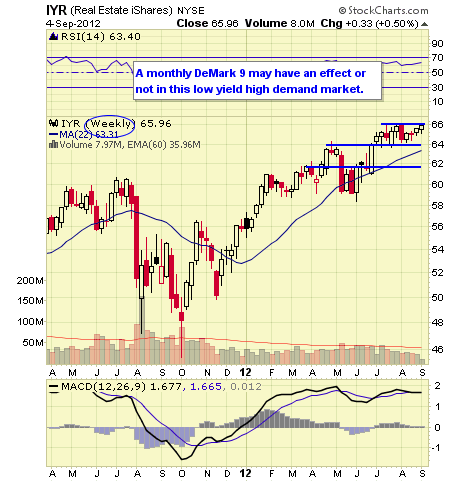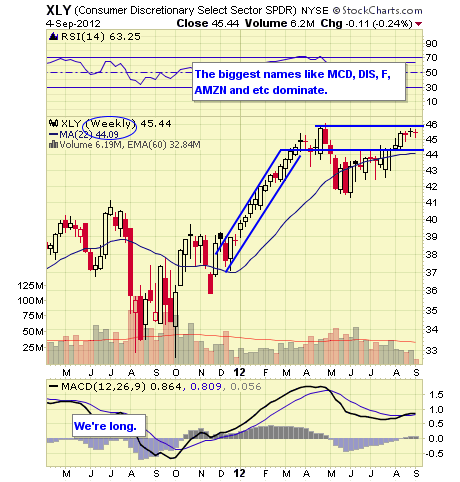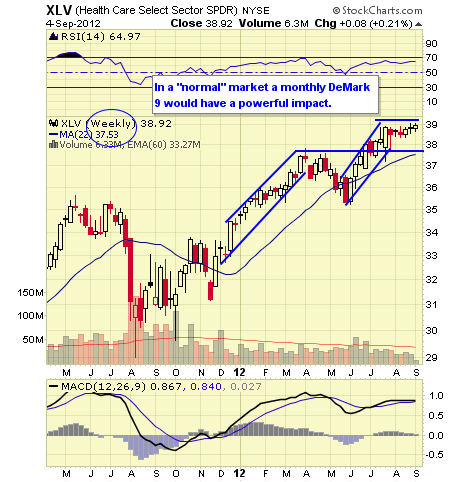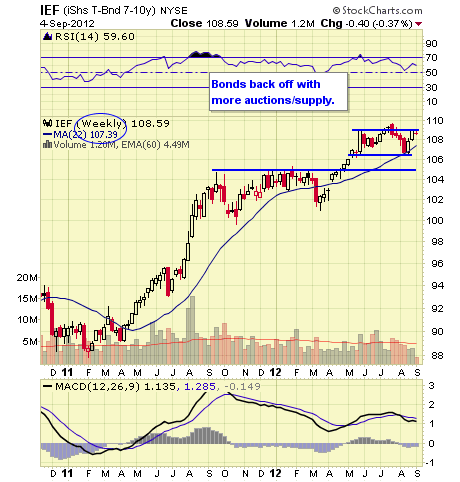 Continue to Currency & Commodity Market ETFs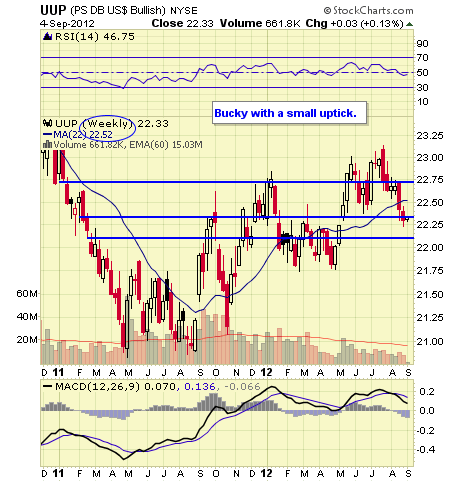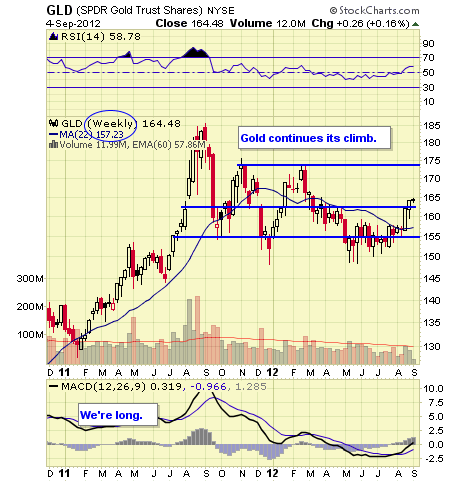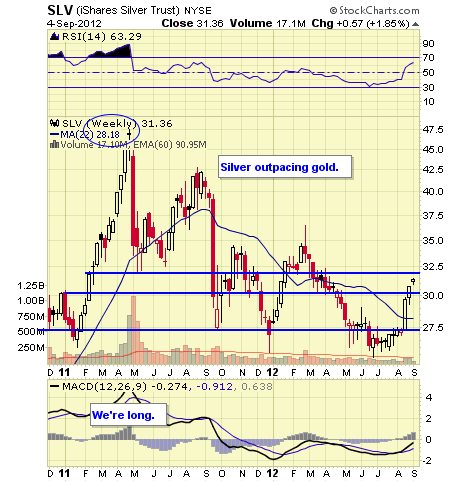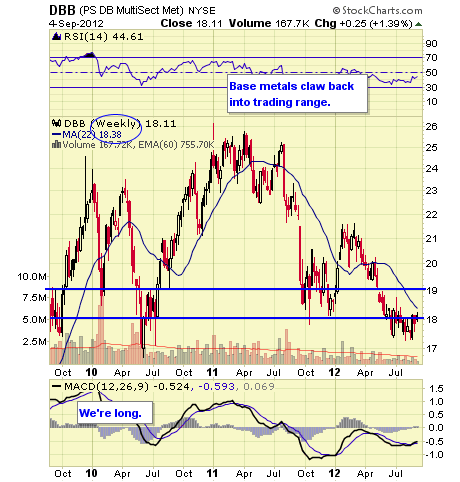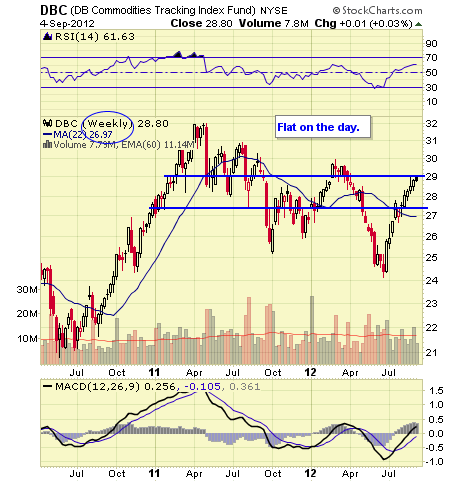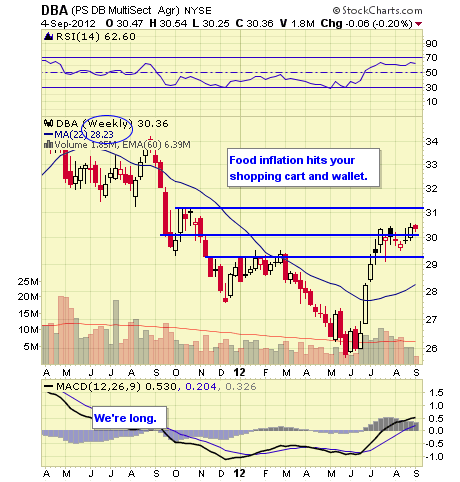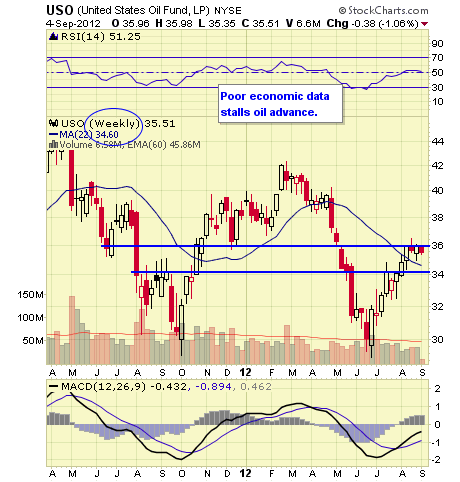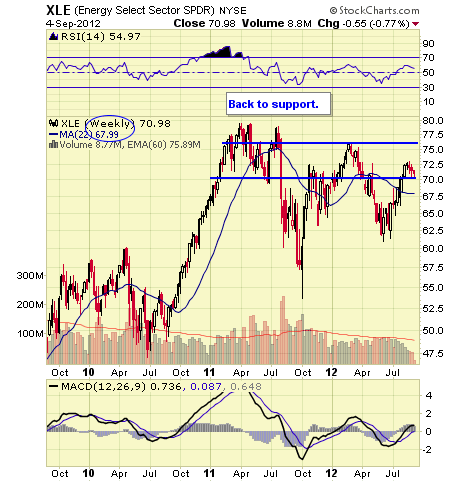 Continue to Overseas Sectors & ETFs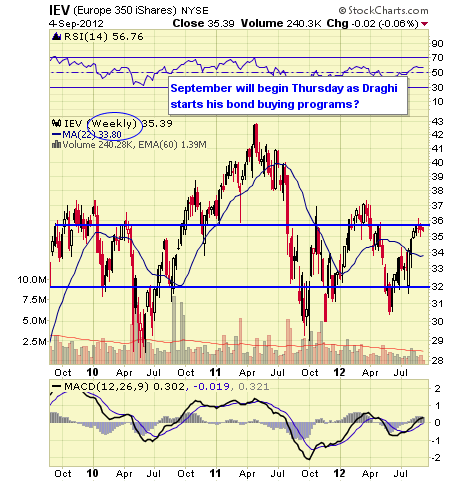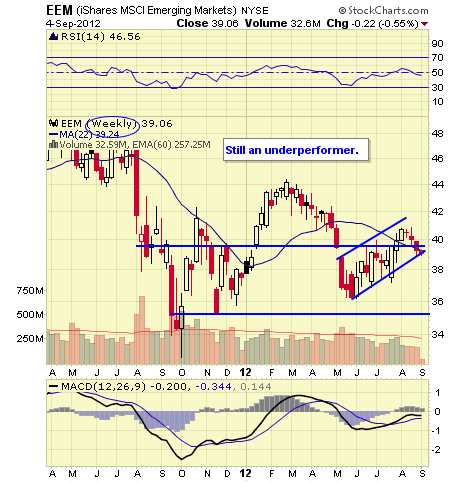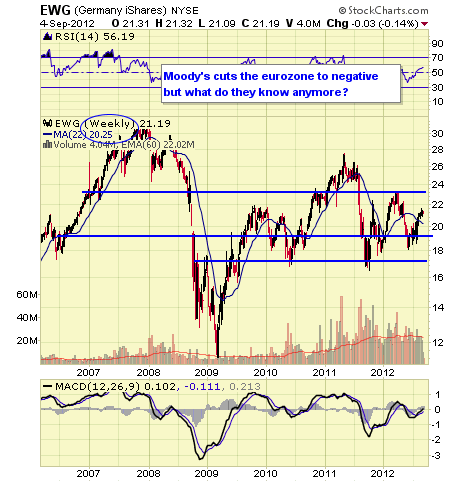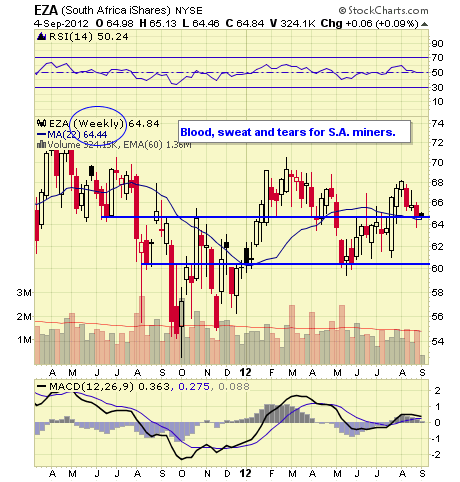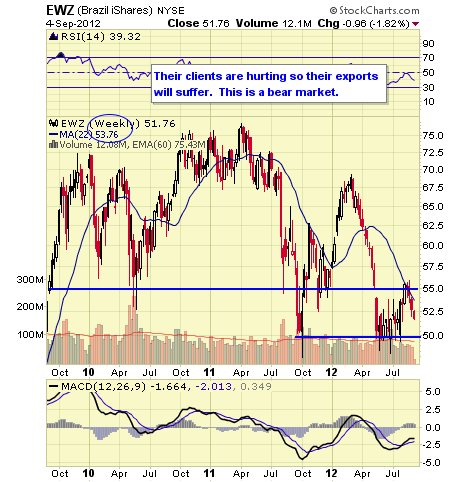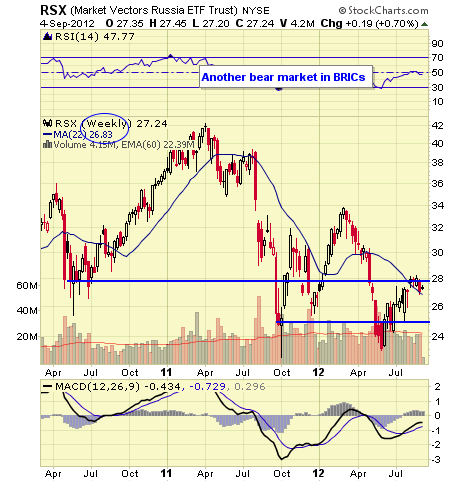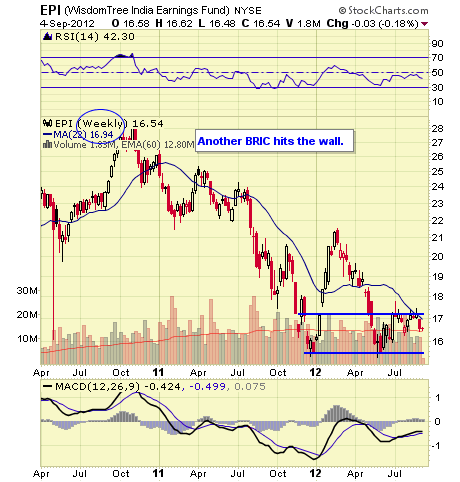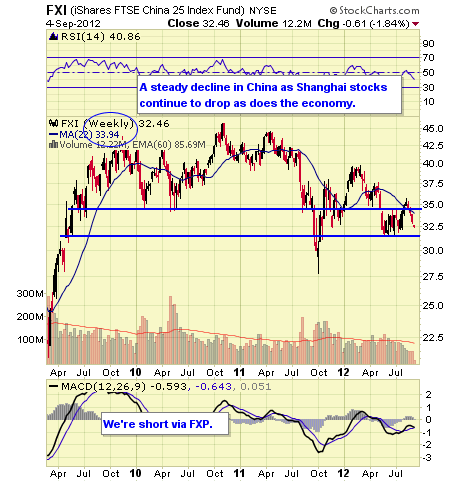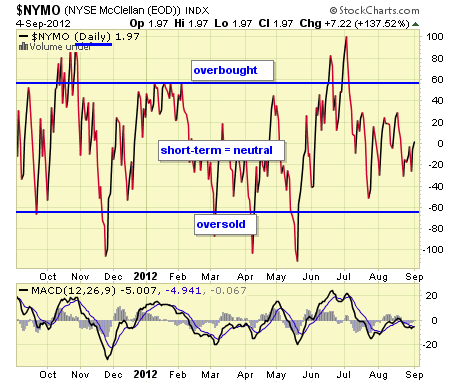 The NYMO is a market breadth indicator that is based on the difference between the number of advancing and declining issues on the NYSE. When readings are +60/-60 markets are extended short-term.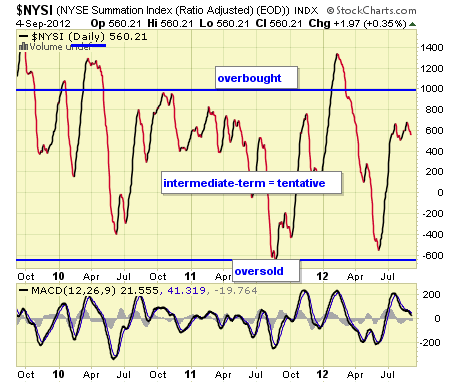 The McClellan Summation Index is a long-term version of the McClellan Oscillator. It is a market breadth indicator, and interpretation is similar to that of the McClellan Oscillator, except that it is more suited to major trends. I believe readings of +1000/-1000 reveal markets as much extended.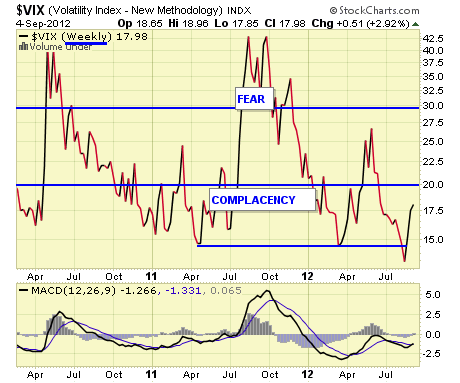 The VIX is a widely used measure of market risk and is often referred to as the "investor fear gauge." Our own interpretation is highlighted in the chart above. The VIX measures the level of put option activity over a 30-day period. Greater buying of put options (protection) causes the index to rise.
Program trading dominated Tuesday, and this should continue as HFTs and algos respond to various news headlines. Ahead is the ECB and Draghi on Thursday, followed by the employment report Friday. That's what should drive prices this week.
Disclaimer: The ETF Digest maintains an active ETF trading portfolio and a wide selection of ETFs away from portfolios in an independent listing. Current "trading" positions in active portfolios, if any, are embedded within charts: Lazy & Hedged Lazy Portfolios maintain the follow positions: VT, MGV, BND, BSV, VGT, VWO, VNO, IAU, DJCI, DJP, VMBS, VIG, ILF, EWA, IEV, EWC, EWJ, EWG, & EWU.
The charts and comments are only the author's view of market activity, and aren't recommendations to buy or sell any security. Market sectors and related ETFs are selected based on his opinion as to their importance in providing the viewer a comprehensive summary of market conditions for the featured period. Chart annotations aren't predictive of any future market action; rather, they only demonstrate the author's opinion as to a range of possibilities going forward.
Disclosure: I have no positions in any stocks mentioned, and no plans to initiate any positions within the next 72 hours. I wrote this article myself, and it expresses my own opinions. I am not receiving compensation for it. I have no business relationship with any company whose stock is mentioned in this article.