Shares of Panera Bread Company (NASDAQ:PNRA) have posted a stellar one-year return of 40.03%. At $154.76 per share, the stock trades at very close to its 52-week high of $165.99 achieved in March. Can Panera Bread's price momentum continue to be supported by the company's superior growth? In this article, I will illustrate some thoughts that helped me in formulating my investment decision.
My value analysis includes a set of Panera Bread's comparable peers engaged in restaurant chain operations. The estimated stock value is determined by equally weighting valuations calculated by five different peer-average trading multiples - EV/Sales, EV/EBITDA, EV/FCF, P/E, and P/S.
Click to enlarge

PNRA stock is fairly valued relative to the firm's earnings growth potential (see table above). Analysts in average predict PNRA's revenue, EBITDA, and EPS to grow at 2-year CAGRs of 14.5%, 19.2%, and 22.7% over the current and next fiscal years. Both the estimated revenue and EBITDA growth rates are significantly higher than the peer averages, but the EPS estimate is marginally slower. Accounting for the EPS growth, the stock trades at 1.3x PEG, fairly in line with the peer average of 1.4x, implying a relatively reasonable valuation.
In addition, even after a one-year price appreciation of 40.03%, the PEG remains at a very similar level as where it was one year ago, suggesting the valuation has not gone out of the line amid a strong upward price momentum (see chart below).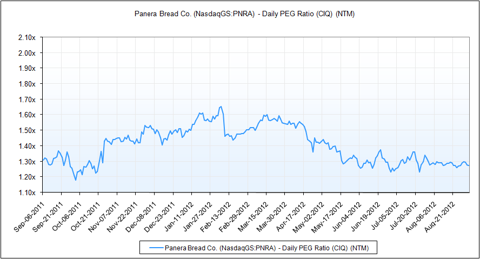 Asides from the strong growth potential, PNRA's profitability is slightly worse than the peer average (see comparable analysis table above). The company only outperforms the group average in gross margin and ROIC, and all of its other profitability measures are below the peer averages. Its LTM FCF margin is slightly higher than the peer average. Moreover, the firm carries no debt, and both the current and quick ratios are above the peer averages, reflecting a very liquid corporate balance sheet.
Based on my model, the current stock price of $154.80 implies a slight valuation discount of 1.2% to the five peer-average trading multiples (see below). I believe the current valuation is reasonable as the positive valuation impact from the company's superior growth may be pared by the negativity - such as the firm's below-average profitability. In addition, the company's current expansion is only limited to the US market, indicating the current high growth may turn out to be less sustainable than that of global players such as McDonald's Corporation's (NYSE:MCD) and YUM! Brands, Inc. (NYSE:YUM), which could also weigh on the stock valuations.

Bottom line, as Panera Bread's stock appears to be reasonably valued, I recommend a hold rating for the stock based on a mediocre risk/reward profile. Nonetheless, with the healthy financials, the stock is a good candidate for a strategy of buying out-of-money puts if you believe a lower stock valuation would represent a better entry point.
Comparable analysis and relative valuation tables are created by author, PEG chart is sourced from Capital IQ, and all financial data is sourced from Morningstar and Capital IQ.
Disclosure: I have no positions in any stocks mentioned, and no plans to initiate any positions within the next 72 hours. I wrote this article myself, and it expresses my own opinions. I am not receiving compensation for it (other than from Seeking Alpha). I have no business relationship with any company whose stock is mentioned in this article.