Vera Bradley (NASDAQ:VRA) recently reported fiscal second quarter earnings and investors are not pleased. Shareholders have been liquidating positions since May of 2011 and it doesn't appear the company is going to rebound any time soon. Management began the year with some lofty goals for fiscal 2013, but recent commentary suggests otherwise. CEO Michael Ray summed up the disappointing quarter with this statement: "Although there were many accomplishments during the quarter, results fell short of our expectations." I have created a table to show management's full year (FY 13) original estimates and revisions over the past three quarters:
| | | | |
| --- | --- | --- | --- |
| Fiscal Year 2013 Revenue Outlook | As of Fiscal Q4 End | As of Fiscal Q1 End | As of Fiscal Q2 End |
| | $540 million - $545 million | $535 million - $540 million | $531 million - $536 million |
| | | | |
| Fiscal Year 2013 Diluted EPS Outlook | As of Fiscal Q4 End | As of Fiscal Q1 End | As of Fiscal Q2 End |
| | $1.68 - $1.71 | $1.68 - $1.71 | $1.60 - $1.63 |
| | | | |
| Fiscal Year 2013 Gross Margin | As of Fiscal Q4 End | As of Fiscal Q1 End | As of Fiscal Q2 End |
| Improvement | 50 bps improvement YOY | 90 bps improvement YOY | 30 bps improvement YOY |
Source: Vera Bradley Press Releases
What worries me the most is the company's aggressive maneuvers during the fiscal second quarter just to appear more profitable. Original revenue guidance for the quarter was for net revenues to fall in the range of $121-$123 million, this is the only expectation the company met, as net revenues came in just over $123 million. But how did it manage to reach the high end of its estimate? Extending credit to customers during the final days of the quarter. This is made evident through a few ways:
- Days sales outstanding increased to 73.9 days compared to 67.5 days in the prior year.
- CEO Michael Ray indicated "expedited shipping to some indirect retail partners." In the company's most recent 10-k filing, under revenue recognition, it states "Included in net revenues are product sales to Direct and Indirect customers, including amounts billed to customers for shipping fees." So why would Vera Bradley feel the need to expedite shipping during the last few days of an already weak quarter? To boost the top line number of course! Mr. Ray provided this response, which in my opinion reads like a good fiction novel:
"So, because a lot of our sales to them came in late in June, we wanted to make sure they have the products for the launch because a number of them were actually staging launch events. And as a result of that we wanted to make sure that they had the product to be able to have at those events. So we expedited shipping in a number of instances to make sure we were doing the right thing for our customers and ultimately their customers as well. So those were the things that drove the margin issues in the indirect channel."
- Mr. Ray also mentioned that the company was "increasingly promotional" as the quarter progressed (i.e.: lowering costs to increase sales).
I like to see a company with solid and consistent growth, not corporate management playing with its business model to meet analyst expectations. The company is clearly struggling and management has proven it is not afraid to play with numbers to achieve targets.
Shares of Vera Bradley currently trade at 15x trailing twelve month earnings. Luxury handbag maker Coach, Inc. (NYSE:COH) trades at 16x TTM earnings, and comes with an internationally known brand, dividend, and share repurchase program. Compare Vera Bradley to Michael Kors Holdings (NYSE:KORS) and you will see a handbag maker that is truly achieving sales growth. Although the stock trades north of 60x TTM earnings, the future success is much more realistic. In my opinion, "Value" investors risk catching a falling knife by entering into positions here.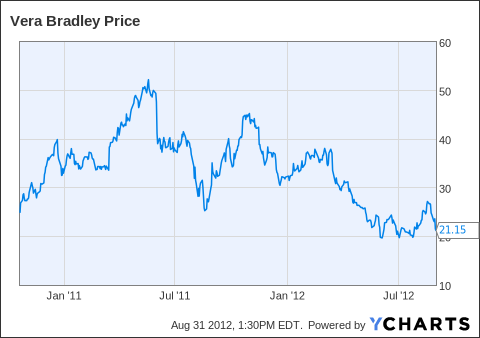 *Note: All data reported and graphed is pulled directly from Vera Bradley SEC filings and press releases
Disclosure: I have no positions in any stocks mentioned, and no plans to initiate any positions within the next 72 hours. I wrote this article myself, and it expresses my own opinions. I am not receiving compensation for it (other than from Seeking Alpha). I have no business relationship with any company whose stock is mentioned in this article.