Shares of Nike Inc. (NYSE:NKE) are currently trading 15.3% off their 52-week high at $114.81 achieved in May. Many investors are skeptical about whether the stock can regain momentum after a lackluster earnings release for the fourth quarter. I am of the view that investors should buy the shares at the current cheap price, as the company's fundamentals remain solid. In this article, I will walk you through some of the thoughts that helped in formulating my buy decision.
My value analysis includes a set of NKE's comparable peers such as Adidas (OTCQX:ADDYY) and lululemon athletica inc. (NASDAQ:LULU). The estimated stock price is determined by weighting the valuations calculated by five different peer-average trading multiples - EV/Sales, EV/EBITDA, EV/Sales, P/E, and P/S. I have assigned a 25% weight to each of the EV/EBITDA, P/E, and EV/FCF valuation approaches as I believe those multiples are more relevant valuation metrics for a matured firm such as NKE. P/S and EV/Sales multiples are then weighted 12.5% each.
Click to enlarge

There are five reasons supporting my view:
1. Nike's stock is reasonably priced relative to the firm's growth potential (see table above). Analysts in average predict NKE's revenue, EBITDA, and EPS to rise by 2-year CAGRs of 6.2%, 8.9%, and 11.7% over the current and next fiscal years. The rates are slower than the peer averages of 14.9%, 19.2%, and 20.9%, which are driven up primarily by the high growth rates for LULU and Under Armour (NYSE:UA). Accounting for the earnings growth, Nike's stock trades at 1.4x PEG, almost in line with the peer average of 1.5x, suggesting a fair valuation.
2. Nike's stock valuations appear to have fully reflected market's concern on the firm's slow growth (see table above). Aside from the aforementioned below-average growth estimates, NKE has a superior profitability. Although the company has a slightly lower LTM gross margin, its EBITDA, EBIT, and net income margins are all above the peer averages. Both the ROE and ROIC measures are substantially higher than the group averages. NKE is also much less leveraged and has a solid liquidity position. The firm's LTM FCF margin of 3.9% is much higher than the group average of only 2.1%. The low debt level and robust profitability have helped the company maintain a strong interest coverage ratio. Lastly, the current and quick ratios are above the peer averages, reflecting a very liquid corporate balance sheet.
Nonetheless, the current stock price of $97.27 implies a 15% valuation discount to the five peer-average trading multiples based on my model (see table below). I believe the sizable valuation gap should be more than sufficient to account for Nike's growth weakness as it appears the market does not give enough credits to NKE's strong global presence and healthy financial performance.

3. Despite having a small dividend yield of 1.5%, Nike has a sound dividend policy. Annual dividend per share has been steadily raised to $1.39 in FY2012 from $0.24 in FY2002 by a solid 10-year CAGR of 17.3% (see below).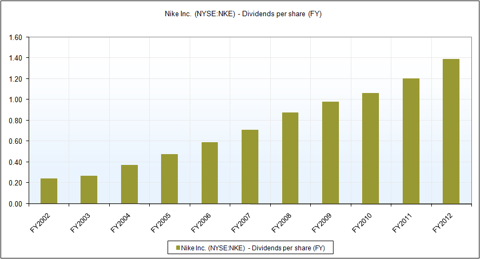 4. The firm also has ample financial resource to continuously raise dividends. The chart below shows that over the past 10 years annual dividend paid only represents less than a half of the annual FCF generated, indicating ample room for dividend improvements.
5. On a technical perspective, the stock has recently surpassed its 50-day simple moving average. The last time the stock went pass the 50-day SMA was in October 2011, followed by an upward price trend for more than half a year (see below).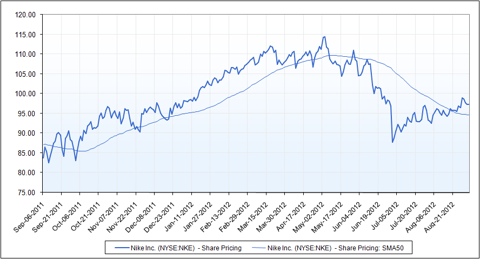 Bottom line, I recommend a buy rating for the stock on its very attractive risk/reward profile. Investor may also sell out-of-money puts to establish a long position if you are more comfortable with a lower stock valuation.
Comparable analysis and relative valuation tables are created by author, other charts are sourced from Capital IQ, and all financial data is sourced from Capital IQ and Morningstar.
Disclosure: I am long NKE. I wrote this article myself, and it expresses my own opinions. I am not receiving compensation for it (other than from Seeking Alpha). I have no business relationship with any company whose stock is mentioned in this article.