CORPORATE PROFITS, CASH FLOW AND DIVIDENDS
The Federal Reserve provides data on combined private and public company profits, cash flow and dividends, shown in this chart. Profits and cash flow are well above pre-2008 levels and dividends are nearly fully recovered. Finances look good in the corporate world.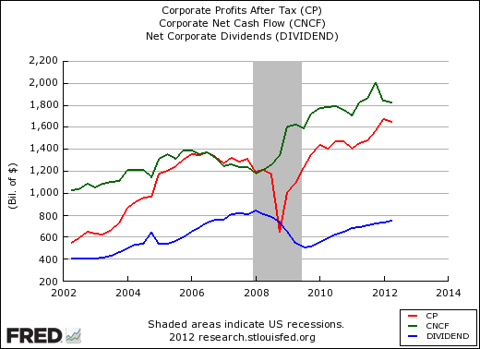 Click to enlarge
Looking only at dividends in investable ETFs, these charts from YCharts.com show the percentage change in dividends paid on IWB (for the Russell 1000 large-cap stocks) and IWM (for the Russell 2000 small-cap stocks) over 10 years, 5 years and 1 year.
10-years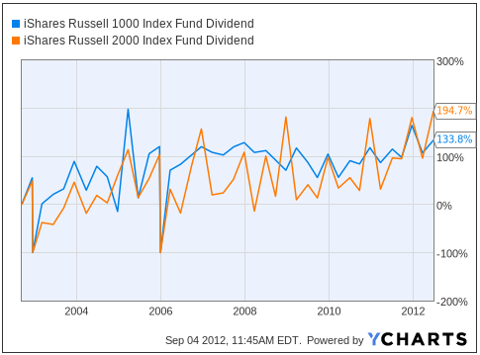 Click to enlarge
5 Years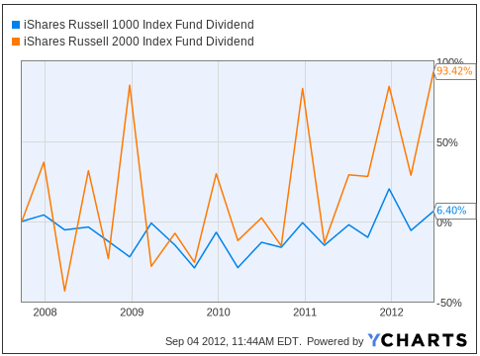 Click to enlarge
1 Year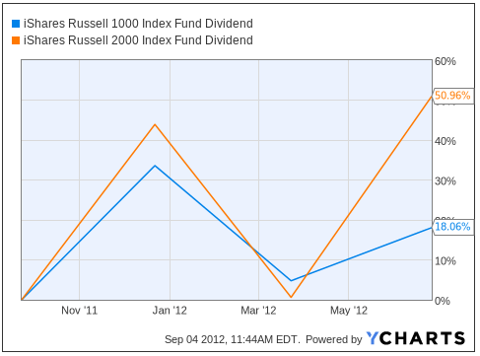 Click to enlarge
The small-cap stocks have much lower current yields, but have increased their dividends (from low starting points) at a significantly faster rate than large-cap stocks. Both large-cap and small-cap dividends rose over each period, but 1000 large-cap companies lagged inflation over the 5-year period (some selectivity could have eliminated that problem).
TEN-YEAR INDEXED HISTORY OF S&P 50o SECTOR ETFs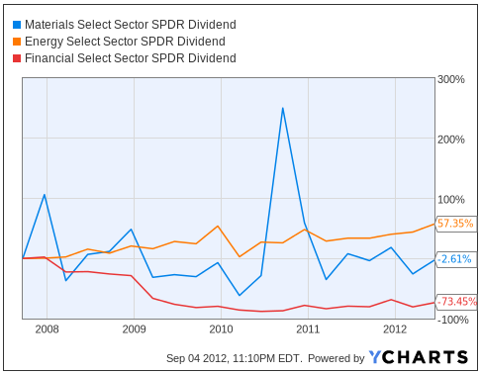 Click to enlarge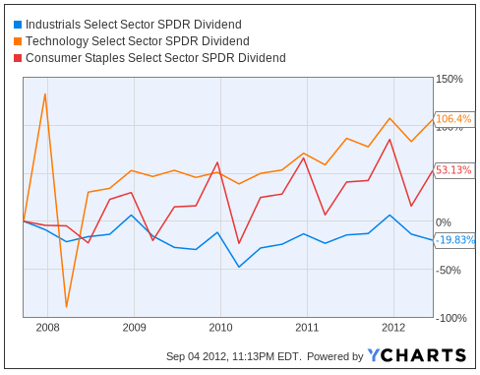 Click to enlarge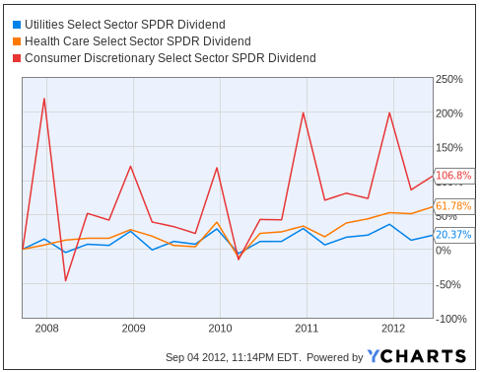 Click to enlarge
Five of the nine sectors had dividend growth over 50% in the past 5 years: energy, technology and telecom, healthcare and staples. The big drag were the financials, down 73%. At one point before the crash, they accounted for a very significant portion of total dividends paid by the S&P 500
TEN-YEAR INDEXED HISTORY OF S&P 50o MARKET-CAP ETFs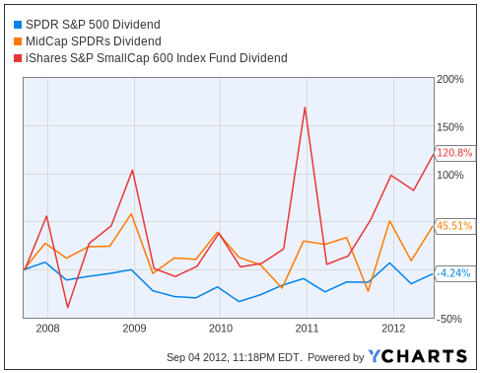 Click to enlarge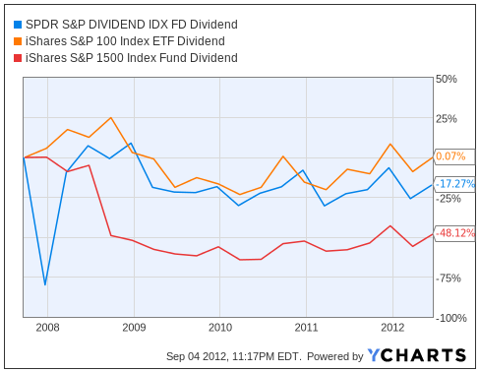 Click to enlarge
Note that the S&P 1500 Dividend Aristocrats have experienced a reduction of 17% in dividends paid over the past 5 years. This is the result of two factors. First, banks which were historically members of the Aristocrats index, were virtually all eliminated in the 2008. They were substantial dividend payers, and were replaced on average with stocks with lower yields. Second, the nature of the Aristocrats index is not yield focused, but rather is focused on dividend payment consistency. The index requires 25 years of back-to-back dividend payments without missing any, and increasing each year. That rule does not necessarily lead to higher yields, and when former high yielding payers like banks dropped out, their replacements while consistent did not pay as much.
FOUR LEADING DIVIDEND ETFs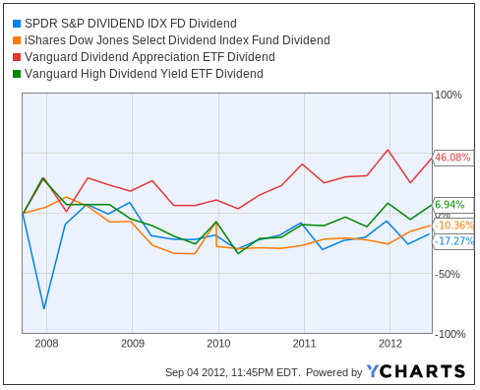 Click to enlarge
General Disclaimer: This article provides opinions and information, but does not contain recommendations or personal investment advice to any specific person for any particular purpose. Do your own research or obtain suitable personal advice. You are responsible for your own investment decisions. This article is presented subject to our full disclaimer found on the QVM site available here.
Disclosure: QVM has positions in SPY and IWM and XLU as of the creation date of this article (September 5, 2012). I wrote this article myself, and it expresses my own opinions. I am not receiving compensation for it. I have no business relationship with any company whose stock is mentioned in this article.