This week's pick is in honor of John Templeton, not just because of his meeting his final summons this week at age 95 but because it highlights one of the key tenets of his legendary investment career. Rather than look for markets that were performing well, Sir John built a career looking for troubled or ignored markets that traded at attractive valuations.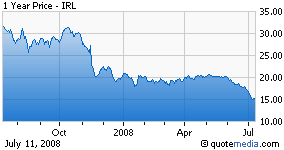 Ireland has gone from darling to outcast in less than a year in the eyes of the global investment community. Due to vastly overvalued property markets and loose banking and fiscal policy, the market is down close to 70% since last fall. Its growth rate has averaged 7-8% during the past decade but growth prospects have been officially lowered to zero for 2009 and its economy actually shrank in the first quarter of this year.
To make matters worse, IRL's top holding are smack in the middle of the property mess with Allied Irish Banks (AIB) and CRH Construction (NYSE:CRH) right at the top. Property prices in the posh retail areas of Dublin have already dropped 50% and home prices have fallen 20%.
Reasons for Selection:
Sir John Templeton's first maxim was to buy at the point of "maximum pessimism".

The recent turnover to new political leadership in Ireland offers the opportunity to right the Irish ship of state.
IRL trades at a 15% discount to net asset value.
Ireland's stock market is now the cheapest market in the world based on forward price earnings and price to book.
Catalyst: This week's heavy losses at Irish Allied Bank and the lowering of growth prospects have attracted the global value hunters.
Risk Factor: Aggressive
Tip: Build IRL position incrementally, being more aggressive at prices below $15, and you may wish to consider 10% stop loss.