We were pleased that Hewlett-Packard (HPQ) decided to suck it up and write down $8B worth of goodwill from its 2008 EDS acquisition. We are not ready to join Ralph Whitworth of Relational Investors and Seth Klarman of Baupost in buying the stock but we are seeing a number of trends that encourage us to actively evaluate the company. We are going to wait and evaluate what is going on with the company in order to determine whether or not a "perfect pitch" will be coming our way. We will be carefully evaluating this company because although we have respect for Meg Whitman (HP's new CEO) as a manager, we are concerned that Hewlett-Packard could be a value trap. There are things about HP that we like, such as its trailing PE being less than 5X adjusted TTM EPS and that it still generated $3.86B in free cash flows YTD in 2012. We also like the fact that two leading activist value investors have over $1B invested in HP. Unfortunately, we are not ready to pull into Bill and Dave's Garage just yet since we see more things about the company that we don't like, such as its declining revenues, EPS and free cash flows (which declined from $7.87B in YTD 2011 to $3.86B in YTD 2012). In our professional opinion, we see HP as a once-great formerly mighty blue chip which has lost its edge and is now a raw, special situation turnaround project.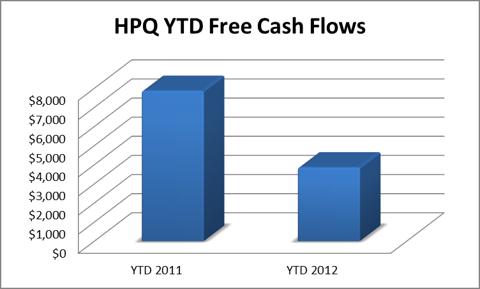 Click to enlarge
Source: Morningstar Direct
Corporate Highlights or Lowlights (Depends on your view)
HP's most recent reported loss of $5.8B was not really a surprise to us, since in Q2 it preannounced that it would write-down over $2B in non-recurring charges for restructuring and impairments to the value of the Compaq trade name. Furthermore, we think that HP's management decided to take a big bath's worth of charges this quarter by taking an $8B charge for goodwill impairment on EDS (HP Services) and by increasing the Q3 restructuring charge from the $1B that was previously announced to $1.8B. This increase in this charge was due to a higher than anticipated acceptance rate under its early retirement program and faster than expected implementation of the workforce reduction program. One piece of good news is that HP preannounced its Q3 adjusted EPS of $1/share and that exceeded the consensus forecasts. Unfortunately, revenue came in light. Revenue was $29.7B and not only did it decline by 5% YoY, it missed consensus estimates by 1.5%. We hope that people who were carping about HP reducing its research and development spending would be pleased that HP increased research and development by 5% year-over-year in Q3 2012 and by 2.6% year-over-year YTD 2012 versus YTD 2011.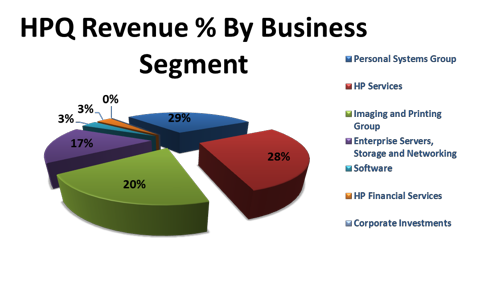 Click to enlarge
Source: Hewlett-Packard's Q3 2012 Earnings Release
Business Line Summary
With the exception of HP Software and HP Financial services, all of HP's business lines saw revenue declines on a year-over-year basis and on a linked quarter basis during the Q3 2012 period. HP Financial Services saw its year-over-year revenue grow by a mind-boggling 0.3%. We can only hope that division can keep up with that glacial growth! And we can't forget that HP Software's revenue grew thanks to the Autonomy Corporation PLC acquisition. Considering that former HP CEO Léo (Apotheker) spent $11B to acquire that serially acquisitive broken growth company, we won't ever forget the name of Autonomy Corporation PLC, especially since HP racked up over $8B in new debt to acquire that white elephant. We should be thankful though that Léo did not spend £11B to acquire Autonomy. We think Hewlett-Packard's stakeholders can take comfort in that Dell Inc (NASDAQ:DELL) has also seen weakness in its PC and mobile computing device revenues as well. HP saw its Personal Computing Systems Group revenue decline by 8.5% YoY for its current year-to-date results while Dell saw a 14% decline in its Mobile computing devices revenue YoY in its current year-to-date results and a 5% decline in its Desktop PC revenues.
Corporate Asset Management
We think HP stakeholders should be breaking out the bubbly that HP did not make any acquisitions this quarter. We think Dodge & Cox (a nearby asset manager and HP's largest stockholder at 7.1% of HP's stock should be sending Meg Whitman a hand-written card that says "Dear Margaret, Thank you for going one quarter without an acquisition, Sincerely, Your Largest Stockholder". HP generated over $2.07B in free cash flows in Q3 2012, which was a decline of 7.5% versus the $2.23B in free cash flows for Q3 2011. HP used nearly $290M of its Q3 2012 FCFs to repurchase shares, $260M to pay dividends and $274M to pay down debt. During the year, HP has paid down $675M in outstanding indebtedness and we guess that every little bit helps. HP also used the remainder of its YTD FCFs to increase its cash balance by $1.47B and we only hope that it used that cash to pay down its $1.05B in maturing debt that is coming due in August and September 2012.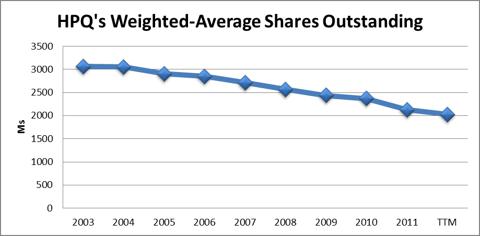 Click to enlarge
Source: Morningstar Direct
CONCLUSION
In conclusion, we're giving Meg Whitman a grace-period pass for her first three quarters even as HP has seen its revenues steadily erode even with the artificial performance enhancement that comes with adding an acquisition (Autonomy). In our professional opinion Léo did such a terrible job running HP and left a severe mess for whoever would be succeeding him. We can see why no one has claimed Léo off the waiver wire when he left HP due to ill health (HP's board was sick and tired of his mismanagement of the company). The good news about HP's $11B in charges this quarter for intangible asset impairments and restructuring is that we are not expecting much more in write-downs this quarter. Another piece of good news is that HP is not the only PC maker that is struggling to reinvent itself. HP stakeholders should be pleased as punch to know that Dell has driven itself into Mediocrity Ditch as well and is there to keep HP company and to make sure that HP doesn't feel bad about the two year struggle that it has endured. Dell has also joined HP in the acquisition chase as it has also made a number of acquisitions just like HP in order to stave off declining revenue from PCs and other hardware.
We reiterate that there are a number of positives that we see in HP such as the low adjusted PE, the $3.86B in free cash flows that it generated YTD in FY 2012 and the fact that Ralph Whitworth and Seth Klarman have over $1B collectively invested in HP. However, because the company is still struggling and seeing declines in revenues, EPS and free cash flows, we will be patiently analyzing and evaluating the company over the next six months to identify if a perfect pitch will be available for us to hit.
Disclosure: I have no positions in any stocks mentioned, and no plans to initiate any positions within the next 72 hours. I wrote this article myself, and it expresses my own opinions. I am not receiving compensation for it (other than from Seeking Alpha). I have no business relationship with any company whose stock is mentioned in this article.
Additional disclosure: This article was written by an analyst at Saibus Research. Saibus Research has not received compensation directly or indirectly for expressing the recommendation in this article. We have no business relationship with any company whose stock is mentioned in this article. Under no circumstances must this report be considered an offer to buy, sell, subscribe for or trade securities or other instruments.