Iron ore markets have been squeezed lately as a result of weak steelmaking demand from the largest steel and iron ore consumer, China. This is primarily a result of the macroeconomic malaise that has reduced the pace of economic activity in the country. Consequently, iron ore prices have been moving around their three-year low levels; the Shanghai steel futures touched record lows yesterday. Although iron ore is set to rebound in the near term, it is uncertain as to when and whether the bottom will be reached. However, we feel it's an appropriate entry point for a long-term investor who aims to target handsome capital gains in addition to lucrative dividend yields that the big market players are currently offering.
We are bullish on the iron ore industry in the long term, and our top picks are VALE SA (NYSE:VALE) and Rio Tinto PLC (NYSE:RIO). Please read our previous article that offered investment advice on VALE. RIO has recently touched its three-year low level, and its valuations are cheap based on forward price-to-earnings and EV/EBITDA multiples. Moreover, its reasonable dividend yield, historical balance sheet strength and diversified asset base make us recommend a long position in the stock for long-term investors. Near-term investors should stay away from this overall sector, given the volatilities accompanying metal prices, and its reliance on a steel rebound.
Iron Ore - Market Dynamics
Recently, steel futures in Shanghai have hit their all-time lows, putting further pressure on iron ore prices, which are already hovering near their 3-year lows. The primary reason for this decline is the weaker economic growth in the world's largest steel consumer, resulting in waning demand for steel and its key raw material, iron ore. According to the National Bureau of Statistics, China's official factory purchasing managers' index (PMI) dropped below 50 to settle at 49.2 in August, indicating a contraction in the economy. In addition, the strengthening Australian dollar and augmenting set-up and production costs have added to the problems of mining companies in Australia.
Rebar, or steel used in the Construction Industry, suffered a blow when its most-traded January futures declined by 2.1% on the Shanghai Futures Exchange, to hit an all-time low of 3,276 Yuan ($520) on Tuesday. Meanwhile, benchmark iron ore (with 62% iron content) dropped to $89.10/ton on Monday after surging a bit on Friday. It is also floating near its three-year lows, $88.70, which it touched last Thursday.
Recently, Fortescue Metals Group Limited, the third-biggest iron ore producer in Australia, reduced its full-year spending forecast by 26%. The company is waiting for iron ore prices to rebound before moving forward with expansion plans. In addition, the world's biggest miner, BHP Billiton (NYSE:BHP), has reduced or deferred billions of dollars in proposed investments last month, including an iron ore port expansion, amidst depressed macroeconomic growth. This is further adding to the concerns of a potential investor in this industry.

Rio Tinto PLC
Rio Tinto PLC is the world's second-largest iron ore producer by output, after Vale SA . The following chart shows its FY2011 revenue breakdown according to different segments.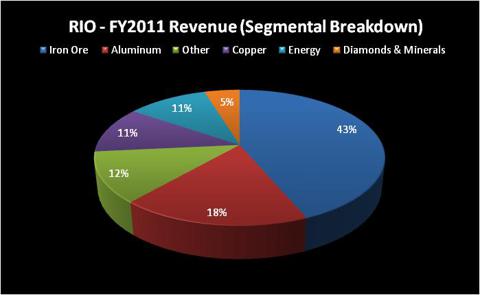 Click to enlarge
Despite dipping iron ore prices, RIO is not slowing production in the near term, as it has maintained its target to expand iron ore output from almost 225 million tons last year to 353 million tons by 2015. In addition, its long-term copper outlook remains intact, despite volatilities associated with its price.
The mining giant has reported a 22% dip in 1H2012 earnings, as a result of falling commodities prices, except gold. Although the company is concerned with the short-term uncertainties associated with metal prices, it is bullish on the long-term prospects, which is why it has not followed its rivals in reducing production targets.
The company has historically been able to deliver strong margins, which shows its strength, despite tough operating conditions. According to the company's chief executive Tom Albanese, "We continue to generate strong margins despite falling prices. We are reaping the benefits of investing early in iron ore, which is producing consistently high returns."
It is expected that whenever iron ore prices rebound, RIO will be one of the major beneficiaries. According to Simon Burge, CIO of ATI Asset Management, "We feel that the price of iron ore will recover in 4Q2012 and Atlas Iron, Fortescue Metals and Rio Tinto will be the beneficiaries of the recovery."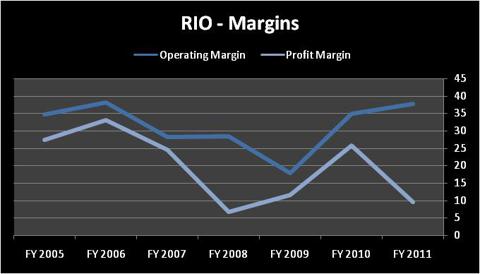 Click to enlarge
Valuation
The following table shows that the vulnerable condition of the iron ore market has impacted RIO's shares significantly, as is illustrated in its cheap price-to-earnings and poor share price performance. After VALE, RIO captures the combination of cheap valuations and reasonable dividend yield. In addition, RIO's shares have hit their 3-year lows recently, and the stock has lost more than 11% on a YTD basis.
| | | | |
| --- | --- | --- | --- |
| | Rio Tinto PLC | VALE SA | BHP Billiton Limited |
| Forward P/E (1 year) | 5.56x | 5.03x | 8.43x |
| Dividend Yield | 3.3% | 7% | 3.5% |
| Share price Performance (YTD) | -11.39% | -25.55% | -7.83% |
Disclosure: I have no positions in any stocks mentioned, and no plans to initiate any positions within the next 72 hours.
Business relationship disclosure: The article has been written by Qineqt's Basic Materials Analyst. Qineqt is not receiving compensation for it (other than from Seeking Alpha). Qineqt has no business relationship with any company whose stock is mentioned in this article.