My previous article expressed a concern that although Silver Wheaton (NYSE:SLW) offered a leveraged play on silver, it would be expensive to acquire additional streams relative to the historical average of approximately $8 per Ag equivalent Oz ($4 upfront and $4 upon delivery). Now that the company has made its first acquisition since 2010, we can examine the Hudbay deal to derive the value added and margins future acquisitions may bring.
Acquisition Timeline: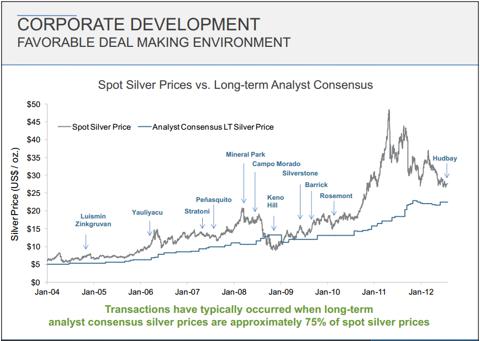 Click to enlarge
Source: SilverWheaton.com
With such a large gap between acquisitions and incredible volatility in the silver market, as exemplified by the iShares Silver Trust (NYSEARCA:SLV), the cost of acquiring additional streams is a major concern for investors.
The Hudbay Deal: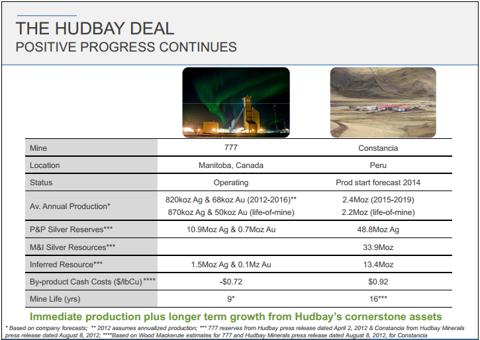 Click to enlarge
Source: SilverWheaton.com
The deal with Hudbay will cost Silver Wheaton $750mm in upfront consideration to acquire all the silver from the 777 mine in Manitoba, and the Costancia mine in Peru. Additionally, Silver Wheaton is entitled to 100% of the gold production from the 777 mine until Costancia is completed, or the end of 2016, whichever is later. At that point, SLW's gold ownership will drop to 50% for the remaining life of the mine. SLW will also pay an additional $5.90 per Ag Oz and $400 per Au Oz delivered. Hudbay is going to use the capital injection to complete the Constancia mine, which is estimated to cost $1.5B.
Reserve and Production Forecast Analysis: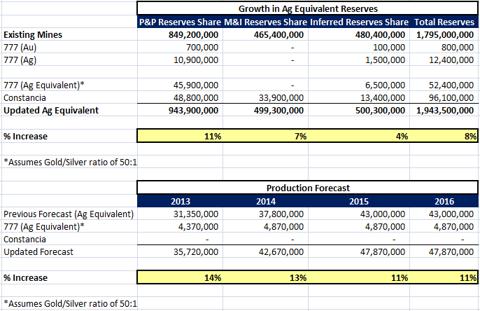 Click to enlarge
The Hudbay acquisition increased total reserves by 148.5mm Ag equivalent ounces. Total reserves increased 8% to 1.94B vs. previous reserves or 1.80B. 2016 projected production is expected to increase by 11% or 4.9mm Ag equivalent ounces to 47.9mm vs. the previous forecast of 43mm.
Increased Leverage to Silver: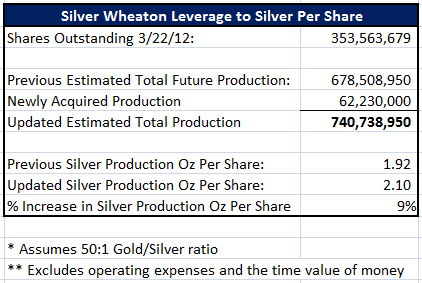 The Hudbay stream should add approximately 62.2mm ounces of Ag equivalent production over the life of the streams to the previously projected 678.5mm ounces. Ag equivalent ounces per share are projected to increase 9% from 1.92x to 2.10x. As a streaming silver company it is crucial that Silver Wheaton is able to convert its excess cash into additional streams enabling investors to achieve an increasingly leveraged play on silver.
Acquisition Cost Analysis: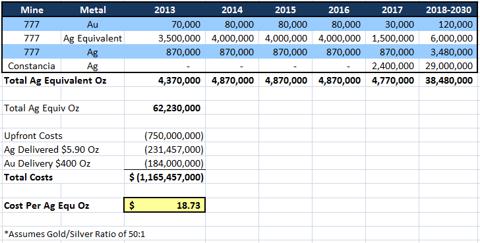 Click to enlarge
While growing reserves and increasing their leverage to silver is crucial, the price paid for streams is equally as important. At $18.73 per Ag equivalent ounce the acquisition costs of have increased by approximately $11 compared with previous costs of approximately $8 per Ag equivalent ounce. Despite the dramatic increase in cost per ounce, the acquisition will contribute to Silver Wheaton's bottom line, even after factoring in operating expenses.
Discounted Cash Flow of Acquisition: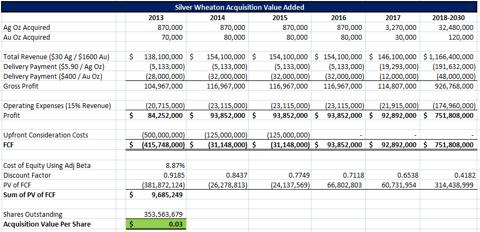 Click to enlarge
Assuming a $30 silver price and $1,600 gold price the acquisition is only slightly accretive, due primarily to Silver Wheaton's 8.87% cost of equity, since it is required to pay $750mm in upfront consideration for streams it will be receiving over the next 16 years.
Investment Thesis:
The acquisition will likely benefit SLW greatly in the years to come. Despite the fact that the DCF is only slightly accretive, the acquisition was well timed, as silver was making what now appears to be a major bottom. Additionally, it is important to consider that anything over $30 per Oz for silver and $1,600 for gold goes straight to the bottom line, as its operating expenses are minimal. The market rewards streaming companies that can continue to acquire new streams at reasonable prices with higher multiples, and that is what this transaction has proved. It is vastly more beneficial to SLW shareholders when additional streams are acquired at historically high, but reasonable prices, as opposed to keeping excess cash on the balance sheet earning virtually no interest. Silver is in a bull market and as all long-time precious metal investors know, the buying opportunities are limited. As silver goes to and through the $50 level the benefits of this well timed acquisition will be as clear as previous acquisitions at $8 per ounce appear now. SLW managed to cover the cost of equity, and buy an asset that provides immediate production at what will likely be generally acknowledged as the bottom of this market cycle.
Looking Forward:
The size of the acquisition relative to the current streams is significant; although not overly impressive as exemplified by the 8% increase in total reserves, 11% increase in projected 2016 production, and 9% increased leverage to silver per share. With no other acquisitions since 2010, a large cash balance, and an undrawn revolver SLW should do at least one more sizable deal this year. Fortunately CEO Randy Smallwood stated, "I'm hoping this is the first of several transactions this year." After admitting that people were asking for $30-$50 an ounce for streams last year the company should aggressively acquire every reasonable priced stream possible. Acquisitions made at price similar to the Hudbay deal will likely result in significant increases in the stock price as silver moves higher. At $18.31 per Ag equivalent ounce anything over $30 silver is value added in excess of operating expenses and cost of capital.
Silver has dipped below $30 several times since the blow-off last year. The company has begun to put its liquidity to work but there is still a lot of liquidity that needs to be deployed. Hopefully the company will be able to deploy the remainder of its capital at similar or cheaper levels. Silver has already moved up significantly in the last few weeks and this may be the last chance to acquire streams at reasonable levels for some time. All streams purchased at similar levels will likely result in great long-term rewards to shareholders. Hopefully the company has not waited too long, and will be able to deploy significant additional capital before prices become unreasonable again.
Disclosure: I am long SLV. I wrote this article myself, and it expresses my own opinions. I am not receiving compensation for it (other than from Seeking Alpha). I have no business relationship with any company whose stock is mentioned in this article.
Additional disclosure: 2013 Call Options