Calumet Specialty Products Partners LP (NASDAQ:CLMT) is essentially a North American refiner and marketer. In this sense it is insulated to a large degree from what is going on in Europe. It operates in two segments -- Specialty Products and Fuel Products. The Fuel Products segment produces gasoline, diesel, jet fuel, and heavy fuel oils. The Specialty Products segment produces over 1500 specialty products. CLMT is still largely a family owned business with the founders' families owning 31% of the LP units and 100% of the general partner.
Its last two quarters have been nothing short of stupendous with beats on adjusted earnings of 98% in Q1 2012 and 115% in Q2 2012. A good part of this is due to the extra production from the newly acquired Superior refinery (closed on September 30, 2011 for $413 million). This has 45,000 bpd of refining capacity. CLMT closed on two more acquisitions -- Synlube and TruSouth -- in January 2012 for approximately $46 million. It closed on the Royal Purple acquisition on July 3, 2012 for $333 million. Royal Purple is a manufacturer and marketer of high performance lubricants primarily for automotive, industrial, oil and gas, chemicals and refining, power generation, food and drug manufacturing, marine, motorcycle, and racing applications. Further on August 14, 2012 it signed a definitive agreement to acquire Montana Refining Company Inc. for $120 million plus some other considerations. This will add another 9800 bpd of refining capacity with a complexity rating of 9.3. CLMT expects to close on this acquisition in Q4 2012. This acquisition is expected to be immediately accretive to distributable cash flow. In other words CLMT is continuing to grow quickly. It is not resting on its laurels. All of the new Canadian (oil sands and oil shale) fields and the new US unconventional fields make these refinery acquisitions likely excellent business decisions.
The latest results for Q2 were extremely impressive. The net income was $65.7 million versus the year ago quarter's loss of $7.7 million. The adjusted EBIDTA was $122.3 million, and the distributable cash flow was $94.9 million. These were great compared to the year ago quarter's $23.7 million and $40.8 million respectively. The company benefited from both the extra production from the Superior refinery acquisition (45,000 bpd) and the widened crack spreads of Canadian heavy and Bakken crude oil differentials to NYMEX WTI. Gross profit by segment for Q2 2012 was $88.6 million for specialty products and $40.2 million for fuel products. These compared to gross profits of $58.3 million and a loss of $7.7 million in the year ago quarter respectively. The increase in specialty products was primarily driven by a 24.7% increase in sales volumes. The increase in fuel products profits was primarily driven by an 82.9% increase in sales volumes as a result of the Superior refinery acquisition. Q2 also benefited from decreased crude oil prices. The complex derivatives trading by the company had its ups and downs. However, none of that can dim the outstanding overall performance. This company is doing well in a feeble US economy. It has been expanding rapidly to greatly profitable effect, while many other companies are shrinking their profits. With a P/E of only 9.08 is seems a reasonable value. If you also consider the average analysts' next five years EPS growth estimate of 29.65% per annum, CLMT may be considered a bargain. Plus analysts estimates may be much too low, if the two most recent quarters are any indication. Further the low natural gas prices have been helping the refining business in general. These are not likely to disappear quickly in the US. CLMT would seem to have a bright future.
For those mostly interested in the distribution history, the chart of the last few years is below. CLMT aims for a conservative target distribution coverage of 1.2x to 1.5x.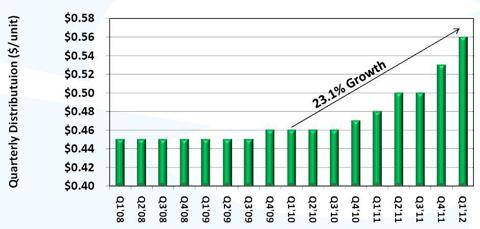 The chart of recent adjusted EBITDA growth is below.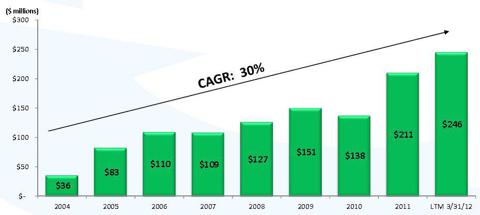 I note that the figure for 2012 is out of date. After the great Q2 results, it is appreciably higher. However, I will leave it to the company to say exactly how much higher it should be. I merely note that the company's FY2012 EPS estimate was changed from $2.57 to $3.17 after the Q2 results were announced. Since Q3 results are likely to be better than currently estimated, even this new estimate is probably low. Regardless, the uptrend of 30% CAGR for adjusted EBIDTA for the last 8 years is excellent.
The two year chart of CLMT gives some technical direction to this trade.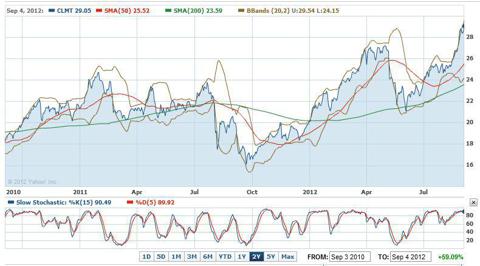 The slow stochastic sub chart shows that CLMT is overbought. The main chart shows that CLMT is far above both its 200-day SMA and its 50-day SMA. It is also very near its top Bollinger Band. All these things say it is overbought. The main chart shows CLMT is in an uptrend. All these things speak well of the stock. However, it is overextended currently. It might be better to wait for it to come back toward its 200-day SMA before buying. Alternatively, one could average in. In either case you should keep in mind that the overall market is overbought. Many pundits have been calling for a major retracement. The problems in Europe are heating up again. Spain is likely to fill the news in September. Its banks are in worse trouble than first said. Plus it has 30B euros of debt coming due in October, which will have to be renewed. Plus Catalonia recently requested a bailout. Further on a three month rolling basis, portfolio and investment outflows from Spain totaled 52.3% of the country's GDP in July. Fear has been coming back to the markets. US Treasuries have been rising again (yields falling). The market does seem to be setting up for a retracement. I note that CLMT tends to hedge about 50%. Taxes for CLMT distributions will belong on a K-1 form.
If you like CLMT, you may wish to consider other similar stocks such as: Western Refining Inc. (NYSE:WNR), Linn Energy (LINE), BreitBurn Energy Partners (BBEP), and Phillips 66 (NYSE:PSX).
Note: Some of the fundamental financial data above is from Yahoo Finance.
Good Luck Trading.
Disclosure: I have no positions in any stocks mentioned, but may initiate a long position in CLMT over the next 72 hours. I wrote this article myself, and it expresses my own opinions. I am not receiving compensation for it (other than from Seeking Alpha). I have no business relationship with any company whose stock is mentioned in this article.