By Sabina Bhatia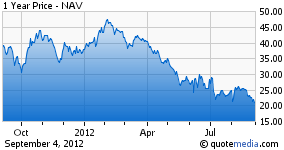 What does the EPA final ruling mean? While you were away at the beach, the EPA announced its final ruling telling Navistar (NYSE:NAV) that they can continue production while paying NCP's through its transition to SCR technology. The maximum NCP per 2012 model truck will be $3,775. If the industry is expected to manufacture approximately 140k trucks in 2H2012, and NAV is able to maintain its 20% market share, this means that NAV will manufacture 28k trucks for the rest of 2012, and cash out in terms of penalty would be $106 million.
Positives of the EPA ruling: First, Navistar will continue to operate while transitioning into the SCR technology. Initially, the risk was that NAV would have to shut down HD production for at least six months. Second, maybe the EPA also expects the transition to SCR Technology to be a path to being compliant. Third, the penalty per engine was expected to be in the range of $4000-$8000 per truck, so the final ruling is surely better than expected. Last but not the least, this ruling now removes some distraction and we can now focus on forward earnings and performance of new management.
New Senior Management, a fresh new start: Dan Ustian retired as chairman, president and CEO. The board appointed Lewis Campbell, former CEO of Textron as Navistar's executive chairman of the board and interim CEO. Experience from Textron and years at General Motors (NYSE:GM) could contribute significantly to Navistar. We won't focus on whether this was a voluntary exit or one that was forced due to declining sales and profits. Let's just see what Lewis Campbell has to offer.
Here are a few things to watch going forward: 1) Performance of new CEO, 2) Earnings season results, 3) Maintenance of market share within the industry, 4) Performance of balance sheet, and liquidity status as a catalyst to survival, and 5) SEC inquiry results
BIG RISK: In addition to what has already been mentioned, we think the big risk for the company is the acceptance of its proprietary technology. Will the EPA approve it? Also it's a very competitive industry landscape and customers have several options outside of Navistar's technology. So its important that Navistar maintains its market share going forward.
Navistar liquidity: Navistar recently issued a $1 billion senior secured term loan lead by JP Morgan (NYSE:JPM) and Goldman Sachs (NYSE:GS). As per the April 30 10Q, the company has liquidity of $1.4 billion (pro-forma for the term loan) and $175 million availability under the ABL Facility. This puts the company in a comfortable position to pay off the $1b in short term debt due while dealing with the uncertainties surrounding their business and the SEC inquiry.
Hate to be anecdotal BUT ... We know you won't just believe that the SEC inquiry might be minor but is there a slight possibility that insiders already know the result of the inquiry given that JP Morgan and Goldman Sachs just lent Navistar $1 billion? Maybe Navistar deserves some benefit of doubt here? Also, will the three top holders of the stock, namely, Franklin Resources, MHR Fund, and Icahn let the company fail? We think that they might just provide a support level to the stock. It's always good to have at least 1 activist like Carl Icahn hold your stock.
So how can you get involved? Navistar stock is down 50% in the last 52 weeks. August 2012 was a noteworthy month for Navistar with several catalysts for the stock. The stock is currently trading at $21.32 versus the 52-week range of $28.07 - $48.18. We don't think it is meaningful to look at 2013 earnings, as the company will need more than 12 months for a possible transition into a profitable business with expanding margins. Looking into 2014, the stock is trading below the industry average of a 10x multiple. Although we think this might be fair given the most recent changes in the business, we also think that a 20% market share and no liquidity concerns for the next 12 months, puts the company in a much better position to make changes for future profitability.
A yield of 8-9% on their public debt might be attractive to an institutional investor but the liquidity is a potential challenge to attain a meaningful position for a retail investor. Hence we think the Navistar equity is a better option for a retail investor's consideration.
Here are some ETF's that hold Navistar stock:
PowerShares Fundamental Pure Mid Core Portfolio (PXMC) - 0.55% position in Navistar
First Trust Industrials/Producer Durables AlphaDEX Fund (FXR) - 0.52% position in Navistar
iShares Morningstar Small Value Index (JKL) - 0.42% position in Navistar
Conclusion: We think the company has an interesting history; the stock trades cheap to its historical levels and peer average. We think there are multiple good, bad and ugly catalysts, which could be an interesting entry point into the stock. Navistar is expected to report earnings on September 6.
All data sources from Reuters and Bloomberg.
Disclosure: I have no positions in any stocks mentioned, and no plans to initiate any positions within the next 72 hours. I wrote this article myself, and it expresses my own opinions. I am not receiving compensation for it. I have no business relationship with any company whose stock is mentioned in this article.