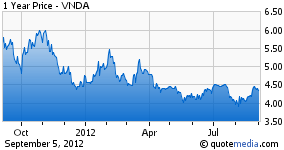 Vanda Pharmaceuticals (NASDAQ:VNDA) is a company with a market capitalisation of ~$123 million and a current share price of $4.34. Vanda's share price reached as high as $15.52 in August 2009, a few months after the U.S. FDA (Food and Drug Administration) approval of Fanapt, an anti-psychotic drug for schizophrenia. But the story in the following years has not been so rosy, with a steady decline in the share price, which is now sitting at around about the lowest level in just over three years. Sales from Fanapt have been dissapointing, amid a very crowded market for anti-psychotics, which includes competition from generic anti-psychotics. Despite this, Vanda is still pursuing development of an injectable form of the drug with partner Novartis (NYSE:NVS) in the U.S., as well as approval of the drug by the EMA (European Medicines Agency). Their other drug in late stage clinical trials is Tasimelteon. Tasimelteon is currently being targeted towards Non-24-Hour Sleep-Wake Disorder (N24HSWD), as well as major depression. In this article I will focus on the former indication, as in this case the drug is in Phase III trials with results expected in late 2012.
N24HSWD is a type of Circadian Rhythm Sleep Disorder (CSRD). Other such disorders include Shift Work Sleep Disorder, Delayed Phase Sleep Disorder and Jet Lag. So what is circadian rhythm? Circadian rhythm is like our biological or internal clock, and is regulated by a group of cells called the Suprachiasmatic Nucleus in the brain. This group of cells interacts with the Pineal Gland in the brain which releases the hormone melatonin. Melatonin levels can fluctuate. Rising levels of melatonin can contribute to sleepiness. Normally, the rise and fall of melatonin levels that influences the sleep-wake cycle lasts longer than 24 hours. However, the Suprachiasmatic Nucleus also receives signals transmitted by nerves from the back of the eye. These signals are related to the presence or absence of light. In the dark, at night, this group of cells relays a message to the Pineal Gland to release melatonin. In the light, during the day, the opposite happens. These external environmental cues allow the body to be synchronized to a 24 hour period. In people who are totally blind, these environmental cues are absent, and so their internal clock can run a little longer than 24 hours. In fact, their internal clock can run about 15 minutes longer everyday, and is often referred to as a "free-running" circadian rhythm. This means that they will start sleeping later and later every day. Eventually they will be sleeping during the day, and awake during the night. But this will then revert, and they will then start sleeping during the night, and be awake during the day. This cycle can last one-to-four months at a time. Studies have shown that the use of exogenous melatonin in such individuals can result in synchronization or entrainment of these "free-running" circadian rhythms to a 24 hour period, meaning that these individuals are able to sleep in a pattern that is correlated with a normal 24 hour sleep-wake cycle. Tasimeleton is a melatonin receptor agonist. It stimulates the receptors that bind to melatonin, and it does this with higher affinity than melatonin itself. Tasimelteon has Orphan Drug Status for N24HSWD in blind individuals without light perception. Vanda estimates that in the U.S. there are ~65,000 people with this disorder.
Tasimelteon is a drug that was in-licensed by Vanda from Bristol-Myers Squibb (NYSE:BMY). Vanda is liable to pay Bristol-Myers Squibb milestone payments of up to $40 million in aggregate. It's interesting although not unusual to note that in this case Bristol-Myers Squibb chose not to pursue full development and commercialisation of the drug themselves. In fact, Fanapt had a similar story before Novartis did an about-face and took control of sales in the U.S. Vanda have also recently in-licensed another early stage drug called VLY-686 from Eli Lily (NYSE:LLY). Big Pharma out-licensing is done for various reasons, including for the purpose of limiting R&D expenditure, or even offering an additional revenue stream. However the foremost thought in my mind is usually that the company has decided that either the drug is not going to work or that there will not be enough demand for it, but perhaps I'm being too cynical. Having said all that, this of course does not mean that Tasimelteon is worthless. But how is Vanda, a microcap stock, going to develop and commercialise this drug? Well, Vanda received a $200 million milestone payment from partner Novartis after Fanapt was approved, so cash does not appear to be a short-term problem. And as I mentioned before, Phase III trial results are expected in late 2012. However, looking at the recent 10K, I noted that Vanda has a June 2013 deadline by which it must file an NDA (New Drug Application) with the FDA and reach a development and commercialisation third party agreement in a major market country for Tasimelteon. If this is not met, Bristol-Myers Squibb could take full control of the license and future development and commercialisation of the drug themselves. Another concern is that Vanda has yet to reach an agreement with the FDA about how to best interpret the results of the trials. Tasimelteon is also not the first melatonin receptor agonist on the market. That honour goes to Ramelteon (trade name Rozerem), sold by Takeda Pharmaceuticals (OTCPK:TKPHF) from Japan. However, Ramelteon was approved by the FDA for chronic insomnia, a much larger market. Interestingly, Ramelteon was not approved by the EMA, as it did not believe the effect on sleep was significant enough. Vanda has previously run a Phase III trial for Tasimelteon in chronic insomnia, but it appears as though it is no longer pursuing this market. Furthermore, it should be noted that melatonin is widely available in the U.S. as a dietary supplement. In Europe however, melatonin is a regulated drug and is approved for blind individuals with insomnia. Nevertheless, no studies have been done to prove whether melatonin agonists are any better than melatonin itself.
Besides the results of the Tasimelteon trial, the other significant near-term catalyst for Vanda will be the results of the Fanapt trial for the injectable formulation of the drug. Now despite its downside risks, I do like Tasimelteon, I think there is an unmet medical need for the drug. My thoughts on Fanapt are quite the opposite. Although it is plausible that the trial results in both these instances could be good, I'm not so confident about whether either of these drugs will become a commercial success. Certainly some have argued that Fanapt is already a commercial flop. Furthermore, I'm not confident that Vanda will get Fanapt approved by the EMA. In Vanda's latest earnings call transcript its CEO mentions various issues outlined by the EMA including, "competitive efficacy, cardiac safety and appropriateness of the existing active control maintenance study." Putting all this together, and bearing in mind that Vanda has more cash than its market capitalisation, one could argue that company is undervalued, with near-term catalysts that could swing its share price on the run-up or after. However, I believe that the downside risks are far too great, and that the share price could fall a lot lower than where it already is, particularly looking beyond the next 9-12 months.
Disclosure: I have no positions in any stocks mentioned, and no plans to initiate any positions within the next 72 hours. I wrote this article myself, and it expresses my own opinions. I am not receiving compensation for it. I have no business relationship with any company whose stock is mentioned in this article.