One gauge worth looking at when seeking out stocks that could potentially evolve into profitable trades is "beta."
Since beta measures the volatility of the underlying stock in relation to the overall market, stocks that exhibit a high beta are more likely to be highly volatile. High volatility usually spells opportunity for traders.
When big tech stocks experience a high beta, things become even more interesting.
Today, we will focus on Cisco Systems (NASDAQ:CSCO). The company's beta of 1.31 is exceptionally high relative to its big tech peers. Compare Cisco to Microsoft (NASDAQ:MSFT) with a beta of 1.13, or IBM (NYSE:IBM) with a beta of 0.6.
A month ago, we took advantage of Cisco's high volatility to sell call options and lock in an instant 3.2% gain. You can view the trade here. But this time we will trade Cisco a bit differently.
What Has Happened With Cisco?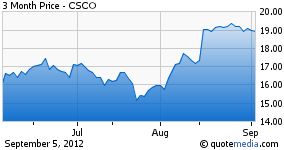 On May 10, Cisco beat earnings estimates on its third-quarter earnings announcement, but it was not enough. Management stated that visibility for the second half of the year was poor due to the fallout from Europe and the tough economic environment. Investors weren't too crazy about the news and the stock plummeted by 10% on the same day. In the course of the following month, Cisco's price skyrocketed and erased its previous losses. Today, the company is trading at a trailing P/E of 12.75, a price/book of 2, and a price/sales of 2.2.
I believe that Cisco is headed for a strong short-term pullback in price. Hence, we will sell it short and try to benefit from a short-term downtrend in the price.
The Rational Behind This Trade Setup
In the past 14 days, the stock has been testing the $19.20 level, trying to reach a higher high with every day that passes but with no success. This formation is considered a bearish pattern because it resembles a false breakout. The stock simply could not breach its previous high.
The strong upward trend from $15 to $19 was accompanied by a gap in price between $17.53 and $18.75. As a general rule, gaps normally close. Therefore, you want to trade in the opposite direction of the gap.
Trading Instructions
Short Cisco at the current price of $19, place your stop loss at $20.16, and take profits at $17.05. Alternatively, you can short Cisco via the options market. My preference is the October 2012 puts at the $20 strike. Do not pay more than $2 for the option.
Disclosure: I am short CSCO. I wrote this article myself, and it expresses my own opinions. I am not receiving compensation for it (other than from Seeking Alpha). I have no business relationship with any company whose stock is mentioned in this article.