AstraZeneca (NYSE:AZN) seems undervalued considering the traditional valuation metrics (tabled below in the valuation section), but certain concerns relating to possible R&D and Capex increases, which are likely to depress EPS in the future, have to be accounted for. In light of these developments, we recommend avoiding the stock at present for those looking for an ideal entry point and capital appreciation. We maintain that the company will have no problems with its dividend increases, and it provides an above average yield of >6% in the market.
AstraZeneca is a global biopharmaceutical company specializing in the discovery and production of prescription drugs, and currently produces several drugs in the therapeutic areas of cardiovascular, gastrointestinal, infection, neuroscience, oncology, respiratory and inflammation. AstraZeneca's presence in the Biopharmaceutical Industry has been predominantly an uphill struggle. Shareholder dissatisfaction with the company's increasingly murky future prompted the appointment of Leif Johansson as the new chairman in March.
One of the problems faced by AstraZeneca is its insistence on producing branded prescription drugs at a time when several of its competitors have made inroads into generic and non-prescription drugs. This policy hasn't really paid off, since Astra has had several clinical failures and hasn't brought many drugs into the market. Astra's setbacks include the failure of its depression fighting drug, which was under development in collaboration with Targacept. Additionally, its progress for an ovarian cancer drug was halted. It teamed up with Bristol-Myer Squibb (NYSE:BMY) to develop Dapagliflozin; a drug aimed at targeting diabetes, but failed to secure an approval by the FDA. However, it did at least win a recommendation for its approval in Europe.
David Brenan has not been a favorite with investors, who are now growing frustrated with the shrinking pipeline of products. During his tenure of six years as the top man, when big acquisitions were exactly what were needed to spur external growth for the company, David Brenan shied away from major purchases and stayed satisfied with minor ones and a few partnerships and licensing deals. The only major acquisition was the $15.6b paid for MedImmune for its expertise in protein-based biologic drugs and a nasal flu vaccine, FluMist. The deal was a dud and thought to be overpriced. Given the need to diversify, in our view, a candidate who shows promise of overhauling the existing state of affairs could prove to be the right leader for Astra. Now Pascal Soriot, the former head of the pharmaceutical division of Roche Holding AG, will replace Simon Lowth (the interim CEO). Pascal shifts over to Astra from an organization that too was focused on producing branded prescription drugs. This, however, is no guarantee that Astra will decide against diversification, but we shouldn't be expecting any radical shift in the company's strategy.
Financial Highlights
A number of Astra's drugs face exclusivity losses. Seroquel (13% of revenue) IR has already lost its protection in March 2012, and heartburn drug Nexium will lose its patent by 2015. Cresto, a cholesterol drug, is set to lose its exclusivity by 2016, but is already feeling the heat from the generic versions of Pfizer (NYSE:PFE)'s Lipitor. The quarterly report highlighted a 15 percentage points decline in revenues owing to exclusivity losses. Total revenue for the quarter was down to $6.66b, showing a fall of 18% at a constant exchange rate (CER). Core EPS consequently slumped as well by 6% at a CER and stood at $1.53, beating consensus by 12.5%. Analysts expect EPS of $6.07 for the year ending December 2012.
What You Might be Missing about the Company
Investors in the pharmaceutical sector have lately raised their voices for better returns on their investments at a time when several big players are coping with "patent cliff." Pharmas have responded by implementing restructuring programs, and a favorite area of closures and job cuts has been the R&D department. It was announced by Astra that by 2014 it will have axed 30,000 jobs. Nearly 2,200 of the recent proposed cut of 7,300 jobs will be claimed from R&D in a bid to cut the associated costs, and acquire winning drugs from other biotech companies.
JPMorgan (JPM), in its recent downgrading of the stock to 'underweight' from an initial 'neutral', has citied some distortions in the market regarding earnings estimates. A flaw in current expectations regarding the financial performance relates to the unchanged core EPS for 2014, estimated in the midst of falling revenue. Investors justify this position with Astra's progression with the restructuring initiatives aimed at cutting costs. But what the market fails to account for is that Astra seems to have already gone too far with the cost cutting, and further cuts are deemed unsustainable. Dividend payments in the future may not be a problem, but according to JPM, earnings could be as low as by 10%, below what analysts currently estimate for 2014. Current estimates fail to realize that "new strategy," said to be unveiled, will most probably call for increased spending on research and marketing to bring about the necessary changes for a sustainable future for the company. Why? The signs highlighted in the report indicate that:
ERP (Enterprise Resource Planning) implementation problems that led to supply disruptions were most likely caused by insufficient spending.
Revenue attributable to the sale of Seroquel XR fell by 4.3%.
Capex of 2.5% is amongst the lowest in the industry (see Graph 2 below).
Graph 1: R&D as a % of Sales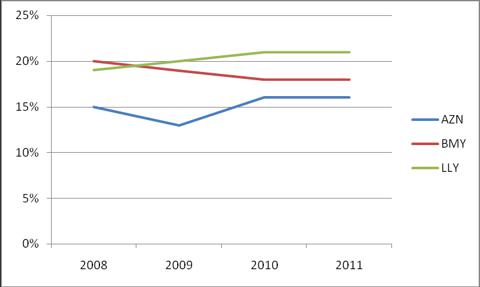 Click to enlarge
Source: Bloomberg
Astra currently spends the lowest on research and development as a percentage of sales compared with similar sized competitors Bristol-Myer Squibb and Eli Lilly & Co. (NYSE:LLY).
Graph 2: Capex as a % of Sales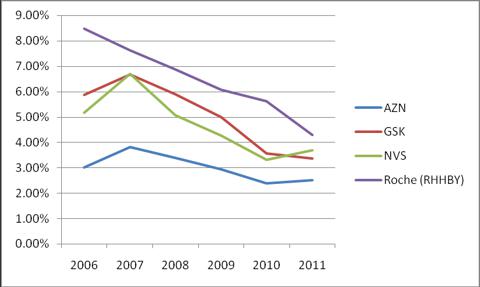 Click to enlarge
Source: Bloomberg
To summarize, what is being suggested here is that the long-term planning by former CEO Brenan has most likely resulted in inadequate investment within the company, which cannot be sustained.
Valuation:
| | | | | | | |
| --- | --- | --- | --- | --- | --- | --- |
| | AZN | Glaxo Smithkline (NYSE:GSK) | Novartis (NYSE:NVS) | Roche (OTCQX:RHHBY) | BMY | LLY |
| Forward P/E | 8x | 10x | 11x | 12x | 17.5x | 12x |
| Dividend Yield | 6.09 % | 5.02 % | 4.21 % | 4.05 % | 4.12 % | 4.46 % |
Source: Yahoo! and Reuters
The stock has an attractive yield, and coupled with reasonable cash flows generated by the company, there is ample room for dividend increases in the coming years. An interest coverage ratio of 11x indicates that the company has no problems with debt servicing. The chart below highlights that Astra has been comfortably paying its dividends.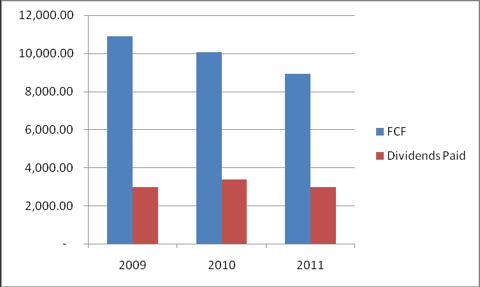 Click to enlarge
Source: Bloomberg
Astra has been generous to its shareholders, with its high dividends and share buybacks. We take the view that the stock provides an above average yield for yield-hungry investors. However, given the concern that the current market earnings expectations for 2014 are too high, we do not foresee a capital appreciation potential in the stock, and investors should avoid the stock until it becomes clear how the new strategy will address earnings sustainability.
Disclosure: I have no positions in any stocks mentioned, and no plans to initiate any positions within the next 72 hours.
Business relationship disclosure: The article has been written by Qineqt's Healthcare Analyst. Qineqt is not receiving compensation for it (other than from Seeking Alpha). Qineqt has no business relationship with any company whose stock is mentioned in this article.