By Chris Diodato
A bond's price is determined by a function of several different factors, including
Duration
Coupon rate
Payment frequency
Face value
Market interest rate
And finally, risk of default, which is the factor that fluctuates most
With individual bonds, spikes upwards and downwards are common, and are often accompanied by firm/country-specific news. For instance, Greek 10 year bonds spiked from a yield of 21% to 29% in the beginning of May on news that led to further speculation of a default. This was a single event, and the surge in yields, to a degree, isolated in Greece. We can't use event-driven spikes like this to forecast other markets. However, when bond prices reverse and begin trending slowly in another direction, especially entire classes in the bond market, a warning is issued to other markets, including stocks and commodities, that all investors should take heed to.
I have been observing, nervously, the spread between American corporate AAA (NYSEARCA:LQD) (NYSEARCA:BND) and BBB (NYSEARCA:JNK) (NYSEARCA:HYG) rated corporate bonds. Of course, BBB bonds are still investment grade, but exhibit a significant increase in risk of default. Therefore, BBB bonds have higher yields, demanded by investors, to compensate for this increased risk. When economies begin to falter, investors suddenly start demanding an even higher yield for risky BBB bonds vs. their less risky AAA counterparts. The bond market is generally perceived as "smarter" than the stock market, meaning that BBB bonds begin declining sharply relative to AAA bonds in price several months before the stock market finally peaks.
Here's our current environment, with the S&P 500 plotted in red, and the spread between AAA and BBB bond yields plotted below it in blue.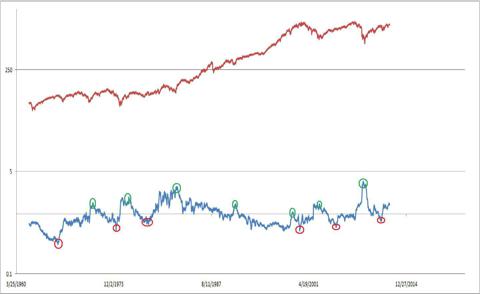 This data goes back to 1962. Notice that when the blue line bottoms and reverses up, meaning that the spread between AAA and BBB bonds is most narrow, the stock market turns down about 9-12 months later. The last bottom was back in August of 2011, and here we are, just over 12 months later.
This signal, as exemplified by the chart, has been quite reliable when spreads are in an overall up trend. Even the less significant bottoms and bottoms in the 1990s bull market were followed by at least some downward retracement in the stock market.
The market is beginning to price in tough economic times, starting with the riskiest, high yield assets. This historically reliable, yet stealthy indicator is sending a warning flare for the rest of the economy as well. To profit from a possible recession around the corner, I would advise shorting JNK, the high yield ETF. Why not HYG? JNK's average duration is longer, making it more sensitive to any broad increase in net default risk. If one wants to stay out of the bond market, but still wants to bet against the economy, go short the riskiest market sector, small caps (NYSEARCA:IWM).
Disclosure: I am short IWM. I wrote this article myself, and it expresses my own opinions. I am not receiving compensation for it (other than from Seeking Alpha). I have no business relationship with any company whose stock is mentioned in this article.