For a couple of years now I've been steadily buying shares in North American unconventional (tight or shale) oil producers. Without planning it, my portfolio has evolved to consist almost exclusively of unconventional producers operating north of the Canada/U.S. border.
Why have I focused on Canadian unconventional? A simple answer, really: valuation.
I thought I'd compare an American producer -- SandRidge (NYSE:SD) -- to a Canadian producer -- Petrobakken (PBKEF.PK) -- to show the valuation difference.
Petrobakken
Petrobakken is a pure play horizontal (unconventional) producer. Petrobakken is one of the two dominant players in the Saskatechwan Bakken (see graph below) and is rapidly growing horizontal production in the Alberta Cardium as well. Here is a look at Petrobakken's position in the Bakken:
Click to enlarge images.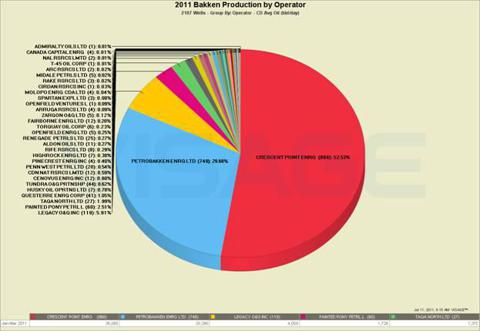 Petrobakken offers a nice combination of growth plus yield, with exit rate production for 2012 expected to be 52,000 to 56,000 barrels per day (up from 40,000 barrels in Q2) and a dividend yield of around 7%. With well over 2,000 identified drilling locations and likely another 1,500 more coming from its emerging Duvernay, Nordegg, and Montney acreage, Petrobakken has a couple of decades of growth ahead of it.
SandRidge Energy
Unlike Petrobakken, SandRidge is not a pure play horizontal oil producer, but it is certainly becoming a significant one.
Three years ago, SandRidge was a natural gas company with very little oil production. CEO Tom Ward foresaw an extended period of low natural gas prices coming and shrewdly made a massive switch in company focus to oil production. This switch was accomplished through a couple of large acquisitions and identification of a company making horizontal play in the Mississippi Lime.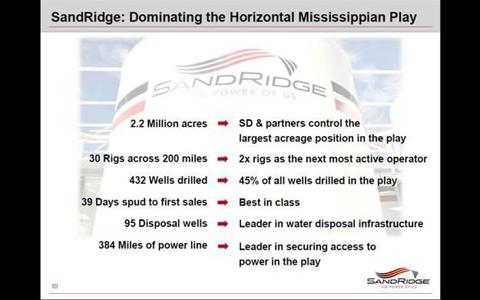 If you haven't heard of the Mississippi Lime, chances are you soon will as companies like SandRidge, Cabot, and Petro River move fully from resource accumulation to resource development. SandRidge alone believes it has over 8,000 drilling locations.
SandRidge Vs. Petrobakken -- By the Numbers
| | | |
| --- | --- | --- |
| | SD | PBN |
| | | |
| Estimated 2012 Cash Flow (Millions) | 1,000 | 800 |
| Enterprise Value (Current Share Price) | 7,300 | 3,800 |
| Multiple of Cash Flow | 7.3 | 4.75 |
| | | |
| Debt (Millions) | 3356 | 1400 |
| Debt to cash flow multiple | 3.36 | 1.75 |
| | | |
| Dividend Yield | 0% | 7.38% |
| | | |
| 2012 Capex Guidance (Millions) | 2,100 | 875 |
Despite having almost twice Petrobakken's debt to cash flow and no dividend yield (vs. Petrobakken's 7%), SandRidge trades at a 54% premium to Petrobakken in terms of enterprise value to cash flow.
I don't understand why the company with the much more leveraged balance sheet and aggressive spending plans trades at the significantly higher multiple. SandRidge is outspending cash flow by almost a billion dollars in 2012, while Petrobakken is almost entirely funded by cash flow from operations.
SandRidge is growing rapidly, but so is Petrobakken. And Petrobakken is doing so while also paying a nice dividend to shareholders and not overleveraging its balance sheet.
In my opinion, this isn't a case of SandRidge being overvalued, it is a case of Petrobakken and other Canadian producers being undervalued. I don't know if the reason for the valuation difference is concern over Canadian oil price differentials or just a lack of interest from Mr. Market.
As long as these valuations exist I'll just keep plugging along, adding slowly to my Canadian unconventional oil producer portfolio and waiting for better days ahead.
Disclosure: I am long PBKEF.PK.
Business relationship disclosure: I have a business relationship with Petro River.