This article is not about football, although 'tis the season. It is about X's and O's.
The debate is always on, with nearly every topic and with nearly every potential investment - from the stock market in general, to specific stocks like Apple, Inc. (NASDAQ:AAPL) as well as inflation, to specific commodities like orange juice (in other words, from apples to oranges). You name it - investors can find opposing opinions everywhere.
Don't take me wrong, I have great respect for all the fundamental analysis that is written each day about this amazing company. However, the question investors need to address is: "What do I do now?" The truth is no one really knows how high "high" is for the market price of AAPL. How far is up?
However, by looking at a Point-and-Figure (PNF) chart, an investor can immediately see the price at which buyers are buying and where sellers are selling - where there is resistance and where there is support - where buyers believe there is value and where sellers believe the price is over-valued.
While looking at the PNF chart of AAPL, it is clear that AAPL is in an uptrend. And, not wanting to sound trite, simplistic or sarcastic, the reality is that the chart will remain in an uptrend until it isn't.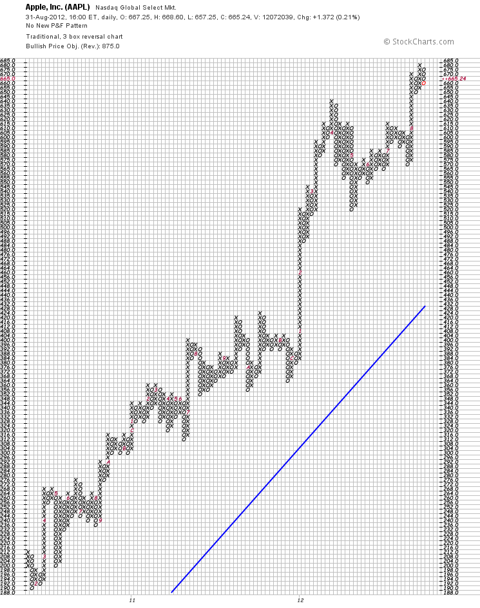 Click to enlarge
So as a reminder for those who don't remember AAPL ever being in a downtrend, take a look at the next chart.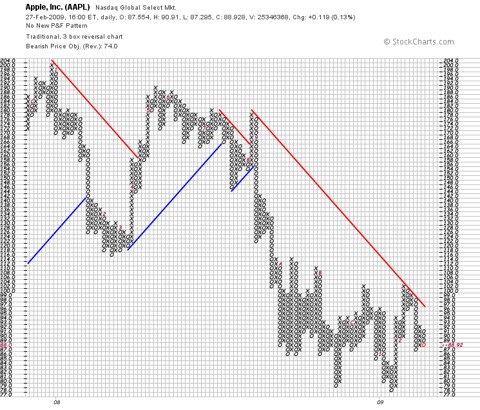 Click to enlarge
At the top-left one can see the December ((C)) 2007 high of $200. At that point, sellers believed AAPL was over price - for whatever reason - and by January (1) sold down to $170.
It should be noted that on PNF charts, there only two indications of time and are for reference purposes only. First, at the bottom of the chart is the year and, second, within the chart, numbers and letters - in red - can be seen. The numbers, 1-9, are the months of January through September, and the letters, A, B & C, are the months of October, November and December.
So, after the sell-off from the high of $200 down to $170 (a 15% correction), buyers, thinking it was a bargain at that price, took the price up $10 per share to $180.
AAPL then traded in that $10 range for a few days until the support at $170 was broken and, as can be seen, sellers, in February (2) and March (2) sold down to $126 and eventually to $116.
What is important to see is that after the buyers took over in April (4) and May (5) the price did not get back to $200, the previous high, it only got to up $190. And, most importantly, from May 2008 through the end of 2008, the tops of the X columns were lower than the previous column of X's and the bottoms of the ensuing columns of Os were also each lower than the previous column of O's. These two characteristics - lower highs of X columns and lower lows of O columns - are classic indications of a downtrend.
That is what a downtrend looks like so until the current PNF chart of AAPL shows those characteristics it is "Onward and Upward" for AAPL. The first support for AAPL is $650, then below that, the next column of Os at $570. Resistance is the $680 high printed last week.
What investors are advised to do is monitor, from time to time, the PNF chart. As long as higher highs are being made, the uptrend is intact. If lower highs seen in the X columns and lower lows are seen in the O columns, the uptrend is in jeopardy, and a defensive position or liquidation could be considered.
Stay tuned to find out "How High is High" for Apple, Inc.
Disclosure: I have no positions in any stocks mentioned, and no plans to initiate any positions within the next 72 hours. I wrote this article myself, and it expresses my own opinions. I am not receiving compensation for it. I have no business relationship with any company whose stock is mentioned in this article.