Silver Wheaton (NYSE:SLW) is the largest metals streaming company in the world. At the moment, it has three precious metals and 15 silver purchase agreements in place. In exchange for an upfront fee, it secured the right to purchase all or a portion of the silver production for a fixed cost from high-quality mines. Its 2012, annual attributable production is expected to be roughly 28 million silver equivalent ounces and 42, 0000 ounces of gold. This is expected to increase to approximately 48 million silver equivalent ounces and 100,000 ounces of gold by 2016. It does not hedge any of its production. This model allows it to benefit from rising silver prices while at the same time reducing the risks faced by traditional mining companies.
Additional reasons to be bullish on SLW
A very low long-term debt to equity ratio of 0.02
A decent levered free cash flow of $312M
A 5 year EPS growth rate of 46%
Net income surged from $118 million in 2009 to $550 million in 2011.
Cash flow per share increased from $0.47 in 2009 to $1.72 in 2011.
Sales increased from 2009 in $239 million in 2009 to $730 million in 2011.
Annual EPS before NRI increased from $0.37 in 2007 to $1.55 in 2011.
A very low payout ratio of 19%
A 3-5 year estimated EPS growth rate of 22.99% from Zack's
A very good retention ratio of 81%
An excellent quick ratio of 5.03
Its quarterly dividend payout has risen from $0.03 to $0.10 in about six quarters. Given its fantastic operating margins, there is plenty of room for the dividend to grow.
Second Quarter Highlights
Attributable silver equivalent production increased by 10% to 6.7 million when compared to the same period one year ago.
Revenues surged to a new record of $201.1 million an increase of 3% year over year.
Record silver equivalent sales of 6.9 million ounces
It announced attributable proven and probable silver reserves of 798 million ounces. This is nearly twice the reserves of any other silver company.
It agreed to acquire a precious metal stream from Hudbay Mineral Inc flagship 777 mine as well a silver stream from their constancia mine. These new streams will have an immediate impact on the bottom line. The 777 mine will increase annual production by roughly 4.2 million silver equivalent ounces until the end of 2016. The constancia project is expected to be in full production by 2015. As a result of these two new streams management has increased its 2016 guidance to roughly 48 million silver equivalent ounces.
Company: Silver Wheaton
Brief Overview
Profit Margin = 73%
Operating Cash Flow = $ 667 million
Beta = 1.36
Levered Free Cash Flow = 312 million
5 year EPS growth rate = 46%
5 year sales growth rate 37%
Sales vs 1 year ago = 72.4%
Long term debt to equity = 0.02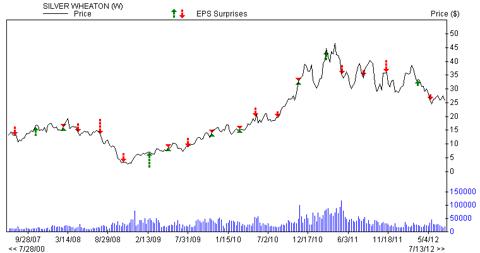 Growth
Net Income ($mil) 12/2011 = 550
Net Income ($mil) 12/2010 = 290
Net Income ($mil) 12/2009 = 118
EBITDA ($mil) 12/2011 = 616
EBITDA ($mil) 12/2010 = 334
EBITDA ($mil) 12/2009 = 159
Cash Flow ($/share) 12/2011 = 1.72
Cash Flow ($/share) 12/2010 = 1
Cash Flow ($/share) 12/2009 = 0.47
Sales ($mil) 12/2011 = 730
Sales ($mil) 12/2010 = 423
Sales ($mil) 12/2009 = 239
Annual EPS before NRI 12/2007 = 0.37
Annual EPS before NRI 12/2002 = 0.33
Annual EPS before NRI 12/2009 = 0.38
Annual EPS before NRI 12/2010 = 0.83
Annual EPS before NRI 12/2011 = 1.55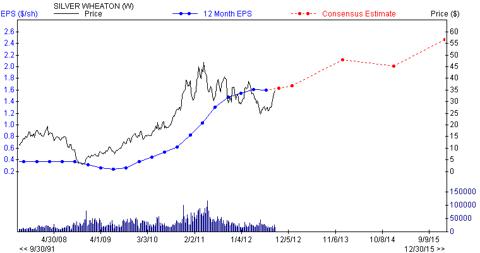 Dividend history

Dividend Yield = 1.2
Dividend Yield 5 Year Average = 0.12
Dividend sustainability
Payout Ratio = 0.19
Payout Ratio 5 Year Average = 0.03
Performance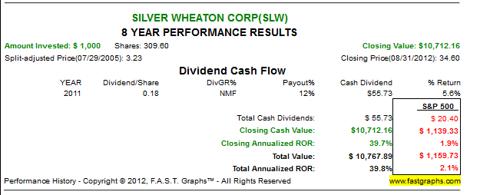 Next 3-5 Year Estimate EPS Growth rate = 22.99
ROE 5 Year Average = 13.09
Current Ratio = 5.03
Current Ratio 5 Year Average = 2.99
Quick Ratio = 5.03
Cash Ratio = 5.01
Retention rate = 81%
Conclusion
There is a high probability that the Feds will throw more money to try and further stimulate this economy. Our national debt has hit the $16 trillion mark, and it seems that we will be running trillion-dollar deficits for years to come. Gold and silver thrive in such an environment. On a percentage basis, silver will perform much better than gold, and Silver Wheaton is one of the best silver plays out there. Unlike other major plays such as Hecla Mining (NYSE:HL) and Barrick Gold (NYSE:ABX), it production costs are fixed and its operating margins are huge. In the second quarter, its average cost of Silver per ounce was roughly $4.06.
The silver market is a highly volatile market. Investors should use strong pullbacks to add to their positions in this play. Another option would be to sell puts at strikes you would not mind owning this stock at.
EPS and EPS surprise charts obtained from zacks.com. A major portion of the historical data used in this article was obtained from zacks.com. Dividend history sourced from dividata.com
Disclaimer
It is imperative that you do your due diligence and then determine if the above plays meets with your risk tolerance levels. The Latin maxim caveat emptor applies - let the buyer beware.
Disclosure: I have no positions in any stocks mentioned, and no plans to initiate any positions within the next 72 hours.
Business relationship disclosure: This article was prepared for Tactical Investor by one of our analysts. We have not received any compensation for expressing the recommendations in this article. We have no business relationships with any of the companies mentioned in this article.