Whiting Petroleum (NYSE:WLL) CEO Jim Volker presented yesterday at the Barclays CEO Energy/Power Conference. The slides can be downloaded from the company's website. However, I encourage you to listen to and view Mr. Volker's presentation by clicking the webcast link on Whiting's investor relations webpage.
It was a strong presentation. I normally don't watch short-term trading on individual stocks, but I have been watching Whiting for some time now, and I noticed some interesting movement late Tuesday (9/4/2012) after the presentation. Here is a short 5-day chart for Whiting:
(click images to enlarge)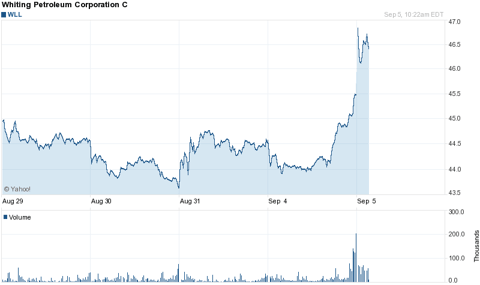 Note the increasing volume and price movement during the last couple of hours of trading. The stock ended up 2%, which is impressive considering most energy stocks were down for the day. The stock continued trading strong this morning (9/5/2012), and at last glance, was up another 2.5% at $46.59.
Of course the stock movement and the presentation could be merely a coincidence. However, it is interesting to note there were also two analyst upgrades this morning. Iberia initiated WLL at an Outperform, with a price target of $53/share. Global Hunter upgraded the stock from a Neutral to a Buy rating, and increased its price target to $60 from $51.
Whiting CEO Volker delivered a powerful presentation. He emphasized that WLL was primarily a Bakken play. In other words, the bulk of the company's reserves, production, and capital revolve around the Bakken. Volker highlighted that the company's 712,304 leased acres in the Williston Basin were acquired at an average cost of $503/acre. Not only are these holdings among the very best producing properties in the Bakken, but the lease costs are certainly favorable in comparison to some recent deals announced for $15-20,000/acre. Clearly, Whiting is benefiting from being an early player in the prolific Bakken shale.
Volker pointed out that Whiting's reserves and production were 86% oil. He also dispelled some recent rumors by reporting that the company currently has 6,000 drilling locations, which will keep it busy for the next 10 years.
Slide 17 was very impressive. The slide is a bar chart of twelve month average production rates by operators in the Bakken and Three Forks for wells drilled since 2009. Whiting was No. 1 with 133,000 boe/day. Obviously the company's geo-science, technology, and drilling techniques are the best in the Bakken. Therefore, the company is experiencing very quick payback on its drilling program.
Whiting is also making some strategic investments in gas gathering infrastructure, which will generate impressive cash flow. Its Robinson Lake (Sanish) plant will provide an estimated $40 million/year in cash flow for an initial $122/million investment. Likewise, its Belfield (Pronghorn) plant will generate an estimated $20 million/year from an initial capital outlay of $80 million. These investments will not only reduce gas flaring (good for the environment), but will obviously provide an excellent revenue stream for years to come.
There has been quite a bit of takeover talk surrounding Bakken oil producers since StatOil's (NYSE:STO) brilliant takeover of Brigham Exploration. Recently, CNOOC's takeover bid for Nexen and QEP's acreage acquisition have reignited speculation. This MarketWatch article is typical. A more detailed analysis can be found by reading Seeking Alpha contributor Michael Filloon's 3-part series on Bakken buyout candidates.
As Kirk Spano pointed out in the MarketWatch article, Exxon Mobil (NYSE:XOM), Conoco Phillips (NYSE:COP), and Chevron (NYSE:CVX) are sitting on a combined war-chest of over $30 billion. This means they have the money to make large acquisitions. The two biggest companies in the Bakken are Continental Resources (NYSE:CLR) and Whiting Petroleum. One could make a good argument that Whiting is the most undervalued, and is probably worth at least double its current valuation of $5.5 billion.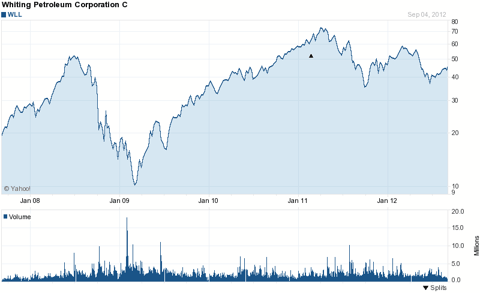 Data Taken @ 10:44 AM, 9/5/2012
WLL: $46.86 +$1.41 (3.10%)
EPS (TTM): $4.37
P/E : 10.69
Shares: 117.63 million
Market Cap: $5.50 billion
Considering the low price of natural gas, the Big-3 are looking for oil reserves and production. Big-oil companies are also only interested in buyouts that would be large enough to "move the needle." What better fit than a company like Whiting that is 86% oil and has a decade's worth of drilling locations?
I am a long-term investor and seldom invest merely on takeover speculation. That said, just like GeoResources (NASDAQ:GEOI), Whiting seems significantly undervalued and should be in play here. However, the company's acreage, production, reserves, and excellent technology are all reasons to invest in the company regardless of any buyout. It is simply a very solid company growing oil production at a 20% clip.
Disclosure: I am long WLL, STO, COP, XOM. I wrote this article myself, and it expresses my own opinions. I am not receiving compensation for it (other than from Seeking Alpha). I have no business relationship with any company whose stock is mentioned in this article.