Originally published on June 25, 2008
No, I'm not referring to Microsoft's (NASDAQ:MSFT) new operating system. Let me explain.
I am more of a macro investor, so seldom do I look at stocks in out-of-favor sectors (i.e. non-discretionary retail). However, something recently appeared on my investment-radar that piqued my interest. I'll go as far as to say that I believe a fantastic opportunity has developed to purchase a quality company with solid cash flow on the cheap.
The company to which I am referring is Vistaprint (VPRT). They're the premier online supplier of high quality printing products. Since going public in late 2005, Vistaprint has had a strong track record of growth. In fact, Standard and Poor's forecasts a 50% rise in revenue growth in FY08. Earnings are growing right alongside revenue, with a forecasted three-year CAGR of 34%. Assuming a conservative PEG multiple of 1.0%, VPRT should be trading around $40 within 12 months.
Analysts are starting to take notice. Vistaprint was recently added to Goldman Sachs' "Conviction Buy List" by analyst Jennifer Watson. She expects at least a 30% upside to her $42 price target. And if that wasn't enough, Standard and Poor's recently upgraded the stock to "Buy" based on its valuation.
Last quarter Vistaprint met analyst expectations for both revenue and EPS and also issued Q4 guidance in line with analysts' expectations. Vistaprint reaffirmed this guidance on May 14th. The only quip is that a few analysts weren't too enthused by VPRT's "slowing" revenue growth and narrowing gross margins. However, when taking into consideration Vistaprint's broad international exposure, I expect the company to meet, if not beat earnings in Q4.
So why would the stock price of such a company be nothing short of execrable?
click to enlarge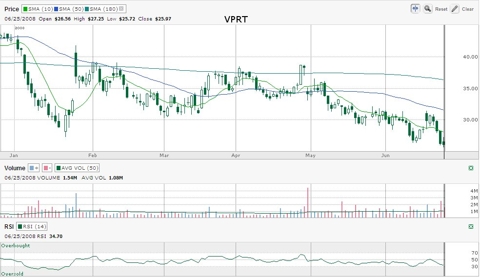 I think Vistaprint has seen its share price beaten down (with the rest of the market) for no "good" reason. I'm not one for trying to pick bottoms (after all bottom pickers tend to have stinky fingers), but I think this is too much of a bargain to pass by without at least doing your due diligence.
I scooped up some shares at ~$26 and plan to add to my position on weakness, assuming, of course, that the stock isn't defenestrated for some unforeseen reason.
Let's hope savvy investors begin to take notice and the stock price starts to trade better than Microsoft's operating system performs.
Disclosure: Long