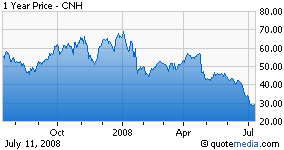 My favorite company within the agricultural equipment industry is Amsterdam-based CNH Global (NYSE:CNH). CNH has seen its stock price cut in half since it peaked on January 3rd. Although it has broad exposure to construction equipment, the company is seeing massive demand for its high priced agricultural equipment.
CNH is coming off of its best quarter in company history. Consolidated revenues were up 26%. Net income increased 18%. Their equipment operations operating profit was up 21%. Diluted EPS was up 20%. They also confirmed their 2008 outlook of $3.30 to $3.60 per share.
If we break down the numbers you will understand why the long term benefits for owning this company could be quite large. Quarter over quarter, tractor and combine sales were up 2% from 2007. Outside North America tractor sales were up 5%. Large tractor sales in North America were up 30%. Most importantly were combine sales, as they were up 40% worldwide. Market share for world tractor sales increased and combine share increased in Latin America and Western Europe. Combine sales share increased while the total revenue in this division was up 55%. Combine sales to Latin America alone were up 84%.
It seems that much of the selloff, with respect to CNH shares, has to do with the slow down in North America. Even with North American construction equipment sales down 24% in light equipment and 28% in heavy equipment, CNH still saw a world increase of sales of 17% and 29% respectively. The company has seen positive pricing improvements in all areas except North American light construction equipment. These improvements have moved CNH to invest $88 million in improving company price efficiencies. These investments should improve margins going forward.
2008's outlook seems quite good. Large tractors, although projecting sales to be down in North America, look to have growth in sales by up to 6% for the current year. This growth will be driven by Latin America, where sales are estimated to increase from 20% to 26%. Worldwide combine sales are estimated to increase 20-25%. Light construction equipment is estimated to grow up to 5% and heavy construction equipment by 5-10%.
Looking at these earnings and equating them to the current stock price has the PE at 11.9 and forward PE at 7.05. Analyst estimates have next quarter's earnings up 37.1% and full year earnings up 30.8%. Next year's earnings growth are currently estimated to be 20.6%. Over the last five years, this company has grown 32% per year, while analysts have the company only growing 8% for the next five. Even if this growth number is correct, the company is only selling for a five year PEG of 1.07.
The reason I believe these forward estimates to be too low has to do with the US economy. I do not believe that much will get done to benefit the US until the election is done. In 2009, I do believe that the economy will improve as the situation with energy infrastructure is addressed. I believe that plants based on natural gas and nuclear will be started at that point giving the economy a boost. This should help sales of construction equipment from 2009 through approximately 2013. As this is occuring, farm and construction equipment sales should continue to grow. Look for CNH to hit the top end of earnings for 2008.
Disclosure: Long CNH as well as POT, IPI and MON.