Nokia (NYSE:NOK) and Microsoft (NASDAQ:MSFT) unveiled their newest Lumia Windows 8 phones today at a media event in New York. While the launch was poorly received by the investment community (and the stock has sold-off considerably today), I believe the reaction was more about presentation than substance. Before I go into the problems with the launch event, let's briefly discuss the positives that came from the presentation.
(click images to enlarge)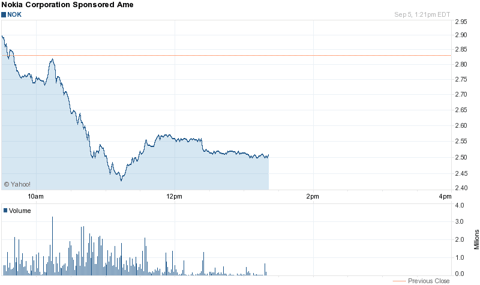 Click to enlarge
The Good…
I thought that the Nokia presentation started out well, with a good summary of the phone's many impressive capabilities. I believe that the hardware, photo/video features, mapping/navigation capabilities, and wireless charging features were innovative and very impressive. In addition, the phone and its Windows 8 software interface are stylish and aesthetically pleasing. I won't go into detail on the many positives of the phone's features, as that's beyond the scope of this article, but I did find the phone to be impressive (particularly the innovative navigation features), and I do believe that it will be well received by the public over time. After the initial part of the presentation, I actually felt pretty good about the launch. And then things went downhill.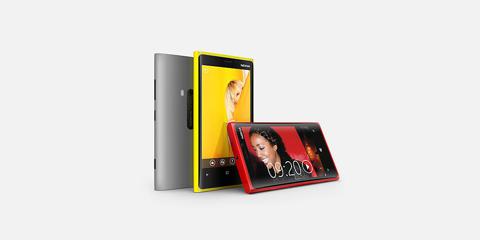 Click to enlarge
...Followed By More Bad
After the initial summary of recent Nokia developments and the new Lumia phones, a Microsoft executive proceeded to spend a great deal of time demonstrating, in detail, the mundane personalization features of the phone. A horrible idea!
At such a launch presentation, you want to present a summary of the features of the phone in short and punchy form, supported by a showcase of new and catchy high-dollar advertising for the product. You want to present an image of simplicity and intuitiveness, and let people figure out the boring personalization details on their own. The Lumia launch presentation did exactly the opposite!
A large part of the presentation was like a boring product tutorial and not a new launch marketing showcase. Furthermore, such a detailed product demonstration presents the potential for embarrassingly technical difficulties, which occurred during a later presenter's portion of the launch (albeit seemingly not the fault of the phone itself). It seems that Nokia and Microsoft have learned nothing from Apple (NASDAQ:AAPL), whose product success is based on an image of product simplicity, intuitiveness, and solid marketing to support that image.
Conclusion
The good news is that the media event was primarily attended by investors and technology experts -- not the retail public, which is, obviously, Lumia's target audience. As such, they will have little exposure to this botched launch event. Given the innovative and attractive features of the new Lumia phones, I believe that the retail public will likely respond positively to the new products over time.
Furthermore, the technology community (who were already very positive on the Lumia Windows 7 phones), will draw their own conclusions based on a detailed review of the phone's features and usability. I believe that these expert reviews should also be quite positive.
Investors have drawn their own initial conclusions about the launch presentation, driving the stock down over 11% at one point today. Apart from the poor presentation, there was also apparent disappointment in the lack of a launch date and/or the fact that no new carriers have been announced.
While the lack of new announcements was disappointing, and today's launch does raise some additional concerns about Nokia and Microsoft's (lack of) marketing prowess, I think today's market reaction is overdone. I believe that new carrier announcements are sure to follow and, in my opinion, the bullish case (which I detailed in a prior article) remains intact. As such, today's sell-off has created a good buying opportunity.
While I believe that Nokia's shares remain attractive on a risk/reward basis, I continue to caution that its visibility remains limited and the risks are substantial. Therefore, investors should treat Nokia shares as a call option and be prepared to lose it all. For these reasons, I still believe that Nokia's shares should represent only a small portion of anyone's portfolio ( for inclusion in the "highly speculative" basket).
Disclosure: I am long NOK, AAPL, MSFT. I wrote this article myself, and it expresses my own opinions. I am not receiving compensation for it (other than from Seeking Alpha). I have no business relationship with any company whose stock is mentioned in this article.