As you may be aware, Microsoft Corp. (NASDAQ:MSFT) paid a cool $8.5 billion for Skype. No small change even for a cash rich company like Microsoft. The question is why did Microsoft pay $8.5 billion? Microsoft owns 80-90% of the world's enterprise desktop market and I believe that Skype is in its plans to maintain that astonishing market share. I believe that Microsoft plans to install Skype in its core licensing offerings with Lync Server. If this is the case then there's one small cap play that is priced at call option levels and is a pure play on Skype. The company is Audiocodes (NASDAQ:AUDC). Audicodes is an Israeli small-cap pure play that designs, develops and sells products and services for voice and data over packet networks.
A call option is the right to buy a specific equity at a certain price at a future/specific date. Eighty percent of call buyers lose money as they bet that an equity will reach a certain price in a certain period of time. More often than not, time is not on a call buyer's side. The great part of Audiocodes is that you're not buying a call option, you're buying the stock outright with no time limit at a call option price. The company is priced at what I believe to be ridiculous levels. Every sector has its day and I believe Audiocodes will have its chance to shine when Microsoft details its plans on how it will leverage Skype within the enterprise in the near future.
Audiocodes is a company that is a market leader in the VoIP market and to maintain its standing it has spent $8 - $10 million per quarter in R&D over the past few years. However, this past year has seen Audiocodes run into a few headwinds. First, it saw its legacy businesses dry up sooner than expected, then Europe with its macro troubles became a drag on sales and finally it saw a slower ramp from Microsoft's much anticipated Lync Server in respect to voice. All in all, the shares have pretty much been written off by the investment community and they now trade at a mere fraction of its core networking sales. I have used this perfect storm as an opportunity to accumulate the shares. I see the Microsoft opportunity much differently than those selling shares of AUDC over the past month.
Management has been committed to right sizing the company through this difficult period by implementing a 10% -15% cut in operating expenses along with a 10% stock repurchase. Over 6% of the buyback has been completed as we have seen 2.6 million of the 4 million shares repurchased (Q4 2011 - 1.2 million, Q1 2012 - 700k, Q2 2012 - 750k) and I believe that the company continues to eat through the remaining shares each trading day. The cost cutting will be fully felt in the December quarter as I believe that like the buyback it will deliver on the cost cutting. Management will be presenting at the Rodman & Renshaw Global Investment Conference on September 10th. This will be management's first trip to the United States since its legacy shortfall and I believe that they're coming with good news and will be giving off positive vibes otherwise they would have just stayed home.
Chart: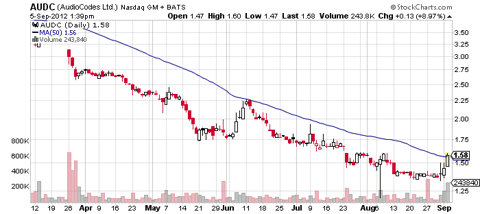 Click to enlarge
Audiocodes' looks like it has finally broken out of its downtrend. It is a great value play with growth potential and the chart signals that it will be going higher.
AudioCodes' Fundamentals:
· Market capitalization: $55 million
· Cash in hand: $60 million
· Debt: $15 million
· Revenue estimate for 2012: $127 million
· Revenue estimate 2013: $138 million
· Share outstanding: 39 million
· CEO/Chairman: 13% ownership
· Largest holder: 9.5% ownership
· Co-founder: 9% ownership
In November 2010, Microsoft launched its Lync Server which is a licensing model that allows enterprises to unify all their communications through Microsoft's platform. The service allows for instant messaging, voicemail retrieval via text, calling and presence over the company's intranet. Enterprises are adopting this in impressive numbers as Microsoft reported 35% sequential growth the past second and third quarters and 45% this past quarter over last quarter. What makes Lync so attractive to enterprises is that its communications only go through the Lync server that they set up and therefore stay within the company's intranet. This is a big deal as it means their communications are now safer as they never enter the internet.
The good news is that enterprises see the benefits of Lync and have been signing up to use it. Unfortunately, 9 out of 10 Lync buyers are not utilizing the Lync voice feature and I believe that this is the reason that AUDC is out of favor. As almost every enterprise currently has an existing PBX they use for voice calls, getting them to change is not easy despite the cost savings. However, it is these cost savings and the familiarity that they are gaining using Lync that I believe will cause many Lync users to add voice.
Another reason they may be more likely to adopt Lync is that in Audiocodes they have a company that can provide them with a one-stop shop to implementation. Audiocodes provides a full suite of solutions that includes the media gateways, enterprise session border controllers (E-SBC), survivable branch appliances (SBA) and the IP phones that are needed to connect to Microsoft's Lync server. A recent example of its deployment was by South African systems integrator company Business Connexion. As Business Connexion found out the benefits to using voice with Lync are that it can see significant cost savings as Lync voice uses VoIP technology to deliver calls.
Remember, we are talking about Microsoft here, and I believe that once Lync has a large enough installed base then we will see a major push to have its clients add voice. I believe that it will do this by adding Skype as a core feature of Lync. The addition of Skype could see voice adoption rates increase dramatically. Microsoft is fighting to retain control of the desktop and by becoming the phone carrier for enterprises it will achieve this. When this push comes, which could be soon it would mean a monumental move for Audiocodes as Audiocodes has been a partner of Skype's since March 2010. It could result in $25 -$45 million in annual revenues to Audiocodes or 20% -35% growth to the company in this division alone.
Audiocodes competes directly with Cisco Systms (NASDAQ:CSCO), Acme Packet (NASDAQ:APKT) and Sonus Networks (NASDAQ:SONS) in the Enterprise-Session Border Control (E-SBC) market and SBC markets. In fact, Audiocodes this year finally became a 5% market share player in the space. I believe that this technology rich company will show more strength as it introduces new products by year end and into 2013. Audioiocodes has been a Microsoft gold certified partner since 2008. It also has partnerships with Alcatel-Lucent (ALU), Avaya, Genesys, Hewlett-Packard (NYSE:HPQ) and Juniper Networks (NYSE:JNPR) to name a few key players. Most of these names could be a potential acquirer of AUDC's once MSFT attacks the voice aspect of its Lync Server.
In summary, Audiocodes faced a legacy business that faded fast in 2012 along with an overall slowing of the macro environment. At the end of the day, Audicodes will be leaner, stronger with a smaller float after its 10% buyback is completed and have the potential to have strong revenue growth once Microsoft attacks its Lync installed based in the months to come. This combination could attract one of Audiocodes' key partners to step in and acquire them for a price between $10 - $12 per share. A reminder to all, Audiocodes rallied from $2.50 to $8.20 in 4 months from late 2010 to early 2011 on the news that Microsoft would launch Lync in January 2011. The next rally could be Microsoft embedding Skype in Lync or Office 8 and Audiocodes being the prime one stop shop for enterprises adopting voice into Lync.
Disclosure: I am long AUDC. I wrote this article myself, and it expresses my own opinions. I am not receiving compensation for it. I have no business relationship with any company whose stock is mentioned in this article.