In our earlier article on Ross Stores (NASDAQ:ROST), we were bullish on the company because of demand for lower priced apparel had continued to be strong, even after the recession period. Moreover, the company benefits from middle income consumers, who have moved down from mid-tier stores due to economic worries. The stock is up 11% since our buy recommendation. Our investment thesis was supported by Q2 2012 results released on August 16.
Financial Performance (Q2 2012 Results and Guidance):
The off price apparel and home fashion retailer saw Q2 results in line with expectations. The company reported EPS of $0.81, in line with the Street's expectations, and more than last year's $0.64 (almost a 27% increase). The revenue result also met analyst estimates of $2.3 billion, up from $2.1 billion last year. The stock is up 1.42% since the earning release.
Leaner inventories (40% lower compared to 4 years ago) have not only added to gross margins, but also ensured that customers see new products more often. ROST uses micro merchandising tools to cater to customers according to their taste. The company is also focusing on cost efficiency. The long term debt-to-equity ratio is a low 9%, and the interest coverage ratio is 100x.
The company recently posted its August same store sales, which rose 8%, well above analyst expectations of 5.8%. Last year, the same store sales for August were 4%. Fellow off price apparel retailer, TJX Companies (NYSE:TJX), also posted sales of 8%, above analyst expectations of 6.3%. This shows that off price retailers in general are in favor, especially during the back to school season. ROST also benefits from J. C. Penney's (NYSE:JCP) losing customers.
For the third quarter, analysts expect EPS of $0.69, on the back of $2.2 billion in revenues. The company, however, guided to a conservative $0.63-$0.66/share.
For the full fiscal year, analysts are expecting EPS of $3.47/share. This is a growth of 21% over last year. The revenue expectation for the full year is $9.6 billion, more than last year's $8.6 billion. The company raised its EPS guidance for the second time this year, from a range of $3.26-$3.37 to $3.36-3.44. We think that this guidance is still conservative.
CAPEX for the current year is expected to be $465-$475 million (up from $416 million last year) for expanding distribution network. The company expects to fund this with operating cash flows.
The company has a dividend yield of 0.8%. The growth rate for dividends was 33% over the last three years. With a free cash flow yield of almost 4 %, dividends can continue to increase.
In addition to dividends, the company also returns cash to shareholders through share repurchases. According to the company's presentations, it is on track to repurchase $450 million during the remaining part of the current year. It ended last quarter with total cash of $722 million and operating cash flows (trailing twelve months) of $1.16 billion. Below is a chart showing dividend and share repurchase history: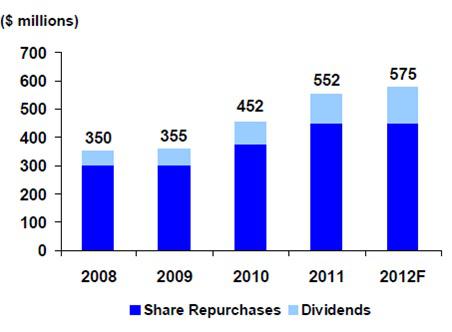 Valuation:
The long term growth rate for earnings is 13.5% for ROST. Among peers, the growth rates for Kohl's (NYSE:KSS), Macy (NYSE:M) and TJX Companies are 10.8%, 13% and 12% respectively.
ROST has a forward P/E of 18x as compared to TJX's 17x, KSS' 10x, M's 10.6x and JCP's 18x. Based on the forward P/E of 18x, and analyst estimates for future EPS, the valuations come out to be:

There is a 14% upside potential based on these valuations. The mean target price of analysts is $73.
We reiterate our buy rating for Ross Stores based on the upside potential, share repurchases and due to the economic pressures on customers to look for quality items at lower prices.
Disclosure: I have no positions in any stocks mentioned, and no plans to initiate any positions within the next 72 hours.
Business relationship disclosure: The article has been written by Qineqt's Retail Analyst. Qineqt is not receiving compensation for it (other than from Seeking Alpha). Qineqt has no business relationship with any company whose stock is mentioned in this article.