There are many aspects of the satellite radio business that are impressive to both consumers as well as investors. Sirius XM (NASDAQ:SIRI) has been through some of the toughest times that a business can go through, and today can boast a level of success that would impress even the harshest critics.
In Trade Secrets of Sirius XM That Make It A Success - Part 1, I discussed the company's marketing and penetration and how Sirius XM is able to post impressive numbers by being very prudent about how they invest money into the generation of new subscribers. Simply stated, Sirius XM has figured out its best potential market and is maximizing it. If you have not had a chance to read that piece, you should read that now before moving forward.
As I stated, there are a few distinct trade secrets to Sirius XM's business that help make it successful. The second trade secret I will reveal deals with the Music Royalty Fee (MRF), how it is applied, and how it impacts the bottom line.
A few years ago Sirius XM added a Music Royalty Fee to the business model. The purpose of the fee was to allow the company to capture some of the fees associated with retroactive royalty payments, and to offset costs going forward.
The first smart move the company made was to establish the additional cost as a separate fee rather than a part of the subscription. This is smart because it allows the company to advertise a subscription price and then make the fee a tax of sorts. Essentially Sirius XM sells the service at a set price, and the fee is almost an afterthought. If You are willing to pay $14.50 a month for satellite radio, are you going to back out because of a royalty fee?
The second reason it is smart is because it makes the record labels the "bad-guy" and not Sirius XM. Sirius XM can act as if it is trying to deliver you a great and compelling service, but these fees are collected by the labels. Yes, it is a bit of smoke and mirrors, but that is almost expected these days.
The biggest reason this fee is smart is because it helps to offset a substantial cost of doing business, that being royalty payments. Sirius XM has stated that they anticipate the collection of the MRF will offset about 85% of the royalties it will pay this year. The numbers are substantial and impact the bottom line in a way most probably do not even realize. In fact, if other audio entertainment companies took a cue from Sirius XM, they too would have much better performance.
Reporting the collection of the Music Royalty Fee is accounted for in the category of "Other Revenue." The revenue derived from this helps the entire revenue category look good, helps the EPS, helps the EBITDA number, and also helps the Free Cash Flow Number. Even though Sirius XM makes no money on the collection of this fee, and in fact what is collected is estimated to only cover about 85% of the cost of royalties, the very existence of the fee really makes things look good.
For simplicity sake, the chart below indicates what Sirius XM's Q2 performance looked like as reported (left column) and inclusive of the MRF as compared to without the MRF (right column). The NOL issue has also been removed.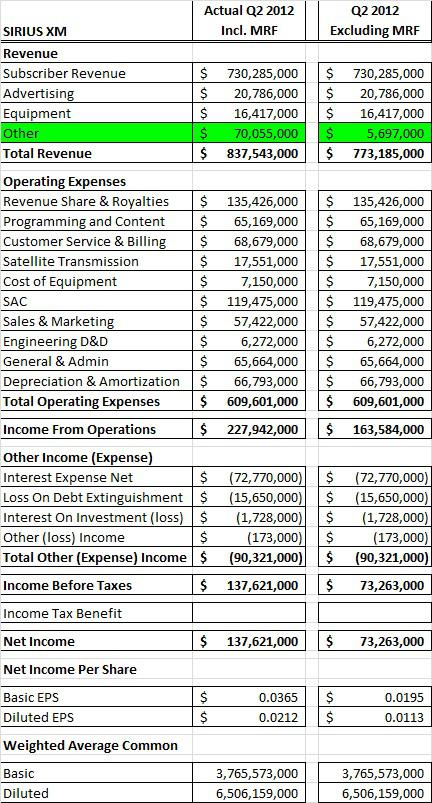 Sirius XM collected about $64,358,000 in Music Royalty Fees. If we remove that fee, revenue drops. The cost would remain the same because it is a very real cost. The impact on earnings is a full penny per share.
While EPS is important, it is not how media companies like Sirius XM are valued. Media companies are typically valued on EBITDA and Free Cash Flow. Sirius XM collecting music royalty fees helps both of these metrics look good as well. If Sirius XM did not collect this fee, the EBITDA and Free Cash Flow would have been about $170 million instead of $230 million.
This one little fee, tacked onto the consumer bill as almost an afterthought, is a substantial driver in what makes Sirius XM successful. The reality is that Sirius XM has found a way to offset a substantial cost in its business model by getting the consumer to foot a big part of the bill. Imagine how the story at Pandora (NYSE:P) could improve if it were able to somehow collect fees that would offset about 85% of its royalty costs.
Disclosure: I am long SIRI. I wrote this article myself, and it expresses my own opinions. I am not receiving compensation for it (other than from Seeking Alpha). I have no business relationship with any company whose stock is mentioned in this article.
Additional disclosure: I have no position in Pandora.