Philip Morris is a great long term play and is currently in a corrective phase, and it looks like it could experience another 11% pull back when it pulled back from a high of $91 in May to a low of $81.10 on the 5th of June. 2012. This does not occur very often so this could prove to be another good long term buying opportunity. This bullish outlook is supported by the fact that it reaffirmed its 2012 diluted earnings per share forecast will fall in the $5.10-$5.20 versus $4.85 in 2011. It repurchased 17.8 million shares of common stock for a total of $1.5 billion in the 2nd quarter, and it announced a new three year repurchase program of $18 billion that will begin in August, 2012. Adjusted diluted earnings per share were up 8.3% to $2.61, versus $2.41 in 2011 for the same period and the adjusted second-quarter earnings of $1.36 per share beat the Zack's consensus estimate of $1.34
Additional reasons to consider Philip Morris (NYSE:PM):
It has very strong levered free cash flow of $8.55 billion.
A strong relative strength score of 86 out of a possible 100
Profit margins of 27%
Annual EPS before NRI increased from $2.80 in 2007 to $4.88 in 2011.
A good payout ratio of 61%
A projected 3-5 year EPS growth rate of 9.33%, according to Zack's
A very strong Interest coverage rate of 16
A decent yield of 3.4%
Net income increased from $6.3 billion in 2009 to $8.5 billion in 2011, an increase of over 36%.
Cash flow per share has increased from $3.83 in 2009 to $5.55 in 2011, an increase of 44%.
It reported diluted EPS of $4.85 in 2011 compared to $3.92 in 2010, an increase of 23.7%.
It increased its quarterly dividend during the year by 20%; the annual rate now stands at $3.08.
A very good ROE of 339%
Projected year over year growth rate of 6.3 % and 10.9% for 2012 and 2013 respectively
$100K invested for 5 years would have grown to 194K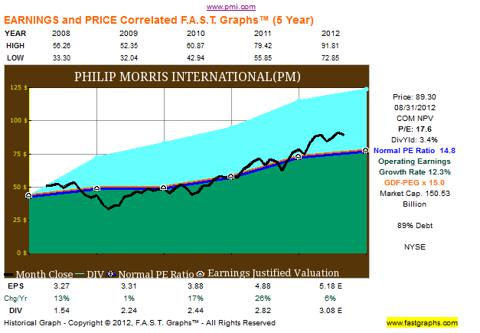 Click to enlarge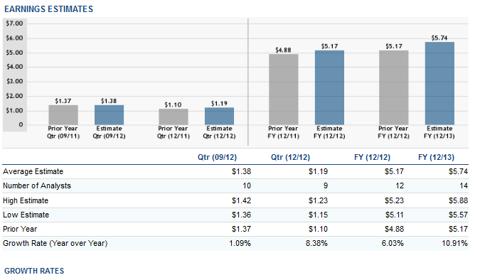 Click to enlarge
Technical out look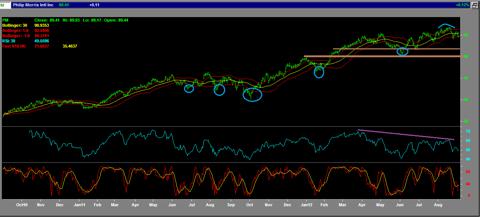 Click to enlarge
The stock is in a corrective phase, and the month of September is well known for being the most volatile month of the year. The stock also generated several negative divergence signals when it traded to new highs in the month of August.
The first layer of support falls in the $84.50-$85.50 ranges. The stock has a tendency to spike below the -1 standard deviation Bollinger band as indicated by the blue circles in the above chart. Thus, there is a good chance that it could trade down to the $84.50-$85.50 ranges before bottoming out. If the markets correct strongly in the month of September, then the stock could test the $80 ranges and perhaps spike below $78 on an intraday basis. If this comes to pass it would make for an even better long term entry point. This is a great stock to own over the long haul. A great way to get into a stock at price of your choosing is to sell puts as opposed to putting in a limit order.
Suggested strategy for Philip Morris
Selling naked puts is a great way to purchase shares in companies you like at a predetermined price. In essence, you are getting paid to put in a "limit order."
An investor usually sells a put option if his/her outlook on the underlying security is bullish. The buyer of the put option pays the seller a premium for the right to sell the shares at an agreed-upon price. If the stock does not trade at or below the agreed-upon price (strike price), the seller gets to keep the premium.
Benefits associated with selling puts
In essence, you get paid for entering a "limit order" for a stock or stocks you would not mind owning.
It allows one to generate income in a neutral or rising market.
When you sell a naked put you are in a way acting like an insurance agent. The Seller of the option agrees to buy the stock in the future if it drops to a certain level before the option expires. For this, you (the seller) are paid a premium upfront. If this strategy is repeated over and over again these premiums can really help boost returns over time.
Acquiring stocks via short puts is a widely used strategy by many retail traders and is considered to be one of the most conservative option strategies. This strategy is very similar to the covered call strategy.
The safest option is to make sure the put is "cash secured." This simply means that you have enough cash in the account to purchase that specific stock if it trades below the strike price. Your final price would be a tad bit lower when you add the premium you were paid up front into the equation. For example, if you sold a put at a strike of 20 with two months of time left on it for $2.50, $250 per contract would be deposited in your account.
Most put options expire worthless and time is on your side. Every day you profit via time decay as long as the stock price does not drop significantly. In the event it does drop below the strike you sold the put at, you get to buy a stock you like at the price you wanted. Time decay is the greatest in the front month.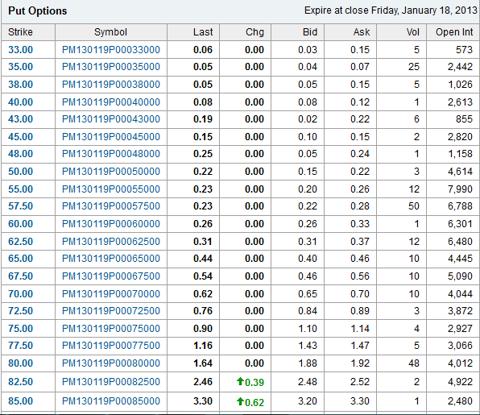 Click to enlarge
As stated above September is generally the most volatile month of the year. Furthermore, the stock is in a corrective phase and is likely to test 1 or both of targets stated above. Our advice would be to divide your money into two lots and deploy one lot at a time. The Jan 2013 85.00 puts are trading in the $3.20-$3.30 ranges. If the stock pulls back to the 85 ranges, these puts should trade in the $5.20-$5.50 ranges. We will assume that these puts can be sold at $5.20 or better if and when the stock trades in the 85 ranges. For each put sold, $520 will be deposited into your account.
Consider deploying the second lot of money if the stock trades down to the 80.00-81.00 ranges and aim for the Jan 2013, 82.50 puts. The puts are currently trading in the $2.48-$2.52 ranges. If the stock pulled back to the stated ranges, these puts should trade roughly in the $5.00-$5.30 ranges.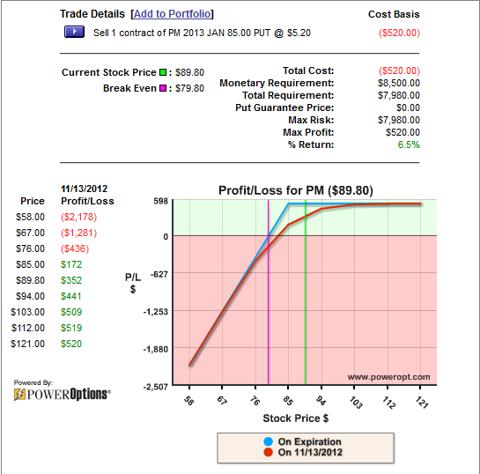 Click to enlarge
Advantages and disadvantages of this strategy
The main benefit is that it provides you with the possibility of getting into the stock at a price of your choosing.
Secondly, if the stock does not trade below the strike price, then you at least get paid for your time, unlike a limit order which either gets filled or cancelled. If the shares are not assigned to your account, you walk away with a gain of roughly 6.5% in 6 months. If the shares are assigned to your account, your final cost will be $79.80.
In terms of risk, you are basically taking on the same level of risk as you would if you purchased the shares outright, but with the added benefit of getting in at a lower price (via the premium you received). Thus, the only risk is that you have a change of heart and feel that the stock could trade well below the strike you sold the puts at. In this case, the solution is to roll the puts. Buy back the puts you sold and sell new out of the money puts.
A suggestion to boost your potential gains
Take some of the premium you received from the puts you sold to purchase some out of the money calls when and if the stock trades to the suggested ranges. If the stock should subsequently take off, you could walk away with some rather handsome gains.
Conclusion
This is a great stock to own over the long haul. It pays a decent dividend, has a manageable payout ratio, a great interest coverage rate and a rather strong relative score. Investors should consider waiting for the stock to pull back to the suggested targets before jumping committing fresh funds into this play. If you prefer to purchase the shares outright, you may do so when they pull back to the stated ranges, but this strategy provides you with the chance to get in at a much lower price.
Options tables sourced from yahoofinance.com. Option Profit loss graph sourced from poweropt.com. Earnings estimates sourced from dailyfinance.com.
Disclaimer
It is imperative that you do your due diligence and then determine if the above strategy meets with your risk tolerance levels. The Latin maxim caveat emptor applies - let the buyer beware.
Disclosure: I have no positions in any stocks mentioned, and no plans to initiate any positions within the next 72 hours.
Business relationship disclosure: This article was prepared for Tactical Investor by one of our analysts. We have not received any compensation for expressing the recommendations in this article. We have no business relationships with any of the companies mentioned in this article.