Market Recap
The market made a fairly flat move as we had expected on Wednesday as it prepared for the ECB announcement that is due out tomorrow. Expectations are not very high as it appears that the ECB will not make much of a move towards a bond buying program, but any sign that a program is coming will power this market higher. That really is the only major announcement of consequence tomorrow that will overshadow everything, and today was sort of a wait and see day. Data was very limited for the market, and we got a slight boost on Euro strength/dollar weakness. That was about it for the day. The market remains glued to what will occur in Europe.
Here are some stocks we like moving into the rest of the week and beyond:
Stocks To Trade
Today, we are looking at an earnings trade in Fusion-IO (NYSE:FIO), longs in CVS (NYSE:CVS) and Starbucks (NASDAQ:SBUX), and shorts in Baidu (NASDAQ:BIDU) and 3D Systems (NYSE:DDD).
For an earnings trade, we like the looks of Fusion-IO. We upgraded FIO to a Buy on our site today as we believe that the value is good right now for the stock on recent weakness. The company will turn to strong profitability in 2013, and we believe that the line in the sand will hold all the way until next earnings is the breakout point at 25.00. The company broke out from that level after their last earnings report, and we see no reason that the market will sell-off this stock as they projected 50% revenue growth and operating margins of 12% in 2013FY. We believe selling puts for Oct20 is a very solid move into the next earnings report.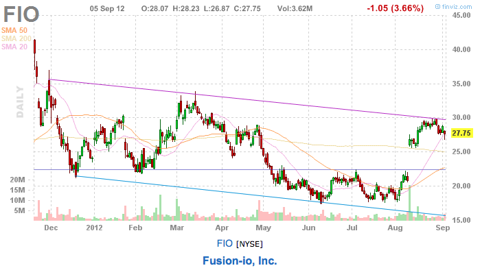 Click to enlarge
For longs, we like the looks of CVS and Starbucks. Starbucks got a nice boost from Oppenheimer today as they said SBUX remains very attractive, and the stock nearly broke out after testing its 200-day MA. The price of coffee has been dropping, and SBUX is becoming attractive seasonally as well. We believe the stock has made quite a move since its earnings debacle, and we see the stock strong again like it was for the first half of the year. We believe that today's strength suggests that SBUX is back. We like the Sep22 48/47 bull put spread. CVS looks primed for a breakout right now as well, and we believe buying the stock on a break of 46. The stock has been playing with that line, and it's a perfect place to buy on a breakout. The stock has built a great base at 45, and with the last earnings we saw as overdone in the downside. The company is better positioned than Walgreens (WAG) and should make another move higher before the end of the year.
Click to enlarge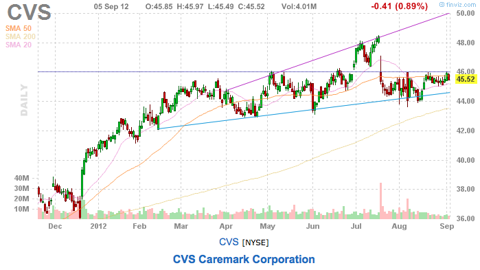 Click to enlarge
For shorts, we like Baidu and 3D Systems. Baidu is more fundamental in nature. China seems to really be in a weak spot right now, and BIDU nearly acts as an ETF of China. The stock has come under some pressure with recent weak data, and the recent earnings of the company. They are in a strong downtrend that will not be broken until something big occurs in the market. The stock seems to have pretty strong resistance at 130, and we like that level for entering a bear call spread. 130/135 for Oct20 looks interesting, but be careful as this one moves fast. The long-term prospects of 3D printing are entertaining with 3D Systems, but this stock has made quite a move over the last few months and seems to be struggling at 45. We are not sure if DDD can make it over that hump, and if it breaks the 20-day MA below it, it would be the first time since July. The stock may be ready to consolidate a bit especially if the market weakens.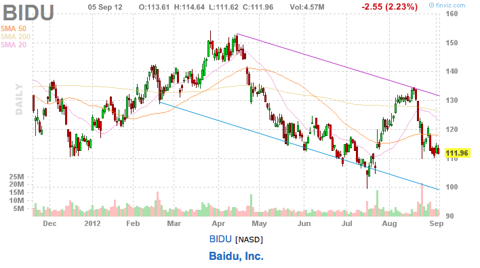 Click to enlarge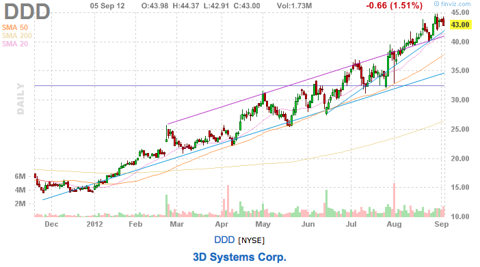 Click to enlarge
Tomorrow's Outlook:
Three letters - ECB. Its really that simple for tomorrow. If they say we are not getting close to the program or there is going to be delays...triple digit down day. If they kick the can, we may still see some downside. If they announce some more long-term bond buying program of significance, the market will rally pretty well. A lot of the program may be priced into the market as well, but there is just a lot of mystery surrounding what exactly will be done that no one is quite sure. Look for a pretty busy, crazy day tomorrow.
Our Moves/Holdings:
We had a good day as we were able to lock in a 4.5% gain in equity on Smith & Wesson (NASDAQ:SWHC) in our Earnings Alpha Portfolio. We did, however, take a loss in our bear call spread on Safeway (NYSE:SWY) that neutralized earlier gains. We added a long in Packaging Corp of America (NYSE:PKG) as well as bull put spread in Starbucks.
We have the following positions:
In our Short-Term Equity Portfolio we are long Microsoft (NASDAQ:MSFT) and Packaging. We are short Yum Brands (NYSE:YUM).
In our Options Portfolio, we are long Costco (NASDAQ:COST), Apple (NASDAQ:AAPL), Whole Foods Market (NASDAQ:WFM), Priceline.com (NASDAQ:PCLN), Google (NASDAQ:GOOG), and Starbucks.
In our Earnings Alpha Portfolio, we are long Finish Line (NASDAQ:FINL), Crocs (NASDAQ:CROX), Discover Financial (NYSE:DFS), Lennar (NYSE:LEN), Ulta (NASDAQ:ULTA), Francesca's (NASDAQ:FRAN). We are short RedHat (NYSE:RHT). We have a reverse iron condor in Abercrombie & Fitch (NYSE:ANF).
In our Goldman Sachs Up/Down Paper Portfolio, we are long AutoZone (NYSE:AZO) and Fiserv (NASDAQ:FISV).
Chart courtesy of finviz.com.
Disclosure: I have no positions in any stocks mentioned, and no plans to initiate any positions within the next 72 hours. I wrote this article myself, and it expresses my own opinions. I am not receiving compensation for it (other than from Seeking Alpha). I have no business relationship with any company whose stock is mentioned in this article.