Osteoarthritis patients in Phase II Trial want to know when the drug will be on the market, as they intend it to be their preferred treatment.
Osteoarthritis is the first indication for Ampion, a new anti-inflammatory drug being developed by Ampio Pharmaceuticals (NASDAQ:AMPE) to be clinically tested in a pivotal phase III trial in the US. This particular drug may have a relatively inexpensive and rapid path to commercialization, as it has the intrinsic safety profile of a biologic, and the phase II data provides evidence of substantial efficacy.
Osteoarthritis is the most common form of arthritis, affecting approximately 27 million Americans who live in excruciating pain; it leads to about 773,000 knee and hip replacements each year.
Risk Analysis:
Less than 20% of drugs in development successfully survive the challenging clinical trial hurdles and obtain FDA clearance to launch into the market. Thus it is not difficult to understand the substantial risk associated with investments in drug companies pursuing conventional strategies for drug development. But Ampio's drug development strategy appears to be unconventional and incurs less risk.
For example, understanding the number of patients required, term of treatment and follow-up of the pivotal phase III trials provides the investor significant information about the cost and duration of that trial(s) and, in this respect, Ampion appears to me to be on a fast and inexpensive tract to FDA approval.
As Ampion is a small molecule, naturally produced by humans in response to injury, and present in commercial preparations of human serum albumin administered intravenously to millions of hypoalbuminemic patients to restore their oncotic pressure, I do not believe the safety of Ampion is a significant concern of either Ampio management or the FDA. The lack of any safety issues reported for the Phase II Australian trial supports this conclusion. Consequently, it is logical to conclude that safety concerns will not drive up the number of patients required in the pivotal trial.
That leaves efficacy as a driver of patient numbers in the USA pivotal trials. However, the evidence of efficacy in the Phase II trials appears to be remarkably strong as detailed in the company's April 30, 2012 report of the clinical trial data:
The change from baseline for the Ampion-treated patients was statistically significant at both 30 and 84 days after injection (p < 0.05 for day 30 and day 84) and the change from baseline for the placebo treated patients was not statistically significant (p =0.08 day 30, p= 0.34 at day 84).

The difference in pain relief between Ampion and placebo at day 84 after a single injection into the knee was statistically significant (p=0.04, n=32) despite the small number of patients included in each group (saline and Ampion groups).

Another relevant way to assess pain relief is the "responders vs. non- responders" to treatments at day 84. A "responder" was defined as someone who experienced a two or more points shift improvement in pain relief as measured by the numerical pain scale (scale of 1-10). Non-responders experienced an improvement of at most 1point or an actual worsening of pain relief. Percentage of "responders" in the group who received Ampion was more than twice the percentage of those who received saline (53% vs. 24%) and this approached statistical significance (p=0.06).
Further testimony to Ampion's efficacy is this short video of Channel 9 News where a patient in severe pain from osteoarthritis of the knee was scheduling to have his knee replaced until he was treated with Ampion. Now his pain is gone and he has cancelled his plans for knee replacement surgery.
Perhaps the most compelling evidence of efficacy is the interview, published on TraderInvestorAlert.com., with Dr. Yvonne Lungershausen, the Senior Director of Clinical Services for CPR Pharma Services, an FDA recognized Clinical Research Organization in Australia.
A few of the notable quotes by Dr. Lungershausen were:
"In terms of safety issues, there were none".
"There were no adverse events and I would say that Ampion had an exceptional safety profile".
"CPR has been performing clinical trials for over 20 years. Some of them failed miserably . . . some were slightly positive . . . but the AmpionTM trial was amazingly positive."
"Patients came in hobbling, limping and depressed from the severe pain, but after they received an injection of Ampion, they returned to their normal activity without pain and were very happy."
Representatives of Ampio and their CRO met with a group of 18 FDA experts on May 10, 2012 to review the phase II data and obtain clear guidance for the pivotal phase III trial in the USA. See press release.
Based on the facts detailed above it is reasonable to predict the pivotal US trial will take no longer than 90 days after the filing of the IND to enroll and treat the patients and another 90 days to follow them after treatment. That means Ampio could well be filing a Biologic License Application (BLA) in early 2013 for final FDA approval and could be cleared for approval that same year. That is incredibly fast!
The Anti-Inflammatory Market
This market is huge. Global Business Intelligence, GBI Research, a leader in business research reports, forecasts that the world anti-inflammatory market will grow from $57.8 billion in 2010 to $85.9 billion in 2017.
Johnson & Johnson's (JNJ) Remicade has a market of $6 billion while Enbrel by Pfizer's (NYSE:PFE) Wyeth and Amgen (AMGN) sells about $6 billion and Abbott Labs' (ABT) Humira captures almost $5 billion. Clearly the markets for anti-inflammatories are exceptionally large.
About Ampion and the competitive drugs
Ampion is a biologic and non-steroidal that appears to have a significant role in inflammation, so it may have the potential to treat a broad array of inflammatory conditions that impact millions. It is patented for T cell mediated diseases such as Multiple Sclerosis, Rheumatoid Arthritis, Chrons, ophthalmic indications such as eye drops or systemic treatment for Uveitis, DME and more.
Competing drugs and treatment for osteoarthritis of the knee are joint replacement, steroids (with their side effects) and Synvisc (hyaluronic acid injections) which has not demonstrated great efficacy but still has sales of over $400 million last year in the US.
Ampio has a very strong world wide, long-life patent portfolio-including composition of matter, use patents, synthetic patents, extraction from albumin etc.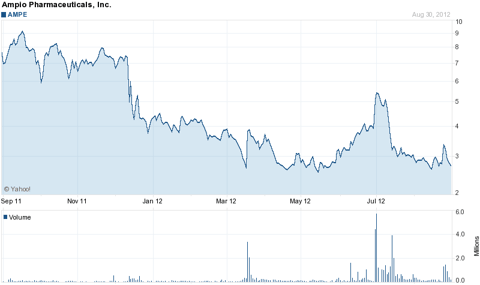 Summary
While risk appears to be well managed by Ampio management, it still exists. There is always risk of a failure of clinical trials, risk of inadequate capital to pursue the company's business plan and of course, competitive products not now on the market. Nevertheless, the final word on Ampion's clinical effectiveness will be determined by the upcoming Phase III trial in the USA, and due to the safety and effectiveness advantages described above, I am predicting that Ampio will succeed in obtaining FDA approval for Ampion in 2013 and on that basis alone their share price will rise more than ten times from its current $2.50 to $3.50 range.
Disclosure: I am long AMPE. I wrote this article myself, and it expresses my own opinions. I am not receiving compensation for it. I have no business relationship with any company whose stock is mentioned in this article.