On Wednesday, Safeway (NYSE:SWY) reported that it is planning for its gift card unit, Blackhawk Network Holdings, to be brought to market through an IPO in the first half of 2013. On the news the stock increased nearly 6% as investors saw this as a means to raise capital for the supermarket giant. Over the past year, SWY has faced increasing competition from all avenues. These include increasing costs, higher levels of debt, flat sales, and narrowing profit. This economic landscape has resulted in the stock decreasing significantly in value and ultimately showing investors that the company is not in the position it was only a few years ago.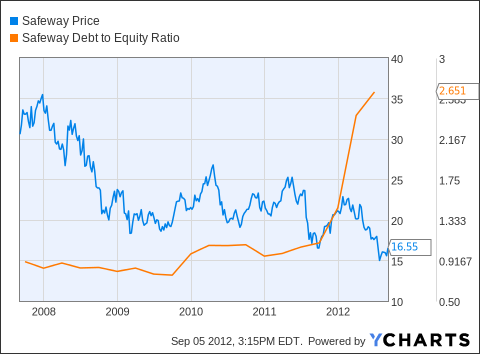 The blackhawk deal does not erase the fundamental challenges that SWY faces. At an investor meeting this year, the company reported that the money stored on its gift cards grew to nearly $7.0 billion and this represented a 25% year-over-year increase. They also reported that pre-tax income was roughly $60 million with EBITDA of $78 million. Assuming a reasonable valuation of 12 times earnings, this would put the market cap of Blackhawk at nearly $1 billion. Though this is impressive and has the potential to yield SWY significant results, it does not have the potential to turn around the retailer and decrease debt enough to make a sizeable impact. Currently, SWY is holding $6.90 billion in debt and as illustrated above, this metric continues to rise.
Conclusion:
In the face of SWY's current market position and struggles, the IPO of Blackhawk does not have the potential to sway the SWY business model or financial landscape in the long term. The company is operating with a margin of only 1.23% and is facing increasing debt, competition, and costs. These facts point to Blackhawk's inability to change SWY position in the market in the long term and thus if you would not have bought SWY yesterday, you should not buy it today.
Disclosure: I have no positions in any stocks mentioned, and no plans to initiate any positions within the next 72 hours. I wrote this article myself, and it expresses my own opinions. I am not receiving compensation for it (other than from Seeking Alpha). I have no business relationship with any company whose stock is mentioned in this article.