Campbell Soup (NYSE:CPB) reported fiscal year 2012 fourth-quarter results and issued a rosy earnings outlook Tuesday morning. Although organic sales increased 3%, the soup maker announced that revenues were flat year over year due in part to negative currency fluctuations, coming in at $1.6 billion (in line with consensus expectations). Earnings per share, adjusted for acquisition expenses, decreased 8% year over year to $0.41, a few cents better than the consensus estimate. Going forward, Campbell expects revenue to increase 10%-12% in fiscal year 2013 (thanks in part to its Bolthouse Farms acquisition), driving adjusted EPS growth of 3%-5% to $2.51-$2.57 per share, the midpoint of which is higher than the consensus estimate of $2.52.
Campbell had been stuck in neutral, but has recently focused on building its portfolio of healthy snacks and beverages, as well as reinvigorating its core soup business with product innovation. This is paying off, as the firm noted that it experienced strong sales in its U.S. Soup (especially in condensed soup, with sales up 14%) and U.S. Simple Meals categories during the quarter. We've also noticed the company's increased marketing efforts, with Andy Warhol-esque cans of its classic tomato soup -- which is one of the factors driving marketing and selling expenses higher (and depressing gross margins).
It's important to note that the 3% volume increase stimulated by the higher promotional activity was mitigated by a 3% pricing decline caused by the promotional spending (the firm, however, indicated that pricing and sales allowances added 3% to top-line expansion, which we thought was confusing in presentation). This promotional activity is partially responsible for management's expectations of fiscal 2013 earnings expanding at a slower pace than revenue. Still, the firm's return on invested capital, the best measure of a company's ability to deliver value to shareholders, remains incredibly robust and we fully expect this to continue.
Click to enlarge image.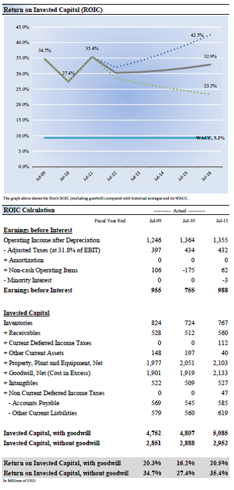 Source: Valuentum Securities, Inc.
Shares of the food manufacturer are pushing against the top end of our fair value range, and only score a 3 on our Valuentum Buying Index (our stock-selection methodology). Furthermore, the company's dividend, though a solid payout at current levels, doesn't look like it has much room to grow in our view (click here to find out why). We remain on the sidelines with respect to Campbell, though we liked the company's earnings outlook.
Smithfield Foods' (NYSE:SFD) results, on the other hand, fell short of expectations. Revenue remained roughly flat year over year as increases in the sales of total pork helped to offset declines in revenue from hog production and its international business. Its fresh pork business remains under pressure due to increased supply and weak domestic retail demand, although management did note that the segment's margins have improved considerably since the end of the quarter. However, earnings still tumbled 18% year over year to $0.40 per share during the period, as total-pork and hog-production operating profit dropped from last year (despite strength in packaged meats) and was only partially offset by improved international profit. The bottom-line performance was several pennies below consensus estimates.
Though Campbell dealt with similar headwinds, Smithfield deals exclusively with meat, which has suffered as a result of higher feed costs. Operating margins in both hog production and fresh pork experienced significant year-over-year declines, though the firm was able to offset some of this decline with record operating margins in its packaged meats segment. Management indicated that it expects continued headwinds in its hog production business, though improving fresh pork results, robust packaged-meats profitability, and better international margins should make for a solid fiscal 2013. We're a bit skeptical that 2013 will be as robust as management's expects it to be, and we remain on the sidelines at this time.
Disclosure: I have no positions in any stocks mentioned, and no plans to initiate any positions within the next 72 hours. I wrote this article myself, and it expresses my own opinions. I am not receiving compensation for it (other than from Seeking Alpha). I have no business relationship with any company whose stock is mentioned in this article.