FBR is out with a positive call on American International Group (NYSE:AIG) noting the shares fell almost 40% during 2Q08 alone, and they have lost 54% of their value since the beginning of the year. In the firm's opinion, there is nothing wrong with AIG's core insurance operations. In fact, AIG is among the best poised in the P/C insurance industry to weather the soft market with its rock-bottom expense ratio and truly global presence. AIG's insurance investment portfolio and its credit default swap [CDS] portfolio, however, are two primary areas of concern for investors.
In the report, the firm examines the performance of several CDX indices over the past three quarters. Based on their findings, they believe that the change in the market value of AIG's multi-sector CDO CDS portfolio during 2Q08 was not significant, and they anticipate a modest gain of $500 million to $2 billion. FBR believes that AIG could incur losses in its investment portfolio for 2Q08 comparable to those the company suffered in 1Q08. While it is difficult to predict, they believe investment losses for 2Q08 could be around $7 billion after-tax.
With these potential unrealized losses, AIG has a very thin capital cushion left, but they do not think that the company definitely has to raise capital. FBR reiterates its Outperform rating for investors with longer term horizons, but cautions that it will be difficult for the stock to perform well until some stability returns in the financial sector. Until then, high stock volatility will remain.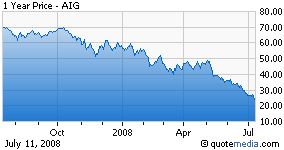 FBR is lowering its 2008 EPS estimate to $2.15 from $4.80 to account for less favorable credit default swap spreads. They are raising their 2009 estimate to $5.85 from $5.80 to reflect an updated share count.
FBR's target for AIG is $53.
Notablecalls: I suspect this call will create some nice buy interest in AIG today, especially in light of the overall positive tone in financials. I feel AIG has been trampled ahead of the expected capital raise so that the actual news of a successful raise will actually buoy the stock.
AIG's a buy here and could easily go to $24.50-$25 today.