Bristol-Myers Squibb Co (NYSE:BMY), a transforming biopharmaceutical company, has recently faced several setbacks ranging from the loss of exclusivity of its star product, Plavix (which prevented blood clots), and the abandonment of the experimental Hepatitis C drug BMS-986094 after several patients fell and one patient died. Bristol acquired the drug for $2.5b earlier this year and recent regulatory filings indicate an impairment charge of $1.8b in the third quarter. This does not mean that Bristol will shelve the project, and a spokesperson for Bristol has expressed the company's continued focus on the HCV program. The drug aimed to replace the existing injectable treatment with pills that have fewer side effects and are more convenient. The stock does provide an attractive yield of 4.12 %, but as we explain below, we believe the stock is trading at a premium to its industry, and other pharmas are providing better yields. We recommend investors look for other better valued and higher yielding stocks.
Similar to other drug manufacturers, Bristol will be facing quite a few patent expirations in the coming years. Plavix accounted for $7.1b of sales in the year 2011, or one third of revenues. Abilify, another large selling drug, is set to expire by 2014 in the EU, and in the U.S. by 2015. Future patent expirations are listed below, extracted from the latest 10-K form:
Table: 1

Click to enlarge
To mitigate the impact of the eventual loss of sales resulting from the expirations, Bristol has made a number of acquisitions to expand its product portfolio, the company also plans restructuring to cut costs, and more importantly, the company has defined its new imperative to focus solely on its core business; a pure biopharmaceutical company. Over the past few years, it has stripped Mead Johnson Nutrition (NYSE:MJN), beauty care, orthopedic devices and imaging devices business.
The acquisitions have sought to deepen and complement its pipeline. It acquired Kosan Biosciences for its cancer therapeutics, Medarex with compounds in classes of anticancer agents, Zymo Genetics and Inhibitex (paid $2.5 all cash to Inhibitex shareholders at a 163% premium to the then stock price) to bolster its Hepatitis C portfolio. The company also acquired Amira Pharmaceuticals, which specialized in inflammatory and fibrotic diseases, and recently Amylin Pharmaceuticals for its expertise in diabetics and other metabolic diseases.
Recent Financial Highlights
Sales have fallen worldwide largely due to generic competition for its Plavix and Avaparo drugs. The most recent quarter saw a decline in sales of 18% QoQ, owing to the loss of the exclusivity of a couple of its drugs, and an unfavorable exchange rate movement partially offset by higher selling prices. Gross profit for the quarter fell sequentially by 19% owing to the problems mentioned above. Sales of its primary drugs like Abilify, Reyataz, Barclude and Erbitux went up due to increased international demand and higher selling prices.
With a market cap of $55.4b, we compare BMY's revenues with its competitors, which more closely resemble BMY in terms of market cap; namely Eli Lilly's (NYSE:LLY) and AstraZeneca's (NYSE:AZN).
Graph 1: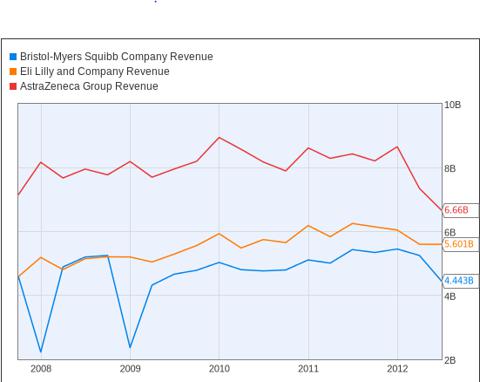 Click to enlarge
The company has consistently lagged behind its similar sized competitors in terms of revenues, and with the exclusivity loss of its drugs, we expect the gap to widen. Below we compare R&D of BMY and its competitors as a percentage of sales.
Table 2: R&D as a percentage of sales
| | | | | |
| --- | --- | --- | --- | --- |
|   | FY2008 | FY2009 | FY2010 | Fy2011 |
| Bristol Myers | 20% | 19 % | 18 % | 18 % |
| AstraZeneca | 15 % | 13 % | 16 % | 16 % |
| Eli Lilly | 19 % | 20 % | 21 % | 21 % |
Interestingly, BMY's five-year revenue growth rate of 5.5% and R&D (% of sales) are both lower than LLY's growth rate of 9% and R&D expense. AstraZeneca lags behind Bristol Myers with a revenue growth rate of 5% and its lower R&D. On this front, Bristol Myers might just be spending enough to keep a competitive position in the industry, and its efficiency may be gauged from a decent revenue growth for the last five years. Gross margins are on the lower side as well with BMY's margin only above that of GlaxoSmithKline (NYSE:GSK).
Graph 2: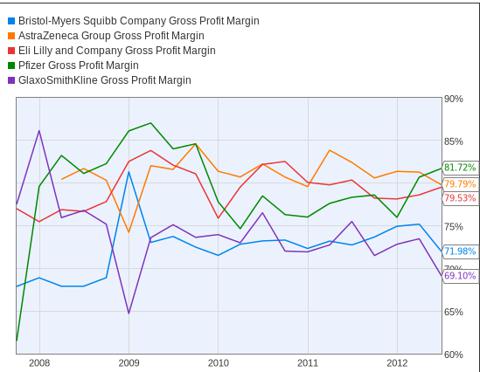 Click to enlarge
Valuations
BMY is currently trading at $33 with a dividend yield of 4.12%; one of the lowest in the industry.
| | | | | | |
| --- | --- | --- | --- | --- | --- |
|   | BMY | AZN | LLY | GSK | PFE |
| Div. Yield | 4.12 % | 6.09 % | 4.46 % | 5.02 % | 3.69 % |
But the company has increased its dividends consistently since 2008 and has generated healthy cash flow from operations to finance its capital expenditures. Cash flows seem enough for future acquisitions as well. Estimates provided by Bloomberg show a slight decline in operating cash flows in 2012 and 2013.
Chart 3: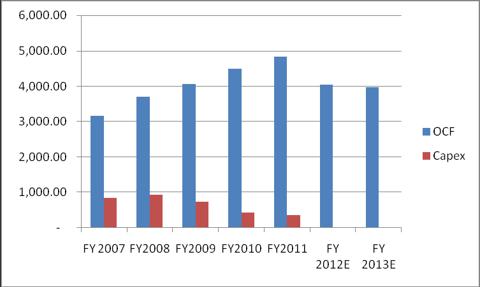 Click to enlarge
Table 4:
| | | | | | |
| --- | --- | --- | --- | --- | --- |
|   | BMY | LLY | AZN | GSK | PFE |
| Forward P/E | 17.5x | 12x | 8x | 10x | 10x |
BMY is trading at 17.5x forwards earnings, above that of the industry's average and its own five-year average of 13x. JP Morgan (NYSE:JPM) and Credit Suisse (NYSE:CS) have both assigned a neutral rating for the stock. Analysts estimate a mean target price of the stock at $34; not much capital appreciation from the current price. PEG ratio stands at a disappointing 2.3x and given our belief that it is relatively overvalued and the fact that other pharmaceuticals are paying better yields, we recommend that investors consider other alternatives. A potential catalyst for the stock is the drug Eliquis. BMY and Pfizer (NYSE:PFE) are currently in the process of seeking approvals for the cardiovascular drug, but have faced delays from the FDA. However, should the drug fail to receive a green light from the authority, the stock will face a further downside risk. No exact guideline has been provided on how things relating to an approval will proceed as both BMY and Pfizer failed to provide details about the questions asked by the FDA.
Disclosure: I have no positions in any stocks mentioned, and no plans to initiate any positions within the next 72 hours.
Business relationship disclosure: The article has been written by Qineqt's Healthcare Analyst. Qineqt is not receiving compensation for it (other than from Seeking Alpha). Qineqt has no business relationship with any company whose stock is mentioned in this article.