Campbell Soup (NYSE:CPB) reported earnings for its fiscal 2012 fourth quarter (ended July 29) of $127 million or $0.40 per share, compared with the $100 million or $0.31 per share reported a year ago. Excluding costs related to the recent acquisition of Bolthouse Foods and restructuring costs in both years, the company earned $0.41 per share, down from $0.43 last year, but still two cents better than the consensus estimates.
Revenues were essentially flat at $1.61 billion, due to organic sales growth of 3% that was essentially offset by currency losses. Consolidated gross margin declined by 140 basis points to 38.5%. Most of the decline in gross margin was due to cost inflation, which ran at a 5% annualized pace in the second half of the fiscal year. Marketing spending was higher, mostly due to efforts to support new product launches across all of CPB's businesses, especially in U.S. Beverages. Administrative costs were flat.
The drop in gross margin and higher marketing costs resulted in a 10% drop in operating earnings from $263 million to $237 million. This was more than offset, however, by a sharp reduction in restructuring charges, from $63 million in the year-ago period to only $1 million this quarter. Restructuring charges were higher last year when CEO Denise Morrison's launched new efforts to improve the performance of Campbell's businesses.
Campbell's stock initially surged 3.2% to $36.28 at the open on Tuesday (9/4) from Friday's closing price, but then quickly gave back all of those gains and more, closing down two cents to $35.12 for the day on very heavy volume. The selling continued yesterday with the stock dropping $0.41 to $34.71, also on heavy volume, as shown in the chart below (courtesy of StockCharts.com).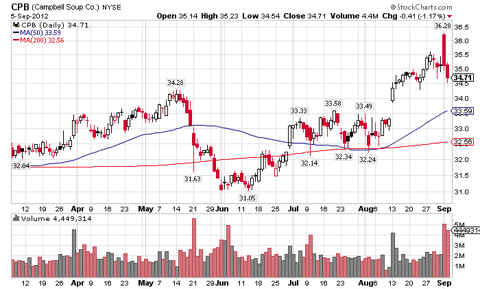 Although the company beat Street estimates in the quarter, it is likely that investors came away with a negative view of CPB's performance as they learned more of the details. In particular, overall sales were flat in large part because of a 9% gain in U.S. soup sales, which offset declines in other parts of the U.S. Simple Meals business. The gain in U.S. soup sales reflected a 14% surge in condensed soup sales that was driven mostly by retailer restocking and only partially by increased customer purchases.
Other areas of concern included double-digit operating earnings declines across all of Campbell's business segments, except U.S. Simple Meals, due to cost inflation, higher advertising and promotional spending and in some cases, weaker sales. The company's earnings also benefited from a 2.1 percentage point drop in its income tax rate.
While it may be easy to find fault with this quarter's performance, it is noteworthy that management's guidance for fiscal 2013 earnings of $2.51 to $2.57 is mostly above the current consensus estimate of $2.52. The company expects sales growth of 10% to 12%, driven mostly by the acquisition of Bolthouse Foods, but also by modest sales gains in its core business. Its expected adjusted EBIT growth of 4% to 6% is consistent with its long-term target, despite the acquisition of Bolthouse, which operates at lower margins. The improvement in EBIT should come from ongoing productivity gains, lower marketing spending and slightly lower cost inflation.
Campbell Soup has been a long-term holding of the Income Builder newsletter's model portfolio. Originally added in 2001, the stock has had its ups and downs over the years, generating solid returns in some years and disappointing in others. While never a home run and rarely a favorite of stock market pundits, CPB has delivered total returns that have slightly exceeded the S&P 500 over that period, thanks to a dividend yield that has averaged more than 3%. The chart below shows CPB's monthly performance vs. the S&P 500.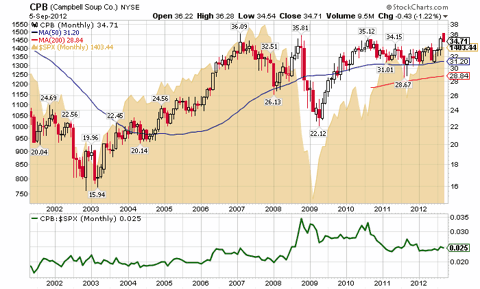 Over this eleven year period, Campbell's has always managed to bounce back after one or two quarters following a disappointment. Of course, investors cannot be complacent here and take recovery for granted, especially given the changes in the global economic environment over the past several years. Campbell's unwavering commitment to innovation in my mind may not be the best strategy when consumer incomes are pinched. Better, in my mind, to focus on product quality and reducing sales prices to compete more effectively against other branded soup producers and private label. In addition, the Bolthouse acquisition, though strategically sound, raises Campbell's debt by $1.55 billion. The company has suspended its longstanding common stock repurchase program, presumably to utilize its excess cash flow to pay down this added debt.
Campbell's may eventually change its strategy, if the global economic environment weakens; but it should be able to adjust without disastrous consequences for shareholders. At its core, soup is a cheap and convenient meal for which there will always be great demand. The company's task across most of its businesses in a tougher environment would therefore be to focus on keeping costs in line with lower revenues to preserve margins.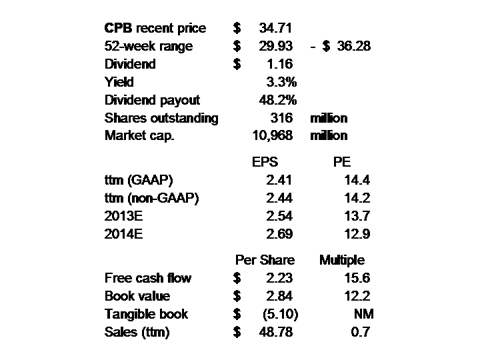 If the global economy does hold up, Campbell's stock should have decent upside from here, as its businesses get back on track. The 3.3% dividend yield, as already noted is attractive; the payout ratio is below 50%; and the stock trades for 13.7 times my projected fiscal 2013 earnings (which is consistent with management's guidance) and 12.9 times projected fiscal 2014 earnings, well below its peer group averages of 15.5 times and 15.0, respectively.
Disclosure: I am long CPB. I wrote this article myself, and it expresses my own opinions. I am not receiving compensation for it. I have no business relationship with any company whose stock is mentioned in this article.