In the continuing saga of the Facebook IPO there is less clarity regarding the financial future of Facebook than ever. With the precipitous drop in share price and the over communicated gap in mobile monetization, coupled with the limited finance history, it is difficult to find any data that would lead to anything resembling a comprehensive evaluation of the company and future profitability outlook. Most of the "information" is opinion and grumbling from those that invested early.
Facebook, Inc. operates as a social networking company worldwide. The company builds tools that enable users to connect, share, discover, and communicate with each other; enables developers to build social applications on Facebook or to integrate their Websites with Facebook; and offers products that enable advertisers and marketers to engage with its users.
The tumbling stock price from a launch of $38.00 to today's price of $17.73 offers little guidance for an acceptable entry point. Added to the share price drop is the recent reiteration of overweight by JP Morgan but with a significantly lowered price target of $30.00 from $45.00. Morgan Stanley the lead underwriter for the IPO reset the price target to $32.00 verses $38.00
Investing in Facebook might just take a leap of faith that management can figure out how to make money long-term. Since faith and hope are not included in my investment thesis I am forced to look to other avenues to steer Facebook holdings to a profitable position. Giving Facebook adequate time to grow into mobility and streamline their business is an important consideration. Using cash secured puts allows time and sets price limits for entering a position.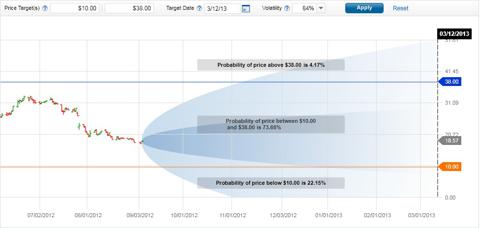 Click to enlarge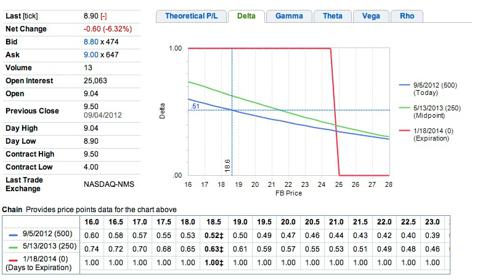 Click to enlarge
To meet this objective I have selected sell to open January 2014 Puts. Selling the strike $25.00 at today's price of $8.90 yields an entry point of $16.10 which is below today's price of $18.47 and well under estimates of $30.00 and $32.00.
Is $16.10 the correct entry point for Facebook? Only time will tell, and I expect that between now and January 2014 there might be some lower prices. Putting $8.90 in the bank now, in exchange for risking assignment in 2014, appears to be a viable option to profit from Facebook as they grow into a stronger public company. If the share price is higher than $25.00 in January 2014 I keep the $8.90, if it is lower I will either roll over the put to a better price or be forced to buy the shares at $25.00.
Since Facebook is high risk and volatile I will hold some investment funds back to sell puts at a lower price point and higher premium. Also part of the trading thesis incorporates close management of the option pricing. If the put diminishes in value significantly as Facebook share value escalates I will buy back the position and eliminate my risk while keeping a portion of the premium.
Disclosure: I am long FB. I wrote this article myself, and it expresses my own opinions. I am not receiving compensation for it (other than from Seeking Alpha). I have no business relationship with any company whose stock is mentioned in this article.