The current market and the fall of 2007 seem to have so much in common to us that over the long weekend, we reviewed old columns and market events from that period. It didn't make us feel better. A summer rally that began in the August of five years ago gathered steam and complacency as it went along, then got a further big push by the Fed's September decision to cut both the discount rate and the Fed funds rate by a bigger-than-expected fifty basis points. "A trader's dream" was how one floor denizen put it in the immediate wake of the FOMC meeting.
We wrote at the time that there was something wrong with a market racing to new highs on "twelve months of slowing profit growth." The principal arguments then for the market were twofold, one of them being expansion in price-earnings multiples (the case for increasing earnings didn't have any legs, so an increase in the P/E ratio was required). I can still vividly recall a money manager on CNBC that summer explaining that as earnings growth was now tougher to come by, it was only natural that people should pay more for it. Ergo, the multiple should expand too. That theory didn't really work out, but Barron's advised in the current issue that multiple expansion should fuel the bull market into the end of the year. Deja vu.
The other side of the post-September rate cut equity thesis in 2007 was that global growth - which in 2006-2007 had replaced the 1998-1999 Internet as the new and unshakable can't-miss investment premise - would pull the U.S. along, while the rate cuts had time to work. "Europe is strong" was a mantra on the trading floor.
Today, the thinking seems to be that this time the U.S. pulls the rest of the globe along, while waiting for China and Europe to put their stimulus programs to work (in theory, anyway). There is far more hope than clarity on what might happen overseas.
Certainly the U.S. is better off in some respects than it was five years ago - we're not sitting on the leveraged-debt time-bomb anymore, and large corporations are bursting with cash. Yet the economy was better in other ways - employment was higher, and while annual GDP growth fell from 2.7% in 2006 to 1.9% in 2007, both the second and third quarters of 2007 posted annualized run rates of over 3%.
In fact, it's a little disturbing to look at the steady decline in GDP from 3.5% in 2004 to 1.9% in 2007, when set beside the fact that 2011 is already back down to 1.8%, and that 2012 is likely to be below it. The "stall speed" arguments seem to have been forgotten on the trading floor, though perhaps not at the Fed. Smaller companies are conspicuously not bursting with cash.
We are currently in the midst of what Pimco's Neel Kashkari, the ex-Goldman Treasury bailout chief from October 2008-May 2009, calls a "synchronized global slowdown," with an "ongoing sovereign debt situation in Europe which will likely take years to resolve but could destabilize at many points along the way." Substitute "sub-prime" for "European sovereign" debt and it could be 2007 again. There's a lot of money that is never going to be paid back.
Yet Kashkari, while believing (as we do) that more QE would do little to help the real economy, also guesses that it "would push stock prices higher." The tail risks are higher, but money managers have to stay in the game because prices are likely to keep going up before they crash - much as they did in October 2007.
That month saw a new all-time high on the S&P 500, one that is still intact. After that, it was pretty much downhill the rest of the way. If it seems reminiscent of the infamous remark by former Citigroup (NYSE:C) CEO Chuck Prince that one has to keep dancing while the music plays, it should. Kashkari led off his July report with the Prince quote.
As for the global slowdown, have a look at the latest downers from Brazil, China and Poland. Or consider slumping port traffic, also a harbinger of the 2008-2009 recession. For that matter, consider FedEx (NYSE:FDX), one stock that didn't make new highs in October 2007. It went from $108 at the end of July 2007 to $80 by January 2008. The company warned on Tuesday about lower earnings and shipping volume, taking the stock back down to a close of $85.80. It's now virtually unchanged on the year after hitting $96 in March.
But stimulus is coming, proclaims a defiant market (and the HFT algorithms reading the news flow). It almost certainly is - by the time you read this, Draghi's plan may be public. But the Fed's "dream" rate cuts in September 2007 didn't stop the oncoming recession that began just a few months later. The European Central Bank's last bazooka, the Long-Term Refinancing Operation (LTRO), put forth late last year when EU GDP was still growing at 1.5%, hasn't stopped EU third-quarter GDP from tracking down to (-0.3%), and we don't think it's hit bottom yet. Stimulus doesn't work quickly. It can cushion, but cannot prevent recessions.
It can, however, be good for a trade, which brings us to the "triple top" that Doug Kass wrote about last month, visible below on the 15-year chart of the S&P 500. As a fundamental type, we are more like Kass when it comes to investing: We don't believe the Draghi plan can pull Europe out of its recession, or stop the global slowdown. As cold-blooded chart readers and long-time market cynics, though, 1500 is starting to look like a positive magnet for traders, even 1550. The last move may only need Europe not to implode until 2013. After that, whatever happens, happens - the fiscal cliff, global recession maybe, a reordering of the eurozone (don't kid yourself, it won't go smoothly) - but the 2012 bonuses will be in the bank. Apres nous, le deluge.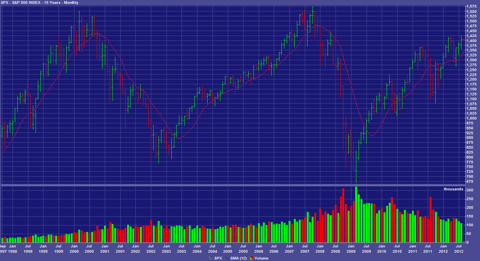 Click to enlarge
Notice another thing about this 15-year chart for the S&P. No, not the steadily declining volume on the last upward leg into triple top territory, but the dip below the 12-month moving average back in June. Over the last 15 years, a move below the average has been followed by a repeat move every time but this one.
Now, we could split chart hairs and say that the 12-month average was broken in May, and it was - for one afternoon - so the June drop could count as the other shoe dropping. But we don't buy it. To us, we're either in the formation at the left side of the chart - late 1999, when the S&P went from 1420 (a familiar number, isn't it) in July to 1233 in October, then rebounded smartly to finish at 1469 - or in the second topping formation of October 2007.
It's only a chart, not a law. The S&P isn't trading at 40 times earnings this time, and we don't have the credit bubble about to explode. But it is a trader's market, and charts do matter in these times. One thing in common with the other two periods is that the economy is undeniably slowing, while the stock market is rising. The global PMI is shrinking; the responder comments in both last week's Chicago PMI and this week's ISM national manufacturing surveys - which are both at multi-year lows - were filled with the terms "slow" and "declining." That's usually the last step before "terrible." And in case you haven't heard, we do have a bond bubble.
Short term, the market is more than ripe for disappointment, but that could be put off by a big ECB bazooka - the magic word to look for is "unlimited" - and an aggressive Fed. In that case, I look for an October top. There is talk about hedge funds needing to play catch-up, but the market may very well back up to them instead. Third quarter earnings aren't going to inspire anyone, there's an election the first week of November, and once the banks have acted and the ensuing rally is in the bank, we're going to be left with thinking about the fiscal cliff and the rest of the real world - the one where corporate America has restructured, but Europe and China have not.
Oddly enough, it would probably be better for bulls this year if the central banks do not wheel out the big cannons this month. While that would certainly lead to a disappointment sell-off, then the markets could go back to dreaming about all the good things that might happen later. It would be easier to ignore earnings next month if the market and HFT algorithms can keep chasing the twin promises of more easing and the elusive EU fix that is always just around the corner. Delayed gratification is the route to 1500 on the S&P - for the stock market, reality is never as good as its dreams.
Disclosure: I have no positions in any stocks mentioned, and no plans to initiate any positions within the next 72 hours. I wrote this article myself, and it expresses my own opinions. I am not receiving compensation for it (other than from Seeking Alpha). I have no business relationship with any company whose stock is mentioned in this article.