QR Energy, LP (NYSE:QRE) offers income investors a sustainable 10.9% annual dividend yield. The September 4th management presentation reaffirmed the partnership's enticing business model. I believe QR Energy is a 'must own' 10.9% yielding stock with growth potential.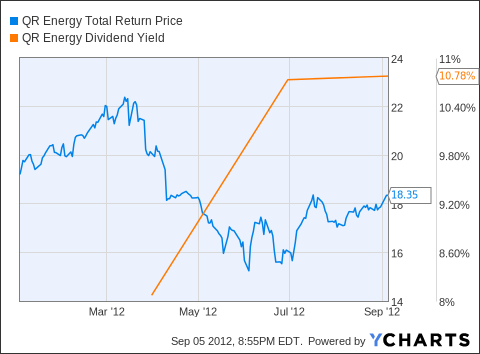 QRE Total Return Price data by YCharts
Dividend History
QR Energy is an upstream master limited partnership (MLP). The stock began trading on December 17, 2010. This table highlights the distribution growth:

An upstream MLP has unique risks. An upstream MLP is in the exploration and production business. The company needs a consistent revenue stream based upon hydrocarbon production. Linn Energy, LLC (LINE) has the largest market cap in the upstream partnership sector. Linn Energy has been successful by focusing upon long life assets and employing oil and natural gas hedges.
Enerplus (NYSE:ERF) highlights what happens when an income producing security fails to have adequate free cash flow and hedges to continue with the current dividend payout. Enerplus was a high yielding monthly dividend stock until they cut their dividend by 50% in July 2012. Income investors need hedges and growth in upstream oil entities. A retiree can not allow their income to decrease by 50%. Retirees, including my own family, have bills to pay.
Hedges
QR Energy has learned from Linn Energy's success. QR Energy's hedged portfolio provides comfort in anticipating stable future distributions. QR Energy has 100% of oil production hedged through 2014. The oil production is, at a minimum per year, hedged at 62% through 2017.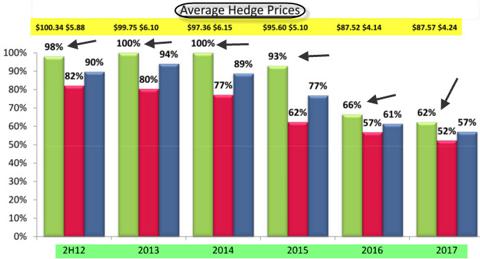 2 Core Asset Locations
1. Permian Basin
The company's 2012 capital program has allocated $75 million to $85 million in net capital expenditures. Maintenance capital will utilize $52 million of the net capital expenditures. QR Energy management has $23 million to $33 million to spend on new projects. The Permian Basin will utilize 80% of the new project development. QR Energy has 65,000 net acres to develop.
The Permian Basin is a major oil production area. Occidental Petroleum (NYSE:OXY) produces 15% of net Permian Basin output. The Permian Basin is located in the southeast location of New Mexico. The Permian Basin produces 16% of net U.S. oil production. I was pleased to hear management state they were positive on potential discoveries in this location.
In terms of location, San Juan Basin Royalty Trust (NYSE:SJT) is an active New Mexico natural gas producer. Their assets are located in the northwestern portion of New Mexico. The key production is natural gas, which is trading at $2.80 per MMBtu.
QR Energy's has 67% of 2012's revenue derived from oil production, including hedges. West Texas Intermediate oil prices remain strong. The current West Texas Intermediate price is $95.82 per barrel.
2. Ark-La-Tex
The "Ark-La-Tex" production area will receive 20% of the 2012 $23 to $33 million capital expenditures. This production is focused upon high margin natural gas production.
Insider Purchases
As I highlighted on July 12th, insiders have actively purchased QR Energy shares in the past few months. I personally want to see management purchase shares. This reinforces my conviction to buy shares.
Action
I own QR Energy because it is a high yielding stock with an experienced management team. The security is currently yielding 10.9%. I believe the stock offers capital appreciation.
The company has a 5 year, present day, hedging strategy to protect quarterly distributions. The growth strategy, specifically in the Permian Basin, is robust for potential future growth. Management has 100 development projects in the Permian Basin. QR Energy is prepared for growth and high income distributions. My goal is to receive dividends and capital appreciation. Alan Smith, the QR Energy CEO, has provided details and goals which are aligned with my income investor expectations.
Disclosure: I am long QRE, OXY. I wrote this article myself, and it expresses my own opinions. I am not receiving compensation for it (other than from Seeking Alpha). I have no business relationship with any company whose stock is mentioned in this article.