After our sell recommendation of Warner Chilcott (NASDAQ:WCRX) on April 30, 2012 (found here), the stock price had been on a 3-month slide. The stock had declined by $4.02, or -24%, by the first week of August.
However, on August 8th, after the announcement that the company was no longer for sale, WCRX found some traction and started to move higher and rose from $12.63 to as high as $14.09, nearly +12% in a single month.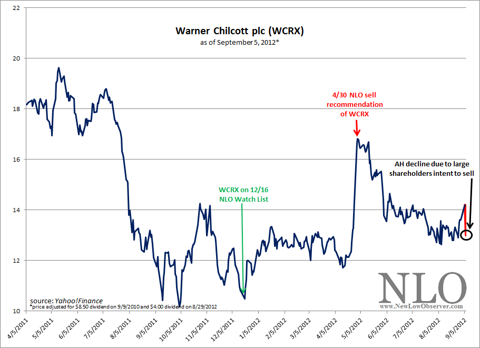 After the close of trading on September 5, 2012, seemingly out of nowhere, it was announced that the "main" shareholders and company management were going to sell nearly half of their holdings, or nearly 42.9 million shares, in the company (found here) and (found here). Among the management that is selling shares is CFO Paul Herendeen who will be letting go of 30.9% of the 1 million shares that he owns.
The "main" shareholders, Bain Capital Partners, JPMorgan Partners, and Thomas H. Lee Partners, took Warner Chilcott "…private in 2005 for about 1.6 billion pounds ($2.1 billion)…" (Bloomberg source). After waiting only a year, the "main" shareholders took WCRX public (raising $1 billion) as the stock sold below the offering price of $15 (September 21, 2006 IPO data).
According to Value Line Investment Survey dated July 13, 2012, Warner Chilcott has a fair value of $25.76. However, although gyrating wildly, the total debt has increased from 86% in 2006 to 95% in 2012 and a book value that has declined nearly -83% since going public.
News of insider selling and the failure to sell off the company couldn't have come at a less opportune time. We believe that there is more downside risk left with WCRX and reiterate our sell recommendation of April 30, 2012.
Disclosure: I have no positions in any stocks mentioned, and no plans to initiate any positions within the next 72 hours. I wrote this article myself, and it expresses my own opinions. I am not receiving compensation for it. I have no business relationship with any company whose stock is mentioned in this article.