As I watch indicators of the RORO trade, risk-on continues to be the prevalent trend. The cyclically oriented Consumer Discretionary stocks continue to outperform defensively oriented Consumer Staples stocks.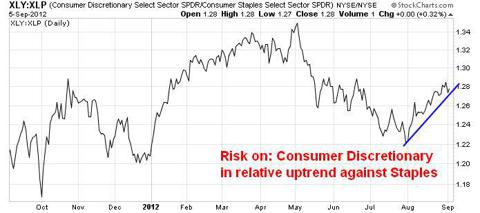 Click to enlarge
Equities are in an uptrend against 7-10 year Treasuries.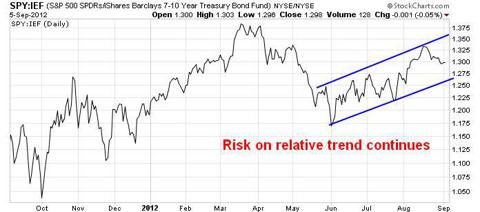 Click to enlarge
And we see the same pattern for high-yield against Treasuries.
Click to enlarge
Watch the market's reaction
Notwithstanding the trend favoring the risk-on trade, the next few days will mark a test for the markets:
Thursday (Sep 6): ECB decision and meeting.
Friday (Sep 7): U.S. NFP.
Wednesdy (Sep 12): German Constitutional Court decision on ESM.
Wednesdy (Sep 12): Dutch election.
Wednesdy (Sep 12): Apple iPhone 5 announcement (!)
Thursday (Sep 13): End of 2-day FOMC meeting.
Peter Boockvar, writing at The Big Picture about the ECB meeting, asked Are we approaching the classic sell on the news moment? [emphasis added]
With the ECB tomorrow laying out its bond buying plan with implementation dependent on a country request for help and the Fed likely embarking on more action next week, the stock market is approaching the moment when the central bank news is out and market participants must determine if it's something that hasn't been discounted yet.
I will be watching these events with great interest in the next few days. Given all the leaks of the details of the ECB's programs, will it be a sell on news day as analysis of why the ECB's efforts are doomed to failure dominate the day? If NFP release were to see an upside surprise on Friday, will stocks react positively because the economy is improving or negatively because it downgrades the likelihood of QE3? On the other hand, will a miss on NFP payroll be viewed negatively or positively because it gives more ammunition for the Fed's doves to ease?
While I believe that the risk-on trend remains in place and the path of least resistance for stocks and risky assets prices is up, the market's reaction to news in these next few days will be just as important as the news itself.
Disclaimer: Cam Hui is a portfolio manager at Qwest Investment Fund Management Ltd. ("Qwest"). This article is prepared by Mr. Hui as an outside business activity. As such, Qwest does not review or approve materials presented herein. The opinions and any recommendations expressed in this blog are those of the author and do not reflect the opinions or recommendations of Qwest.
None of the information or opinions expressed in this blog constitutes a solicitation for the purchase or sale of any security or other instrument. Nothing in this article constitutes investment advice and any recommendations that may be contained herein have not been based upon a consideration of the investment objectives, financial situation or particular needs of any specific recipient. Any purchase or sale activity in any securities or other instrument should be based upon your own analysis and conclusions. Past performance is not indicative of future results. Either Qwest or Mr. Hui may hold or control long or short positions in the securities or instruments mentioned.