We were surprised that Richard Schulze was willing to pay $24-$26 per share for the 80% of Best Buy (NYSE:BBY) that he doesn't own, especially after he was pressured into stepping down as Chairman of the Board in May. We are also confused that Dick Schulze knew about Brian Dunn's relationship with a female employee and did not alert the audit committee. BBY's board pressured Dunn into resigning due to the relationship and investigations into his conduct. According to the investigation "Dunn "violated company policy by engaging in an extremely close personal relationship with a female employee that negatively impacted the work environment.""
We normally don't agree with such investigators, but when they are right, we give them credit. In our humble opinion, we think that Dunn's alliances with his fellow co-worker may have been a fun diversion for Dunn, but it distracted from his management duties and probably explains why BBY's profits over the last 3 years have collapsed, along with its stock price. However, we see ourselves as a solutions oriented firm and we have advice for both Brian Dunn and BBY's board. For Brian Dunn, we suggest that he contact Mark Hurd formerly of H-P (NYSE:HPQ) to get a fair and balanced assessment as to why workplace romances don't work out so well and for Best Buy's board, we advise them to accept Schulze's offer.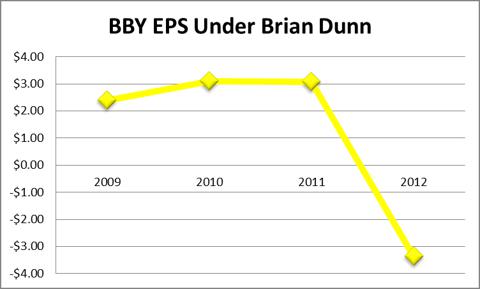 Click to enlarge
Source: Morningstar Direct
Corporate and Business Highlights and Lowlights
BBY's revenue and profits have been steadily declining since the Q4 2011 period and its Q2 2013 results continued this tradition. Best Buy saw its quarterly revenues decline in the most recent quarter by 2.85% year-over-year due to a 3.2% decline in comparable store sales. At least it was better than the 3.8% decline in comp-store sales in Q2 2012. This helped contribute to a 1.1% decline in the gross margin and while SG&A costs declined by 2.5% on an overall dollar basis versus Q2 2012 levels, these costs increased by 10bp as a percentage of sales versus the prior year's period.
Operating income declined by 52% year-over-year and $91M in restructuring expenses during the quarter added insult to injury. BBY's adjusted EPS of $0.20 represented a 49% decline from the prior year levels. Analysts had expected BBY's EPS to decline by only 20% to $0.31. The company saw improving trends in its Domestic comp-store sales performance in Q2 2013 versus Q2 2012 (-1.6% in Q2 2013 versus -4.1% in Q2 2012) but this was mostly offset by regression in International comp store sales (-8.2% in Q2 2013 versus -2.8% in Q2 2012.
The Domestic segment comparable store sales decline of 1.6 percent was driven by declines in gaming within the Entertainment revenue category, digital imaging and televisions within the Consumer Electronics revenue category and notebooks within the Computing and Mobile Phones revenue category. These declines were partially offset by comparable store sales growth in tablets and mobile phones within the Computing & Mobile Phones revenue category, the Appliances revenue category, and eReaders within the Consumer Electronics revenue category. The International segment comparable store sales decline of 8.2 percent was driven by the lower growth in consumer spending in China and the continued impact from the expiration of government sponsored programs, which negatively impacted sales in Five Star. Market softness in notebooks, digital imaging and home theater in Canada also contributed to the International comparable store sales decline.
Outlook
BBY announced that it was withdrawing its earnings guidance. BBY's suspension of earnings guidance reminds us of those pesky "fifth-derivative dimensions" that go unsaid in press releases, financial reports and conference calls. We believe that the fifth-derivative dimension implications of the suspension of earnings guidance is that everyone knows that BBY is struggling but no one can quantify the degree of BBY's weakness, including BBY's management.
Considering that nearly all the analysts tracked by Thomson/First Call have BBY as a "hold" and considering that "hold" is typically the rating of choice for sell-side analysts who have little conviction of the company yet don't want to cost their firm potential lucrative banking deals we can see why analysts tracked by Morningstar and Thomson have collectively reduced their earnings estimates. In short, we currently see Best Buy as a falling knife. When the facts change, we'll change our opinion but not until we see some positive traction from the company.
Corporate Asset Management & Valuation
BBY reported a mixed bag of results with regards to its corporate cash flow allocation. On one hand, we were pleased to see that it reduced its capital investment expenditures. Unfortunately, this was due to the fact that its cash flows for H1 2013 have collapsed versus prior year levels. Operating cash flows went from $1.17B in H1 2012 to -$222M in H1 2013, which most certainly did not offset the $247M net decline in capital investment expenditures for the period.
The good news is that it reduced its net share repurchases from $737M in H1 2012 to $255M in H1 2013. The bad news is that this was also caused by the year-over-year decline in BBY's operating cash flows. At least BBY announced that it would suspend its share repurchase program, though we are well-aware that it is doing so in order to conserve cash. At least the company is able to come to terms with that hard fact.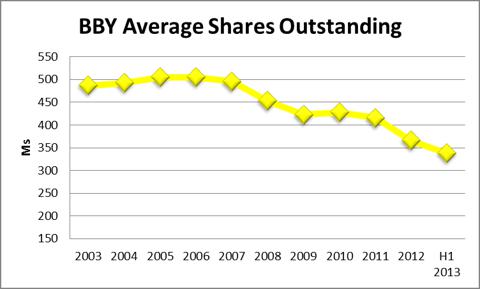 Click to enlarge
Source: Morningstar Direct
Conclusion
In conclusion, we give a lot of credit to Best Buy for surviving while Circuit City and CompUSA have liquidated and while Radio Shack (NYSE:RSH) has begun losing money. We have noted that Best Buy has signed a new CEO Hubert Joly, who had generated strong growth in revenues for Carlson Wagonlit when he led that company from 2004-2008 and then its parent from 2008-2012. While Hubert had strong performance in his previous position at Carlson as well as a fresh outsider's perspective on the company, we believe that it will take time for Joly to turn around Best Buy. We noticed that Best Buy is offering Joly $32M over 3 years, including $6.25M if he is unable to get proper authorization to work in the US for the company.
That provision caught us off guard because he had been CEO of Carlson Companies and we would expect him to qualify for an EB-1 permanent Visa or O-1 temporary visa (high priority immigrant visas for talented immigrants). We believe that Best Buy should do whatever it can to compel Richard Schulze to formally extend an offer to buy out Best Buy and to let the Best Buy turnaround be the problem of Schulze and the investors he potentially lines up. We can see why analysts have been reducing their EPS forecasts for BBY but we're surprised that analysts are still expecting over ~$3.25/share EPS for BBY in FY 2013 and 2014 (according to Morningstar Direct).
We're sad that Best Buy announced that it is suspending its share repurchase program because we found it to be a continuing source of amusement that Best Buy has spent $6.55B in net share repurchases since the beginning of FY 2003 and yet its market cap is only worth $6.1B as of September 4th. Or is it more amusing that it spent $6.55B to repurchase nearly 150M net shares outstanding for an average per share purchase price of $43.65 and yet its share price is $17.31? We've heard of buying high and selling low but that is ridiculous.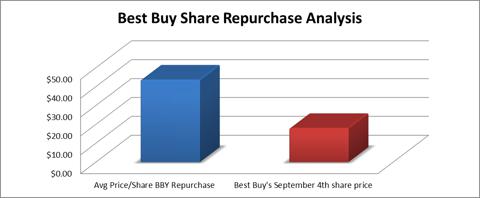 Source: Morningstar Direct
Disclosure: I have no positions in any stocks mentioned, and no plans to initiate any positions within the next 72 hours. I wrote this article myself, and it expresses my own opinions. I am not receiving compensation for it (other than from Seeking Alpha). I have no business relationship with any company whose stock is mentioned in this article.
Additional disclosure: This article was written by an analyst at Saibus Research. Saibus Research has not received compensation directly or indirectly for expressing the recommendation in this article. We have no business relationship with any company whose stock is mentioned in this article. Under no circumstances must this report be considered an offer to buy, sell, subscribe for or trade securities or other instruments.