In times of economic uncertainty, it's good to have some steady growth companies in your portfolio that pay solid dividends. For those of us who are not squeamish about investing in companies that manufacture dangerous products, big tobacco is a safe play. Even in the event of an economic catastrophe, tobacco continues to sell and these companies continue to post relatively steady numbers. Just about the only events that slow their growth is legislation that inhibits the sale of tobacco products. The threat of FDA proposed graphic visuals on cigarette packs was looming over the industry until it was struck down in the U.S. Court of Appeals on August 24, giving the sector a boost.
Strong demand in Asia also continues to benefit cigarette companies. Even in the face of an economic slowdown in China, cigarette sales continue to rise. In China, the first half of 2012 saw a 2.8% rise in tobacco sales, according to the State Tobacco Monopoly Administration. Long-term growth of well recognized brands, like Altria Group, Inc.'s (NYSE:MO) Marlboro in Asian markets continues to grow along with the rising number of 'twenty-somethings' with disposable incomes.
We're going to look at the two cigarette companies listed on the S&P 500 - Altria Group, and Lorillard, Inc. (NYSE:LO), and one that isn't - Vector Group Ltd. (NYSE:VGR). The average dividend yield of these three companies, at about 6.4%, is more than triple the S&P 500 average of 2.1%. Furthermore, during the last great recession, most high dividend companies slashed their yields, while tobacco's remained largely unchanged.
Let's take a look at our favorite big tobacco stock, Altria Group. Trading near its 52-week high of $36.29, it is a solid, steady growth stock with a large market cap. Its dividend yield is 5.18% or 44 cents per share, one of the largest in tobacco. I suggest getting in soon though, the Ex-Dividend date is September 12, 2012, with a Record date two days later on September 14. The dividend pays out on October 10.
Click to enlarge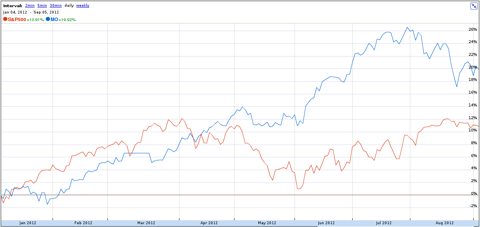 Since January, Altria has been having a great year, outperforming the S&P 500, despite a recent pullback
Altria Group's summer run up has been attributed to a dividend bubble, as nervous investors seek safe havens for their portfolios. Recently, there has been a huge short interest in the Altria Group and other dividend stocks expecting the bubble to soon burst. With Altria's announcement that it would be increasing its payout yield from 4.8% to 5.2% the short interest dropped somewhat, but remains high enough to be a concern. The slowing down of cigarette sales and a consensus that the recent price rise was based on its rising dividend yield sparked a bit of a sell off in the last couple of weeks. I say this is a good opportunity to initiate a position in this stock with steady growth and great prospects going forward.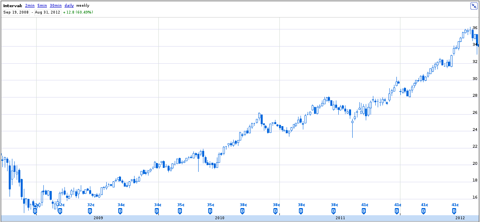 Years of positive gains and increased dividends help Altria stand out from the pack
Lorillard is the company behind the second highest selling brand in the U.S., Newport. It has a dominant position in the menthol market. The brand loyalty that it enjoys is legendary in the U.S.; it's the company's Asian market penetration that has me concerned. In the U.S., Lorillard has steadily increased its market share in the coveted 21-34 demographic. The number of young people smoking menthols is rising, but rumors of a possible ban on menthol cigarettes is another reason this tobacco company isn't first in our list of high dividend stocks.
Lorillard is moving into e-cigarettes, a safer alternative to the real thing. Earlier this year, it purchased Blu Ecigs, an e-cigarette manufacturer. Although e-cigarettes are a just a tiny sliver of the American tobacco market, their sales are set to rapidly increase in the U.S., as smoking bans spread to more states.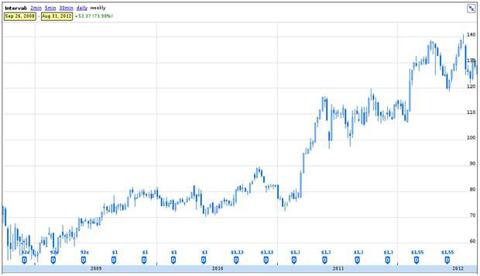 Lorillard is also showing steadily growing dividend yields over the last four years
It's about time that Lorillard made a move away from traditional cigarettes. Reynolds American (NYSE:RAI) has a popular snuff unit among other smokeless tobacco products that brought in revenues of $172 million in the second quarter of 2012. Altria's smokeless tobacco lines brought in $240 million, an increase of 8.1%, mostly on the strength of its snuff brands.
Both Lorillard and Altria Group's dividend yields are impressive, far more so than Philip Morris International Inc.'s (NYSE:PM) meager 3.4%, but they are still miles behind the industry leading Vector Group's current yield of 9.36%.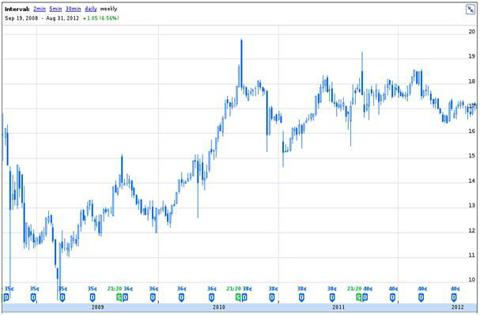 Vector Group also has four years of steady dividend growth, but a far more volatile stock price than Altria and Lorillard
The main reason this tobacco stock isn't first on my list of recommended high dividend stocks is its volatility. If you can handle weekly swings of more than 10%, then by all means initiate a long position with VGR, but to me that level of volatility defeats the purpose of owning a high dividend stock. Furthermore, Vector Group is a holding company, with a small market cap involved in more than tobacco. It also manages several real estate companies, which makes predicting its growth prospects extremely difficult. If it's safety during economic downturns that you're looking for, Vector Group just isn't for you.
Disclosure: I have no positions in any stocks mentioned, and no plans to initiate any positions within the next 72 hours. I wrote this article myself, and it expresses my own opinions. I am not receiving compensation for it (other than from Seeking Alpha). I have no business relationship with any company whose stock is mentioned in this article.