Eagle Bancorp, Inc. (NASDAQ:EGBN) has delivered positive earnings surprises in three of the last four quarters with an average beat of 6.0%. This commercial bank saw Q2 year-over-year earnings growth of 54.2%. Moreover, this Zacks #1 Rank (Strong Buy) stock trades at a P/B multiple of just 1.5, which makes it an attractive value stock.
Impressive Second Quarter Results
On July 23, Eagle Bancorp reported second quarter earnings of 37 cents per share, topping the Zacks Consensus Estimate of 35 cents by 5.7% and the year-ago earnings of 24 cents by 54.2%. The upsurge was aided by increased net interest income and elevated non-interest income, partially offset by enhanced non-interest expenses.
Net Interest income climbed up 29.7% year over year to $31.0 million, driven by strong balance sheet growth and net interest margin expansion. Net interest margin expanded 7 basis points on a year-over-year basis to 4.39%. Additionally, the company's non-interest income surged 37.5% to $4.4 million. However, non-interest expenses escalated 24.2% to $18.5 million.
Eagle Bancorp's capital position improved in the quarter. Total assets came in at $2.9 million, up 26.1% year over year. Total deposits also surged 26.3% to $2.4 million. Moreover, total loans increased 15.8% from the year-ago quarter to $2.2 million.
Earnings Momentum on an Upswing
Over the last 60 days, the Zacks Consensus Estimate for 2012 advanced 6.4% to $1.50, implying a year-over-year growth of 31.4%. For 2013, the Zacks Consensus Estimate increased 7.5% to $1.58 over the same time frame, indicating a year-over-year growth of 5.5%.
Reasonable Valuation
Along with a P/B multiple of 1.5, Eagle Bancorp has a P/E multiple of just 11.5. (A P/E ratio under 15.0 and a P/B ratio below 3.0 generally indicate value). The company has a trailing 12-month return on equity (ROE) of 13.4% compared with the peer group average of 10.7%. This signifies an efficient reinvestment effort by the company compared to its peers.
Shares have been soaring and are at 5-year highs. They have easily outpaced the returns of the S&P 500 since the Great Recession.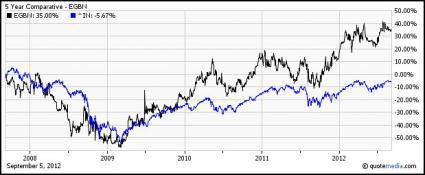 Headquartered in Bethesda, Maryland, Eagle Bancorp, Inc. the holding company for EagleBank provides various banking products and services. The company was founded in 1997 and operates through 16 branch offices in Montgomery County, Maryland, Washington, D.C. and Northern Virginia. With a market capital of about $356.9 million, Eagle Bancorp, Inc. competes with First of Long Island Corp. (NASDAQ:FLIC), among others.