My first article for Seeking Alpha, Why Buy MLPs?, was published September 5, 2008. I wrote an update a few months ago and that received a number of comments. On the 4 year anniversary of the first article, I'll update the original review.
The last 4 years have been unusually volatile for the stock market and MLPs. At the start of September 2008, the stock market had been sliding from highs for about a year. The Alerian MLP Index also suffered, declining from a record high of 342 in the previous year to 261. In early September, the national conventions were held and there was not a word from anybody about a financial meltdown that was about to take place. High income securities were especially hard hit. Not only MLPs, but REITs and junk bond funds which had held up well in the market slide were hit with heavy selling. At the bottoms, the yield on the MLP index shot up to over 15%, record high yields.
Alerian MLP Index --- Sep 2002 to Sep 2012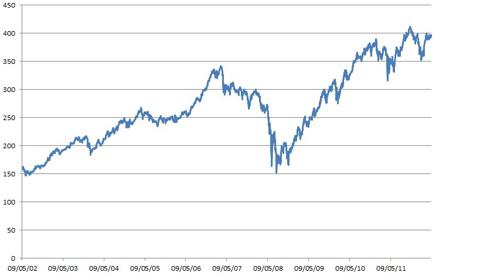 My first article described MLPs as excellent long term investments. They invest in fixed assets in demand by a growing energy industry in the US and Canada. But the stock market plunge in September called my comments into question. When the stock market roared back, MLPs led the recovery. The index reached a record 411 earlier this year before settling back to 397 currently. The MLPs led the rebound with a 52% gain in 4 years, far exceeding the 16% gain for the Dow Jones Industrials. Even better, the MLP index with reinvested income has doubled. Few investments have done better.
Investing in MLPs is different than investing in stocks. They are limited partnerships: ownership is measured in units which pay distributions (not dividends). Tax treatment of distributions is favorable, only a small portion is taxed in the current year. But tax reporting is not simple and a fair amount of record keeping is required while the units are held. Even though MLPs are growth companies, their main attraction is high yield. The MLP index yield is 6.2%, attractive for investors willing to accept tax complications.
I favor 2 major MLPs because each has a companion company which is a corporation that issues shares and pays stock dividends based on the distributions paid to unit holders. The shares are attractive for investors who want to avoid tax hassle and do not require quarterly income.
(1) Kinder Morgan
Kinder Morgan (NYSE:KMP) has become the largest MLP, after acquiring El Paso this year, operating 80,000 miles of gas and oil pipelines and 180 terminals. Pipelines are coast to coast in the US and into Canada. The companion company is Kinder Morgan Management (NYSE:KMR), a corporation paying stock dividends. In addition, Kinder Morgan Inc (NYSE:KMI) is the general manager running the overall business. Because its IPO was last year, it has a limited history of raising dividends.
(2) Enbridge Energy
Enbridge Energy Partners (NYSE:EEP) has a Liquids Segment for crude oil transportation (about 2/3 of the total) and a Natural Gas Segment (the remaining 1/3). EEP transports oil and gas liquids through the world's longest petroleum pipeline from western Canada to refining centers in the Midwest and on to Ontario, Canada. The Natural Gas Segment transports gas in the Mid-Continent and Gulf Coast regions of the US. Enbridge Energy Management (NYSE:EEQ) is the companion corporation that manages the business. Enbridge Inc (NYSE:ENB), a major energy company based in Calgary, Alberta, is the general partner which owns about a quarter of the partnership.
High yields determine MLP valuations. Both MLPs have excellent records of distribution increases (with no reductions). KMP distributions rose from 94¢ in 1997 to $4.92 presently, EEP distributions rose from $1.18 in 1993 to $2.17 presently and both are guiding higher distributions going forward. EEP and EEQ yield about 7%. KMP and KMR yield a little less, although KMP has raised its distributions more aggressively.
My original article concluded:
MLPs have excellent track records with relatively mild price fluctuations around their growth trend line, high yields (largely tax deferred) with excellent prospects for rapid growth going forward from strong demand for more oil and gas pipelines. These prospects have attracted many investors and this investment should gain popularity in the future.
MLPs have performed well in the last 4 years and the favorable outlook remains excellent. In addition there is rapid growth in new shale projects. Investments in fixed assets will be increased, leading to higher distributions. Growing market prices should follow.
Disclosure: I am long EEQ. I wrote this article myself, and it expresses my own opinions. I am not receiving compensation for it (other than from Seeking Alpha). I have no business relationship with any company whose stock is mentioned in this article.