Let's face it, we all know that the Facebook (NASDAQ:FB) IPO was not handled in the best way. Too many shares were issued, creating too much supply and not enough demand. The IPO price was way too high, pricing the company at roughly 60 times forward earnings. Facebook's stock has plunged, rightly so, to a more reasonable level in the upper teens, but I've continued to state that there is more pain ahead for investors.
Now, after the bell on Tuesday, Facebook announced through an 8-K filing that CEO Mark Zuckerberg would be holding onto shares for at least another year, before selling. The filing also stated that the company would keep another 101 million shares from employees off the market when they are eligible to be sold in late October. That led to a bounce back in Facebook shares Wednesday morning, after the company hit a new low of $17.55 on Tuesday. Facebook shares ended up 4.8% for the day, closing slightly more than a dollar off Tuesday's low.
Unfortunately for investors, these short term pops in Facebook have not lasted long. Facebook analysts are still trimming estimates for revenues, and more earnings estimates probably will be cut soon. That's why I believe shares will continue to go lower. Let's look at how Facebook analysts are becoming less positive.
Revenue and earnings forecasts:
Analysts have been trimming their forecasts for some time now, and I don't see a reason why that pattern won't continue. Since we are already in September, I'm currently looking at 2013 estimates, especially since I've been basing my Facebook price target and valuation off of 2013 expected EPS. The table below shows the average analyst estimates for 2013 revenues and earnings over the past few months.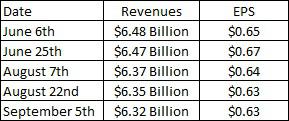 Now $0.01 billion here and $0.02 billion there doesn't seem like much, but that's $10 million and $20 million, respectively. When you start adding those cuts up, Facebook's revenue forecast has been cut by $160 million over the past 3 months. If you look at the two year combined total, from 2011 to 2013 expected, that means the revenue growth forecast has dropped from 74.66% to 70.35%. It probably will go under 70% soon. On the earnings per share front, I wouldn't be surprised to see another penny cut soon, and perhaps, down to $0.60 before too long.
Average price target:
Analysts have been very positive in their price targets, and some of that goes back to the fact that the initial valuation of the IPO was about 60 times 2013 expected earnings. Now, Facebook analysts are starting to trim their targets, and rightly so, but I still think they are a bit confused when it comes to this name. The following table shows where the average target has been over the past few months.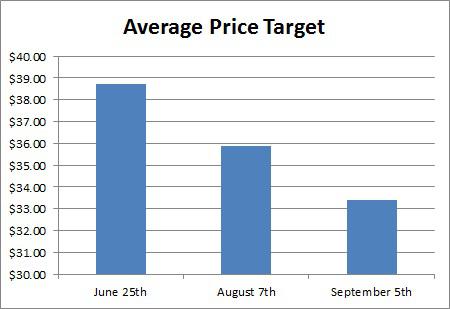 At the end of June, the average analyst price target was about $39. It's now dropped about $5.50 from that level, currently standing at $33.38. I believe that is way too high, as it currently means the valuation is about 50 times 2013 expected earnings.
I've been stating that I believe a fair valuation is 25 to 30 times expected 2013 earnings, and with that estimate currently at $0.63, we get a fair value range of $15.75 to $18.90, with a midpoint of $17.325.
Now, if the consensus drops to $0.60 like I think it might, I would take down my valuation to a new range of 24 to 28 times earnings, to compensate for the lower growth. Factor in the $0.60 estimate, and my new range would be $14.40 to $16.80, with a midpoint of $15.60. That's $3 below where shares trade currently.
Conclusion:
As analysts continue to lower their forecasts and price targets on Facebook, investors should realize that there is still plenty of downside. While Wednesday's pop could continue for the short-term, it seems like a dead cat bounce. Facebook shares had been weak over the past week, so a bounce seemed inevitable. However, if analysts continue to take down their growth estimates, shares will ultimately fall, and I believe that they will.
Disclosure: I have no positions in any stocks mentioned, and no plans to initiate any positions within the next 72 hours. I wrote this article myself, and it expresses my own opinions. I am not receiving compensation for it (other than from Seeking Alpha). I have no business relationship with any company whose stock is mentioned in this article.