Sunoco Logistics Partners L.P. (NYSE:SXL) recently delivered its fifth consecutive positive earnings surprise and announced its 29th quarterly distribution increase in a row.
Yielding a stellar 4.1% and sporting a consensus long term earnings growth projection of 6.2%, this Zacks #1 Rank (Strong Buy) crude oil pipelines and terminals operator looks like a solid pick for investors seeking both income as well as capital appreciation.
Strong 2Q, Record DCF
Sunoco Logistics reported adjusted second quarter earnings per unit - excluding a gain associated with the reversal of certain regulatory obligations for tank cleaning - of $1.18 on August 2, beating the Zacks Consensus Estimate of 72 cents by 64% and the year-ago earnings of 80 cents by 48%.
Revenues of $3,318.0 million were up 37% year over year from $2,428.0 million, and also surpassed the Zacks Consensus Estimate of $3,193.0 million. Results were driven by strong demand for its crude pipeline system and terminals facilities.
Importantly, distributable cash flow (DCF) jumped approximately 57% year over year to a record $166.0 million. This bodes well for future distribution increases.
Growth Catalysts
Sunoco Logistics is set to benefit from its ties to asset-rich sponsor Sunoco Inc. - which retains a 34% stake in the partnership - on two accounts. First, a sound fee-based relationship with Sunoco Inc. shields the pipeline operator from competitive pressures in the midstream energy space and provides it with stable cash flows and consistent top-line growth opportunities. Second, the partnership continues to leverage its relationship with Sunoco Inc. to make joint acquisitions.
Last year, Sunoco Logistics and fellow pipeline operator MarkWest Energy Partners L.P. (MWE) decided to expand their ethane pipeline project. Known as the 'Mariner West', the proposed initiative is expected to begin its service by July 2013. It will ship up to 65,000 barrels of ethane per day to Sarnia, Ontario markets to support additional ethane production in the Marcellus region. The Mariner West Project is backed by producer demand and assurance from Sarnia industrial customers.
Track Record of Consistent Distribution Growth
Sunoco Logistics pays an annual distribution of $1.88 per unit, yielding an impressive 4.1%. The partnership hiked its payout by 10% sequentially and 16% year over year in August, marking the 29th distribution increase in as many quarters. Based on its investment grade credit rating and flexible capital structure, Sunoco Logistics should be able to at least maintain its distribution, no matter what oil prices do.
2012 Earnings Estimates Moving Higher
Following the second quarter earnings beat, three out of nine estimates for 2012 have moved higher in the past 30 days, sending the Zacks Consensus Estimate up by 35 cents (or 11%) to $3.57. Given the $2.93 per unit earned in 2011, the projected growth rate stands at 22% for 2012.
Valuation Picture
Units of Sunoco Logistics are trading around 13.0 times forward estimates, a 2% discount to the peer group average of 13.3x. Moreover, a price-to-sales (P/S) ratio of just 0.4 suggests that the stock is still undervalued. But more importantly, the trailing 12-month return on equity (ROE) of 36.8% - much better than its peer group average of 16.1% - speaks to Sunoco Logistics' solid management that churns out exceptional results year after year.
Market Performance & Technicals
The chart below shows a secular positive price movement since mid-June. In the process, units of Sunoco Logistics have also outperformed the 50 and 200-day moving averages. Currently trading close to its 52-week high, the ever-increasing gap between the unit price and that of the moving average lines indicates more bullishness. With the expectation for consistent growth in earnings and distribution, the stock looks poised to keep the winning streak going.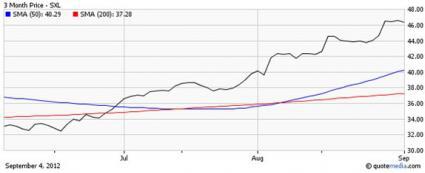 The Bottom Line
With its low-risk and stable cash flow-generating energy infrastructure assets, Sunoco Logistics offers investors an opportunity to capture income growth through steadily-rising cash distributions and capital appreciation.
Philadelphia-based Sunoco Logistics Partners L.P. - a publicly traded master limited partnership - acquires, owns, and operates a geographically diverse portfolio of refined product and crude oil pipelines and terminal facilities. It is organized into four segments - Refined Products Pipeline System, Terminal Facilities, Crude Oil Pipeline System, and Crude Oil Acquisition and Marketing.