By Dee Gill
For investors who want in on the growth game but prefer less melodrama in their portfolios, YCharts suggests creating another genre: sane growth. In our estimation, a sane growth portfolio would be packed with companies that manage decent sales gains but maintain a few safety valves typically missing in popular growth stocks: like reasonable share price valuations and earnings commensurate with revenues. In fact, right now looks like an especially good time to invest in sanity over popularity.
Go to YCharts for Part One of growth stocks, which explains the list in more detail.
With the mission of reducing risk, YCharts looked around for growing companies with sane data. We set the stock screener to find companies that reported sales growth of at least 10% over the past 12 months and at least that rate of retained earnings growth. We insisted on an historic price to sales ratio of less than 1.5. To weed out companies with weak balance sheets, we looked only at companies that received a 7 or higher for fundamentals. As an added safety, we considered only companies with market caps of at least $2.5 billion.
VF Corp. (NYSE:VFC)
Dividends are a rarity among companies with strong revenue growth, but investors in VF Corp. have been doubly blessed that way, as seen in the following stock chart. In the past two years alone, they more than doubled their share values and collected a decent dividend. And they can expect even bigger payouts going forward.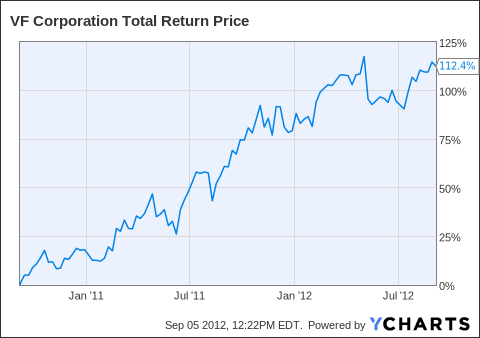 VFC Total Return Price data by YCharts
VF owns clothing and footwear brands like Vans, Timberland, North Face and Nautica. Recently acquired Timberland accounted for a big part of VF's 31% revenue growth in the past year, but even without it, sales grew some 12%. In fact, all of its divisions reported growth, and analysts forecast sales up some 17% for the full year. Earnings have kept pace and the company actually raised its earnings forecasts with its recent results.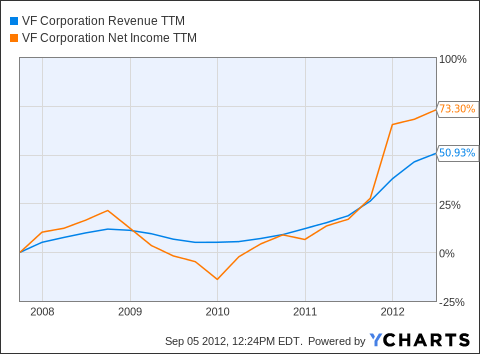 VFC Revenue TTM data by YCharts
VF shares have a dividend yield now of close to 2%, and the company is famous for decades of steadily raising payouts.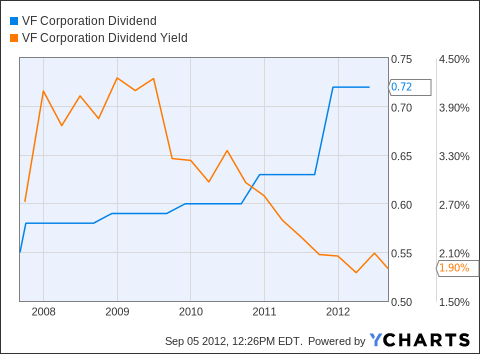 VFC Dividend data by YCharts
VF shares trade for about 1.6 times sales and with a PE ratio of about 18. That's cheap in the apparel sector, where Lululemon (NASDAQ:LULU) goes for 8.5 times sales and Under Armour (NYSE:UA) trades at a price to earnings ratio of 60. VF is also the biggest company in the sector, with a market cap of nearly $17 billion.
Disclosure: I have no positions in any stocks mentioned, and no plans to initiate any positions within the next 72 hours. I wrote this article myself, and it expresses my own opinions. I am not receiving compensation for it. I have no business relationship with any company whose stock is mentioned in this article.