Supervalu Merger Rumors
We noticed that Supervalu (NYSE:SVU) saw a bump in its share price on Friday, August 24th, due to reports from Bloomberg that SVU's advisers are asking potential buyers to tender bids for the entire company even though suitors have inquired about individual parts of the grocery company. We believe that SVU should certainly not rule out bids for individual grocery store chains because we believe that SVU would be more likely to realize greater value by selling off the individual chains rather than trying to sell off the whole enterprise.
We believe that what led investors to get excited from that article was the fact that Cerberus Capital Management LP is examining a possible deal involving SVU's New Albertsons Inc. operations. We think that would be a good deal since Cerberus already took over the Albertsons stores in the Southwestern US and renamed it Albertsons LLC. SVU is allowing Cerberus to use the Albertsons name for Albertsons LLC under a licensing agreement.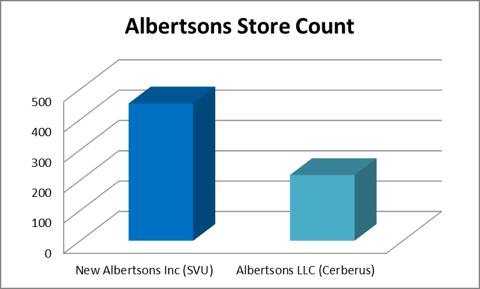 Sources: New Albertsons and Albertsons LLC (Albertsons Market) Websites
Koninklijke Ahold NV (AHONY.PK) is the parent of the Boston area supermarket chain Stop & Shop and Giant Food Stores LLC in the Washington, DC area and there was speculation that Ahold was interested in acquiring SVU's Shoppers Food and Pharmacy and merging it under the Giant Food banner. We noted that UBS Analyst Jason DeRise said that there is a low chance that SVU will be bought, whether whole or in parts.
We are not expecting anyone to come in and offer a premium price for SVU or all of SVU's operations; however, we believe that there is reasonable potential for the company to receive a suitable offer for at least one of its 14 retail store chains or its wholesale grocery business. Deborah Weinswig of Citi Investment Research was more upbeat, suggesting that SVU's hard discount chain Save-A-Lot could fetch as much as $1.94B and SVU's wholesale grocery business could get $817M.
Management Changes
SVU's new boss Wayne Sales has made some changes to the company's seasoned leadership. Sales announced that Kevin Holt will be taking on an expanded role as President of SVU's Retail Division. In this position, Holt will drive the overall strategy for the company's traditional retail and pharmacy divisions, including overseeing the marketing and merchandising functions. He will work closely with Sales and his leadership team to clearly develop the company's strategic platform.
Reporting under Holt will be Michael Moore (SVU's Chief Marketing Officer) and Tim Lowe (who was promoted to EVP of merchandising for SVU). SVU tapped Janel Haugarth, a 35 year company veteran, to serve as EVP of Business Optimization and Process Improvement. With Haugarth's promotion to her new role, SVU will consolidate logistics and procurement leadership under Fred Boehler, who will now report directly to Sales as the senior vice president of supply chain.
Debt Refinancing
We think that J.P. Morgan's retail analyst Ken Goldman's reference to "bankruptcy" was a bit premature at SVU's Q1 conference call. We understand why he floated that concern, considering that SVU missed its estimates by a wide country mile. We did not expect miracles from SVU; we merely expected them to not regress in Q1 2013.
We were pleased that SVU announced that it was replacing its existing credit facilities and term loans with a new asset-backed credit line and real-estate term loan. This financing will remove certain restrictive financial covenants included in SVU's previous credit facility and allow for more flexibility as the new management moves forward with their plan to stabilize SVU. SVU recently completed its refinancing transactions and the terms of these transactions consist of the following:
A new five-year $1.65 billion asset-based revolving credit facility, secured by the Company's inventory, credit card receivables and certain other assets, which will bear interest at the rate of LIBOR + 1.75 percent to LIBOR + 2.25 percent (depending on utilization). The line of credits lead arrangers are Wells Fargo, U.S. Bank, Barclays and Credit Suisse.
We found that the effective interest rate on the new term loan is 8%, which is higher than the 4.5% rate it paid on Term Loan B-3. It is also higher than the 3.75% it paid on Term Loan B-2. However, the 2.25%-2.75% rate on the new asset-backed credit facility is lower than the 2.75-4.75% it paid on the old credit facility. We expect an increase in interest expense; however, we expect the increase to be moderated by the fact that the increased interest expense on the term loans is offset by the lower interest expense on the credit line.
Conclusion
In conclusion, we are more optimistic about Supervalu's future. We are not arrogant enough to suggest that SVU is totally out of the woods yet. However, we believe that Sales is taking the right steps in order to right the ship at SVU. We are not of the opinion that Sales has absolutely no hand in SVU's weakness since 2006 because we are aware of the fact that he was on the board since his 2006 retirement from Canadian Tire (OTCPK:CDNAF).
At the same time, we are willing to give Sales an opportunity to turn SVU around since he had successful transformed the culture and performance of Canadian Tire while serving as its CEO from 2000 to 2006. In our July 31st report on SVU, we elaborated on how Canadian Tire's revenue increased from $4.7B in 1999 to $8.3B when Sales stepped down as CEO in 2006.
Our next report on SVU will also include information about the company's Java Delight® Single Serve UnCup, a new single serving size of its premium coffee product that will be available in stores beginning this month. We will also elaborate further on the recent store closures announced on September 5th.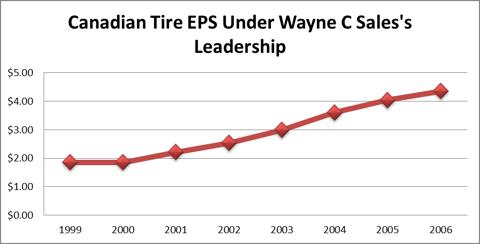 Source: Canadian Tire 2006 Annual Report
Disclosure: I am long SVU. I wrote this article myself, and it expresses my own opinions. I am not receiving compensation for it (other than from Seeking Alpha). I have no business relationship with any company whose stock is mentioned in this article.
Additional disclosure: This article was written by an analyst at Saibus Research. Saibus Research has not received compensation directly or indirectly for expressing the recommendation in this article. We have no business relationship with any company whose stock is mentioned in this article. Under no circumstances must this report be considered an offer to buy, sell, subscribe for or trade securities or other instruments.